We reached out to the Party Planner to talk about his upcoming wedding and his new bridal gowns!
As always, David Tutera provided us incredible tips and advice to help you plan your dream wedding. This time he talks from the perspective of a groom-to-be and a party planner. He also shares the secrets to finding the perfect bridal gown and a sneak peek of his upcoming Fall 2017 Collection.
We have been following your Wedding Planning Process on Social Media, and we know it is going to be pretty spectacular. #DavidandJoeyTieTheKnot. Any exclusive details you can give us regarding your wedding?
"I really can only tell you it's going to be really grand.It's a step back in time —I can't say too because it is a bunch of exclusivity on it. I can surely share with you that the colors are black and white. The uniqueness is that we are literally stepping back in time on a merit of levels, from the ceremony, to which it will be taking place at our church, to the location which will be a grand location. We have 280 -300 guests. It is going to be very personal, which is what is important to us."
Is Cielo excited about the wedding?
"Cielo always knew that Daddy and "Tatuś" —"tatuś" means daddy in Polish — are getting married. Then we said we are all getting married. So, now it has officially become Cielo's wedding and she is very excited. She has a custom dress that just came in last week and we are really excited for her to walk down the aisle."
I heard on social media that you mention that besides planning weddings for 30 years, planning your own wedding has been very stressful. Can you give the couples that are planning their wedding any advice from the perspective of David the groom?
"Thank you for asking that question! I think what is most important for couples that are preparing for their wedding and getting ready to the walk down the aisle, to not consume yourself on a daily basis with the planning. It can become incredibly overwhelming! Attention to detail is always important but take a breath! Joey and I said last night while we were having dinner, let's try not spend the next two days talking or working on the wedding. Let's give it some space, do our other projects and work on the work we have for business. And then we can resume on Thursday and I think it helps you enjoy it more. It is also really important to understand how to tell your story, we made it really clear what our story is which is love is love and we will be talking a lot about that through the wedding."
We know that David Tutera for Mon Cheri Bridal Line has been very successful since it launched. And I was wondering what do you attribute that success to?
"It is important to cover all styles. The significance is in sizes, we go up to 26W and that is crucial to me— it always has been, and creating the right fit. The fit is important because there are many bridal gown lines out there that their dresses look wonderful on the hanger or great on a size two model, but if the fit doesn't stand true to that style. A girl won't buy that dress because they want to look spectacular and feel amazing —which provides them the confidence when they see themselves on the mirror —which means when they walk down the aisle. It is important for a dress to look beautiful as it is to fit beautifully on their body."
Any bridal fashion trends that you are excited for or don't care for?
"You know I'm all about attention to detail, I'm also in creatively focused on what all my brides are looking for and our trends from 2017 going into 2018 with the consistency of the punching back line and also with the attention of illusion. We are seeing a lot of material that we are using in the bodice and in the sweetheart neckline with the illusion fabric, so it gives them sexiness without being too revealing.
Now on that note, we are also making sure that the attention to detail doesn't only come in lace, and not just in pearls, not just in sequence or sparkles. It's the attention from the neckline to the hemline, so you see the follow through.  A lot of designers might have a detail on either neckline or hemline, but they don't connect it from the top to the bottom, so their dresses feel really disjointed in the design. And you'll see a lot of horizontal cuts in certain gowns in other designers. In the line of 2017 for my collection, you are seeing more streamlines. It's almost in the essence of: if you know that A-line dresses have a consistency of top to bottom one look, that is a solid way of looking at a bridal gown and the girls love not feeling cut-off at multiple spots of their body."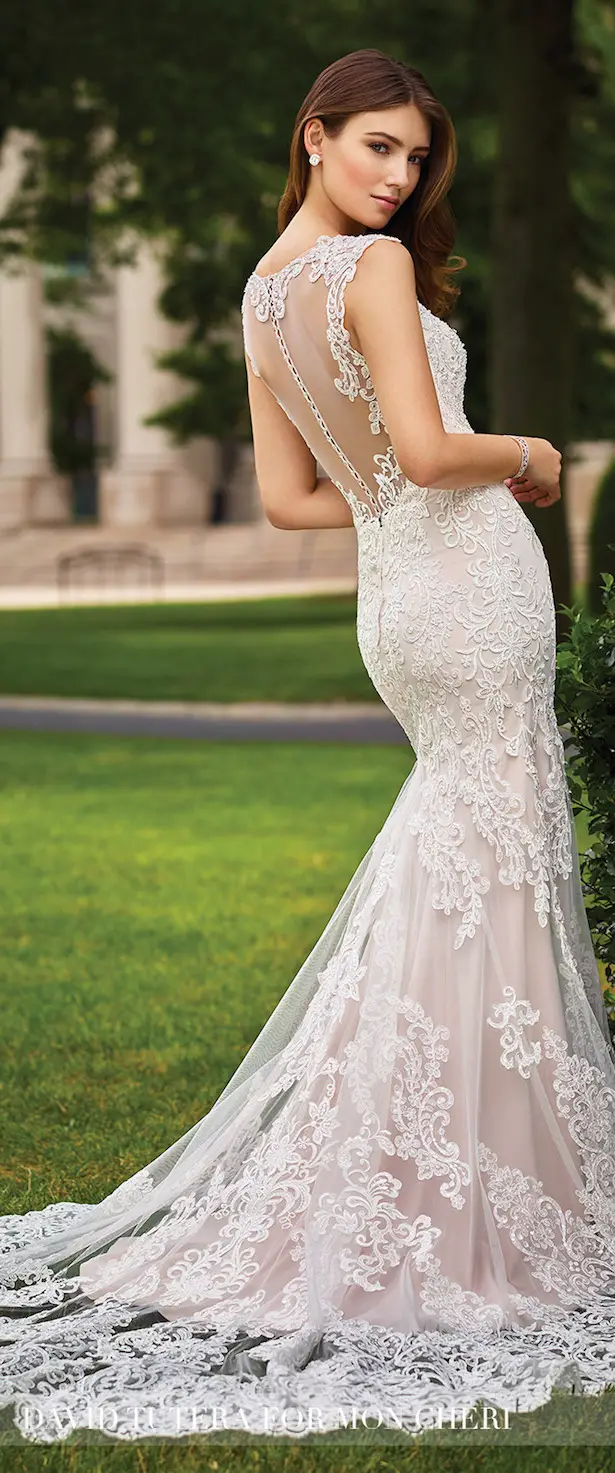 Do you have any favorite dresses or styles from your current line?
"You ask an interesting question because my third collection when I started when Mon Cheri was my favorite, back then that was probably 3 ½ or 4 years ago I loved the whole line. This particular line is sort of similar the 2017 collection to me. I don't have a favorite because they each stand up for their own different reasons. And that is not sort of my easy way out to the answer, it's truly honest.
A lot of people followed my bridal gown collection even before they meet a boy or got engaged, and as they plan their wedding they are excited to try a David Tutera gown. And I think that speaks volume to the brand and the collaboration between "D" team (me) and Mon Cheri is a great marriage— no pond intended—as it provides the consumer, what we are talking about, great fit, great style, but affordability too."
Any bride can feel fabulous thanks to David…
"And you know what, it is not often, but thank you for saying that! I get really obsessed when I heard brides walking into bridal salons and trying on a $ 600 t0 $ 800 dress, and they really don't feel beautiful or look confident. And that makes me sad because this day supposed to be their very best day. And if they are let down by us as designers, we failed!"
You have several blush and non-white wedding gowns in your line. What can you say to those brides that are still afraid to incorporate color into their wedding day look?
"That is also a great question, and the answer to that is very simple, there are literally 200 shades of bridal white. And that skews from a really diamond white to an off-white, and now to the colors you are referring to in my line. And it isn't about white or off-white, what's important is that the bride looks at her skin tone first, the dress on their skin tone and what allows them to stand out. If you are a girl very fair and you are wearing a diamond white dress, it is a major mistake. And if you are a girl that has olive skin, you want to find a dress that complements and allows your skin to glow. Every girl has a different skin tone and every dress reflects differently on that skin tone, so they have to check out the different colors."
Have you started to work on your next collection? Can you tell us about it?
"Oh yeah. We are pretty much done with our next collection already! It is incredibly romantic! There's a lot of illusion in the material and we keep consistent the ability for girls to feel sexy without feeling too relabeling and to feel special and seen as they stand out but not taken away."
David Tutera is getting married to Joey Toth this Saturday, April 1st, and we cannot wait to see all the datils. What about you?
His Fall 2017 Collection will also be revealed very soon. We hope to bring you the exclusive, so stay tuned!
Related Posts via Taxonomies