See Through Outfit Ideas for Girls. Pulling off a see-through dress without looking like a fool can be challenging. Even though a sheer dress can offer many opportunities to layer clothes in a snazzy manner, it can be tough to put the pieces together. But you know, one way to never go wrong is by keeping it modest yet minimal.
As the saying goes "simplicity is style." In the past years, sheer outfits have spread in the fashion world with increasing momentum. We have seen many celebrities sporting bold see through outfits. Where some of them have won hearts with their gorgeous dressing sense many have failed badly. Either way, sheer outfits can look extremely amazing. If you want to know how to style one, here we have quite a few ideas that can be of help.
What to Wear with Sheer Outfits
Here are some pointers that can be of help.
Wearing a sheer outfit doesn't equate to immodesty. You can wear the right under clothes and add a sheer tunic to jazz up the look.
You can be bold and flaunt your skin too if you want.
Be confident and fearless; style and experiment without doubting yourself.
Don't wear absurd color combinations otherwise you'll lose major points on your style game.
↓ 30 – Street Style See-Through Dress
Instead of wearing just a crop top with a pair of blue jeans, wear a sheer net overcoat with it. This way you'll add some sass and style to the overall look. Here are 27 Sheer Outfits for Clubbing.
Via
↓ 29 – See Through Maxi
A see through loose maxi that reaches the ankles would give the ultimate Greece goddess look. Wear a plain one of a muted tone.
Via
↓ 28 – How to Wear a See Through Long Skirt
See through long skirts look cute and unique. Go for a sheer one and ditch the chiffon one. In summers, it would help you feel comfy as well. Do check out these Outfits with Sheer Skirts- .
Via
↓ 27 – Sheer Frock for Party Night
Taylor Swift has been a fashion icon for many teen girls. No wonder she has. This lass knows how to rock her outfits. Look at how stylishly she has worn a sheer frock over her printed skirt and blouse. Wear heels or pumps with the dress for a flawless look.
Via
↓ 26 – Sheer Outfit Ideas for Formal Dinners
There are several ways you can style your sheer outfit. You can wear a tunic over shorts and a spaghetti strapped top. Or wear see-through gown. There are lots of styles out there and lots of colors too. A black one is the most graceful and therefore, it wins the race of style. Here are 24 Ways to Dress Up for Dinner Date.
Via
↓ 25 – Sheer Lace Dress for the Beach
Lace dresses look pretty and give you the delicate look. Going for a sheer lace dress would be a great idea. The style is trendy, casual and modish despite being around for quite some time. Wear a skin-colored undergarment beneath for the sophisticated look.
Via
↓ 24 – Sheer Blouse for Teens
Adding a sheer blouse over your top with either jeans or shorts can make for a very versatile look. Sheer tops plus jeans equal to a graceful yet cool look. Don't miss out these Outfit Ideas For Teen Girls In Summer.
Via
↓ 23 – Sheer White Dress for Lunch Date
A sheer white dress would look serene and pure. Try the lovely look.
Via
↓ 22 – Sheer Floral Dress for Spring
Flowery embroidery or design on a sheer dress looks stunning. The print is evergreen and the style is ultra modern. Specially, in summers. Here are some cute Spring Outfits With Floral Jackets that you can use to layer your sheer dresses.
Via
↓ 21 – Casual Sheer Black Dress
Black makes for a tough and classy color. A sheer black tunic worn over a fitted plain black dress would make for a stunning look. Nude makeup would look ideal with this outfit.
Via
↓ 20 – Sheer Crochet Dress for Summers
For the voguish look, throw on a sheer crochet dress.
Via
↓ 19 – Sheer Gown for Prom
Jennifer Lopez has rocked sheer ensembles on many occasions and she has never failed to impress.
Via
↓ 18 – Modest Sheer Sundress
This Victoria's Secret model has sported a sheer sundress in a very sleek and snazzy manner. Red has never looked more stunning!
Via
↓ 17 – Beach Outfit
Rather than wearing a simplistic and boring two piece beach outfit, jazz up the look by throwing on a sheer tunic over it. Here are some sexy Hollywood Celebrities Beach Outfits to be inspired.
Via
↓ 16 – Sheer Wedding Dress
Go for a sheer wedding dress. You're sure to get a hold of the strings of everyone's hearts. The look is very eye-catchy.
Via
↓ 15 – Sheer Mini Dress for Travelling
A tight sheer mini dress for a chic look. Throw on a hat for cheering up the look even more.
Via
↓ 14 – Summer Dress
Summers and sheer clothing items go hand in hand. The warm season calls for light clothing and sheer does the magic perfectly. Wear a sheer dress in summers. The airy outfit would keep you cool along with managing to bind everyone in the spell of your style. Here are some awesome Girls Summer Home Wear ideas.
Via
↓ 13 – Sheer Urban Outfit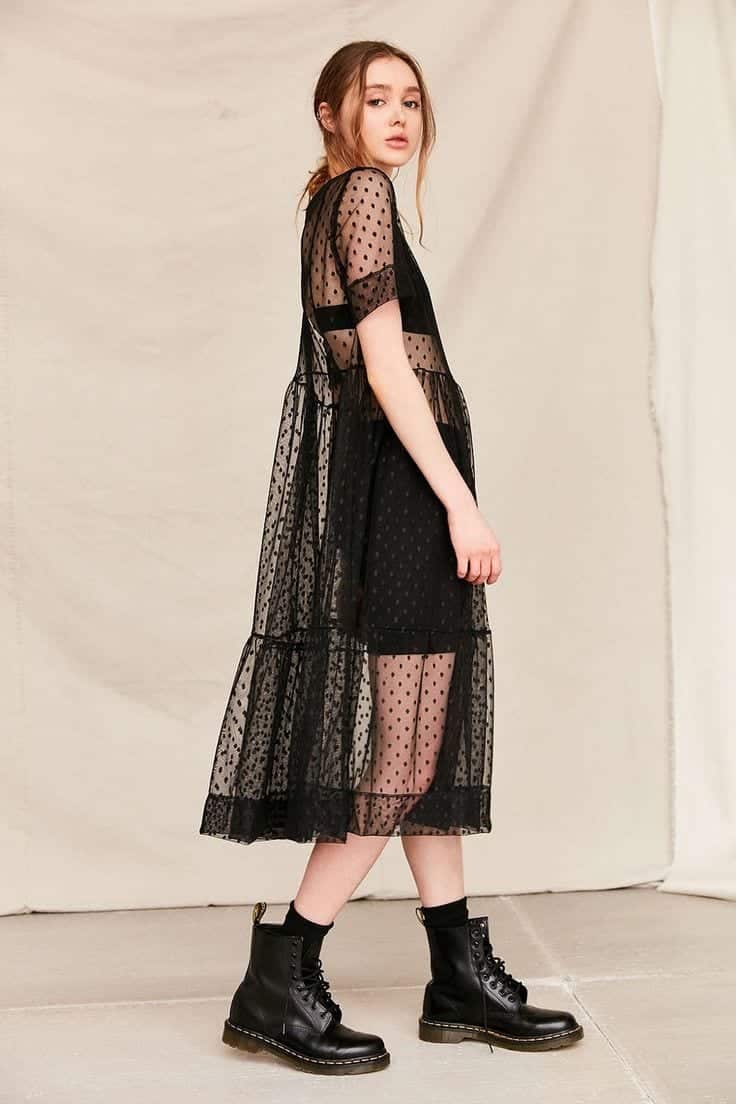 Via
↓ 12 – Sheer Glitter Dress
A sparkly sheer maxi would make for am elegant look. Wear one to the next royal event.
Via
↓ 11 – Sheer Cocktail Dress
After party outfit? Choose to wear a sheer cocktail one. The look is mesmerizing and stylish. Here are 27 Dresses to Wear at Cocktail Party.
Via
↓ 10 – Sheer Tulle Dress
Via
↓ 9 – Sheer Prom Dress
Hypnotize everyone at the prom party by sporting a sheer attire.
Via
↓ 8 – Sheer Evening Dress
For the evening event, wear a sheer outfit. Look at how fabulous Selena Gomez looks in this sheer black dress. Check out these 25 Celebrities All Black outfits Styles for Fall to Copy.
Via
↓ 7 – Plus Size Sheer Dress
Ashley Graham confidently rocked a body hugging sheer outfit inspiring all the curvy ladies to embrace see through clothing with confidence.
Via
↓ 6 – See Through Midi Dress
For the fancy look, follow Hailee Steinfeld. Put on a sheer midi dress for the look of a diva. Check out these 16 Cute Outfits To Wear With Midi Skirts.
Via
↓ 5 – See Through Corset Dress
For the extra glam look, wear a see through corset dress. Would work best in an extravagant setting.
Via
↓ 4 – Sheer Party Outfit
A dyed sheer outfit would suit the party look perfectly. Here's a great collection of House Party Outfits.
Via
↓ 3 – Casual Sheer Dress
Throw on a sheer tunic over your black top and shorts for the classy casual look.
Via
↓ 2 – Street Style Outfit
For the ideal street style look, wear a sheer gown over your mini skirt and top. Slip into a pair of buckled boots for making the look even more on fleek.
Via
↓ 1 – Celebrity Outfit
Via
Related Posts via Taxonomies