Outfits with bootcut jeans for girls. Boot cut jeans is one of the most comfortable and easy to breath in denim style. Often confused with the famous bell bottoms or flare pants from the 1980s, boot cut have slight technical difference although it is a type of bell bottoms.
So what is a bootcut jeans? However bell bottoms and flare pants had a varying amount of flare, from very large to just a little. In Boot cut the flare is relatively less variable. You can say that a denim bell bottoms with a medium flare is known as the boot cut jeans. Boot cut is loose as compared to skinny jeans or regular fit, but they are also not loose fit pants. Because in boot cut, only the area from the knee and below is loose fit. The measurements from above the knee to the top of the pants are almost the same as regular fit. It may be tapered a bit from the thighs or may be not.
 What to Wear with Bootcut Jeans for Women
Boot cut look great with certain outfits in both men and women. Although distress denim and skinny jeans are all the rage, still boot cut has also stayed persistently in popularity, mostly because they have the comfort as well as a respite from the tightly fitting skinny jeans is welcome every now and then. Because of the flare women sometimes shy away from wearing boot cuts. They think it might make them look broad because of the flare.
Secondly, it sometimes becomes cumbersome to decide what to wear with the boot cut jeans. Well, this problem of yours can be easily solved as we have here 19 great ideas that show how you can wear outfits with boot cut jeans in a hip and fashionable way.
↓19 – The Working Woman Outfit With Boot Cut jeans
You can easily wear boot cut jeans to the office without having to worry about thinking whether it may be classified as provocative or revealing as skinny jeans are sometimes called. Pair up your boot cut jeans with a professional looking button down shirt in light and cool colors and you have a great outfit ready to go to the office in. RECOMMENDED: 22 Elegant WorkWear Outfits Combinations for Women
Source
↓18 – Wearing Layers With Boot Cut Outfits
Wearing layers with boot cut pants is always a good idea because the pants are roomier at the bottom so it is good to have a little thickness from the top layers match it.
Source
↓17 Casual Look With Boot Cut Denims
So if you are completely in the mood to relax and feel easy, you can pair up your favorite pair of boot cut pants with a plaid cotton button down. Wear material that will help you relax and either flats or sneakers can go with your outfit to give a perfect easy look. However, you can wear heels to change the relax mode into classy one. Here are 32 Beautiful Denim Dresses to Inspire your daily Fashion
Source
↓16 – Wearing Head Accessories With Boot Cut Jeans
Another good way to complement the flare in the bottoms is to wear a medium sized head accessory. A plain hat or a nice cap both will look good and can duly serve the purpose.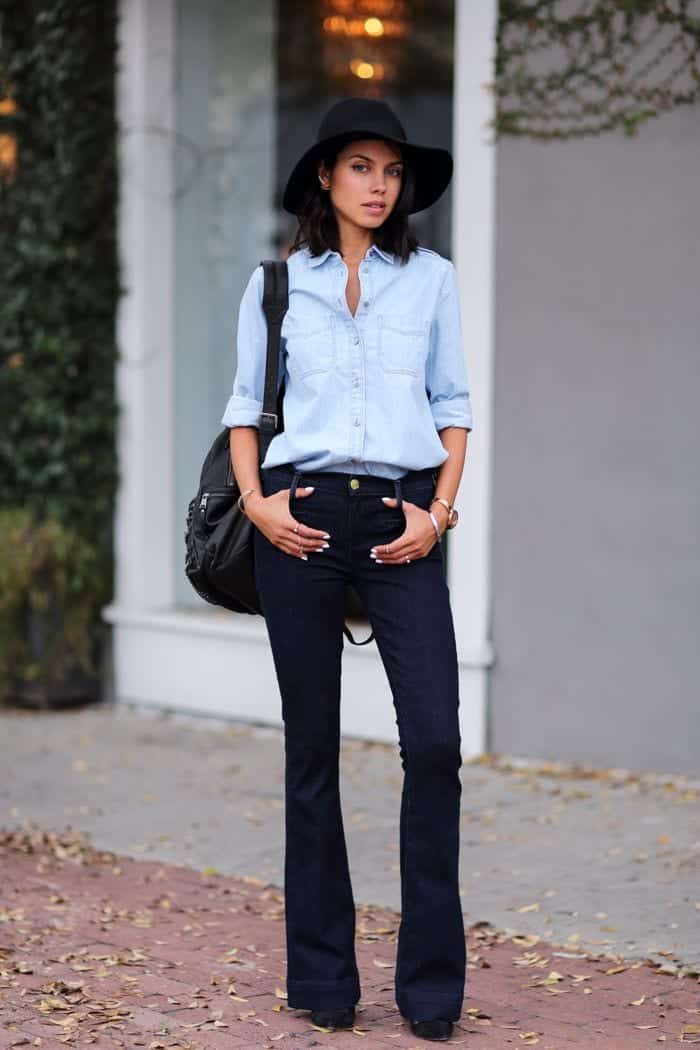 Source
↓15 All White With Boot Cut Outfits
The all white outfit is the safest option on almost all occasions as it is good for formal and casual both. Check out these White Shirt Outfits-18 Ways To Wear White Shirts For Girls
Source
↓14 – Funky Jackets With Boot Cut Jeans
Vibrant and colorful, funky jackets make a great pair with boot cut jeans. With a plain t-shirt as the inner wear a jacket that will steal the maximum attention.
Source
↓13 – Formal Silk Tops With Boot Cut Jeans
If you want to attend a formal occasion but are reluctant to take off your favorite boot cut denims, there is an easy way out. You can pair the denims with a silky or flowing top. The top must be formal enough to enhance to boot cut to a formal attire. For formal wear, heels are always a favorite choice so you might wanna check out these Jeans Outfits in Heels; 20 Ways To Wear Jeans With Heels
Source
↓12 – Celebrities Rocking The Boot Cut  Denim Outfits
Many celebrities like to take a break from skinys and rock the Boot cut denims.
Source
↓11 – Crop Jackets Make A Good Pair With Boot Cut Jeans
Try the crop jackets in neon tones to make the outfit attractive and an eye candy. And if you have cropped boot cut jeans, then you'll find inspiring ideas here: Women Cropped Pants Outfits- 17 Ideas How To Wear Crop Pants
Source
↓10 – Contrasting Denim Top and Boot Cut Bottoms
You can pair the denim jeans with a denim top in a lighter or darker shade.
Source
↓9 – Accessorize To Bling Up Your Boot Cut Denims Look
There are a number of ways in which you can glam up your boot cut outfit. Wearing leather ankle boots with a leather belt or high heels with swarovski adorned belt will look good with the denims. Also small bags and large sunglasses will complete the look. RECOMMENDED: How to Wear Waist Belt?18 Perfect Outfit Ideas with Waist Belt
Source
↓8 Boot Cut Denims For Plus Size ladies
Plus size girls and ladies look great in boot cut jeans.
Source
↓7 – Boot Cut With Turtle Neck And Blazer
Source
↓6 – Tank Tops With Boot Cut Jeans
Here are 16 Cute Outfits with Tank tops; How to Wear Tank Tops
Source
↓5 – Boot Cut Jeans With A Bling
Blinged up boot cuts are also very much in fashion and you can find various styles like embroidery, sequins and other bold patterns and designs.
Source
↓4 – Frayed Boot Cut Jeans
Source
↓3 – Boot Cut Jeans With High Heels
High top sneakers or regular canvas shoes can be worn with boot cut jeans. But you can also glam your boot cut jeans with high heels sandals or ankle boots.
Source
↓2 – Boot Cut Jeans With Winter Coats
In Winter season you can flaunt your boot cut jeans with long stylish coats. You can wear trench coats or fleece coats with leather belts. You can wear hats or other winter accessories too.
Source
↓1 – Hair And Makeup With Boot Cut Jeans Outfit
A number of hair and makeup styles can be worn with boot cut jeans. Ruffled or straight hair look with light makeup makes a good combination. However, the best way is to opt for a look that goes with your entire outfit and not just with the boot cut jeans. It is always recommended to avoid wearing too heavy makeup with any type of jeans outfit. Even if your top and accessories are formal, wear either nude or light party makeup.
Source
Related Posts via Taxonomies