Business Casual Outfits for Men. Have you fetched a new job? Is tomorrow your first day to office? You must be up all night thinking about how to style your business casual attire. After all, first impressions matter. You don't want disrespect the dress code and saunter at your new workplace dressed in a pair of good old ripped jeans with a graphic tee.
You have to be appropriately dressed. But all you know is that you are required to dress in a business casual manner. Nothing else, so you might be a bit confused as to how you must dress.
Even if you have been working in the same office for the past few years and know the art of styling your business casual outfits, you might just have landed here for some fresh ideas. Whatever is your reason, read on. We have got for you a guide on this exact topic. You might be able to gain some inspiration for the better.
 How to Style Business Casual Attire for Guys
Let's start with a few pointers:
Make sure you pay attention to the details. Your nails must be trimmed and clean, your appearance must be tidy, your hair must be styled properly. Shoes must be polished, beard must be trimmed or shaved, cufflinks must be glossy etc. Everything must be in check.
Follow the dress code closely. Every workplace has its own dressing rules. At some places, jeans are allowed as well and you can go without socks. At other places, the look is more on the formal side.
Do not take any risks on your first day to work. Wear khaki pants with a button down shirt, leather shoes, dark socks, belt and tie included. Once you have a general style, that is followed there, figured out then you can go ahead with styling in a bit more stylish manner rather than the simplistic one. RECOMMENDED: Men Business Attire- 27 Summer Business Attire Ideas for Men
Maintain a consistent style statement. If you wear one sort of clothes 4 days of a week but pop up in an entirely different style on the fifth day, you wouldn't be able to gain trust and some extra points.
Last but not the least, even when heading out with the staff for brunch or dinner, don't get too comfortable. Save the cozy look for home and hangouts with old friends.
↓ 27 – Definition of Business Casual Attire
A business casual attire, as the name suggests, is the one which keeps it casual while also keeping it appropriate enough for work. The general outline of such a manner of dressing to the workplace includes khaki pants or slacks with a dress shirt. Tie or no tie depends on the company's particular requirements. Same can be said for socks. Typical conservative dress shoes, monk straps or oxfords are preferred. In this modern era, though, business casual has shifted to a more relaxed and laid back style. Most of the companies today allow tees and jeans as well.
Via
↓ 26 – Business Casual Attire vs Business Professional Attire
A business casual attire is a mix of professional and casual. Whereas business professional attire refers to a more strict and formal dress code. Have a look at these Professional Beard Styles for businessmen.
Via
↓ 25 – Business Casual Meeting Attire
Go for a pair of black straight leg pants with a sky blue dress shirt when heading to a business meeting. Don't leave behind your tie. Brown leather shoes and belt.
Via
↓ 24 – Business Casual Seminar Look
Via
↓ 23 – Business Casual Interview Outfit
Polo shirts are usually included in business casual clothing. However, never make the mistake of wearing one to your interview. Keep the look nifty with a button down, slacks and tie.
Via
↓ 22 – What to Wear for Business Casual Lunch
A plaid shirt with khaki pants would make a good outfit for a business luncheon. Here are some more cool Men Khaki Pants Outfits for you to try.
Via
↓ 21 – Business Casual Outfit in Summer
Wear a polo shirt with khakis in summers. Keep the look clean and cool by wearing light colors.
Via
↓ 20 – Business Casual Outfit in Winter
Throw on a plain sweater over the button up shirt for a posh look.
Via
↓ 19 – How to Dress for Business Casual Dinner
Via
↓ 18 – Business Casual Brunch Attire
White shirt, light brown khakis for the business brunch. Her are some amazing Men White Shirt Outfits.
Via
↓ 17 – Business Casual Cocktail Party
Plaid button down shirt with slacks and a tie for the business cocktail party.
Via
↓ 16 – Business Casual Attire for Juniors
Via
↓ 15 – Business Casual Attire Fashion
Via
↓ 14 – Business Casual Attire for Seniors
You don't have to wear a single color schemed suit. You can wear a blazer of a different color than the slacks and ditch the tie and socks. Do have a look at 20 Ways to Wear Blue Suits with Brown Shoe Ideas for Men.
Via
↓ 13 – Business Casual Travel Attire

Via
↓ 12 – Business Casual Swag Outfit
If your workplace allows it, try wearing this outfit: gray blazer, white round neck tee with black slacks. White sneakers with navy socks to complete the look. RECOMMENDED: 30 Amazing Men's Suits Combinations to Get Sharp Look
Via
↓ 11 – Business Casual Attire for Wedding
Attending the wedding ceremony of a fellow staff member? Keep it simple and classy.
Via
↓ 10 – Business Casual Internship Look
Working as an intern? Be sure to leave a great impression. Dress in a suave manner without overdoing the look.
Via
↓ 9 – Business Casual Attire with Jeans
Most offices these days allow jeans. Wear your dark blue jeans with a light blue dress shirt and mauve tie for the ideal color contrast.
Via
↓ 8 – Business Casual Without Blazer
You don't necessarily have to sport a blazer. You can ditch it if you think it would be fine that way. Blazers are hardly ever a prerequisite for employees. Her are some great Cocktail Outfits for Me, learnt from the most well-dressed celebrities.
Via
↓ 7 – Business Casual without Tie
Most offices permit you to drop the tie. You can also wear a suit without a tie for the debonair look.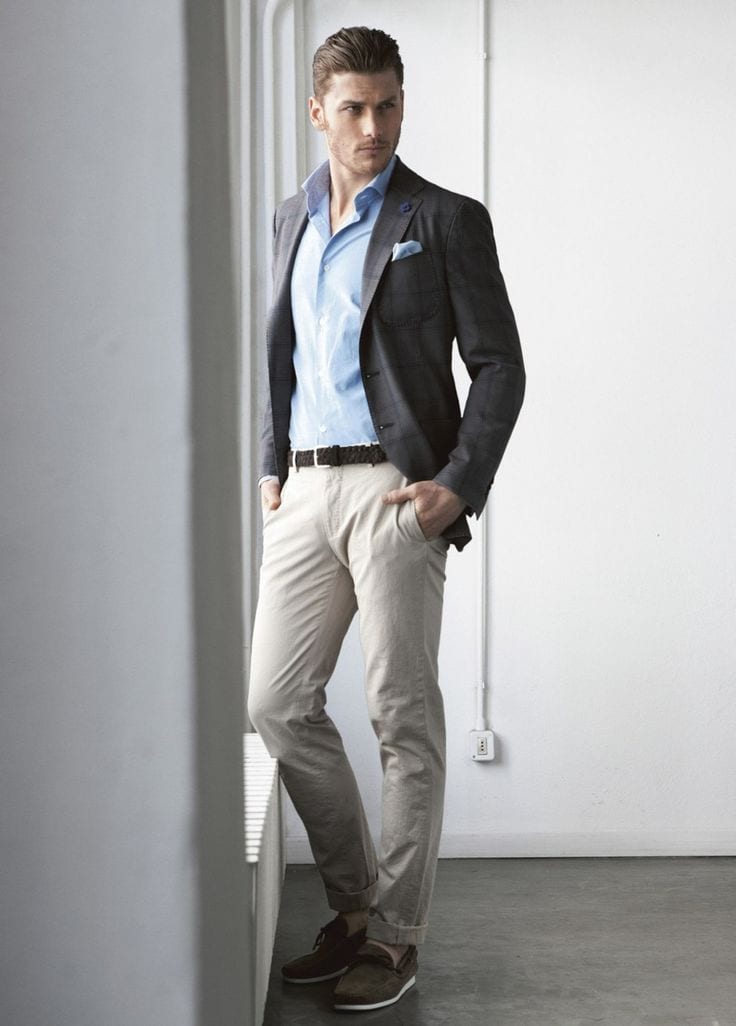 Via
↓ 6 – What Qualifies as Business Casual Attire
Khakis, slacks, dress shirts and whatever you workplace allows.
Via
↓ 5 – Shoes for Business Casual Attire
Brown leather is the basic choice. You can wear black ones if those go with the color of your belt. You can go for dress shoes. You can also slip into a pair of sneakers or loafers if the place you work at is okay with it. Lately, monk strap shoes have been trending amongst men too so here are the 30 Best Men's Outfit Ideas to Wear with Monk Strap Shoes.
Via
↓ 4 – Business Casual Outfit for a Presentation
Via
↓ 3 – Business Casual Etiquette
Via
↓ 2 – Business Casual Suit
Via
↓ 1 – Business Casual Evan Spiegel
The owner of snapchat isn't just brilliant and good-looking but he's got style as well.
Via
Related Posts via Taxonomies