Men Road Trip Outfits –  Road trips are the perfect way to relax and explore the world. Whether you are travelling with friends, family or your significant other, this is going to be the most adventurous ride of all times. In all the excitement and traveling preparations, you may forget to decide your outfit for the road trip until the last minute.
While road trips are a lot of fun, they may also get very tiring especially if you decide to drive your own car. The long hours of sitting tend to exhaust you and that could get a whole lot worse if you are wearing something you are not comfortable in. As a result, you end up missing out on all the enjoyment and the relaxing trip becomes a hassle instead. Sounds dreadful, doesn't it? Well, we are not here to scare you. We are here to save you from that trouble and provide you with all the right information you need to know to decide your outfits.
What to Wear on a Road Trip for Guys
Via
As the trip gets closer, you will notice everyone traveling with you completely indulged in packing and choosing their outfits and accessories. And you need to do the same, so get your vacation mode on! You need to be on your A-game so you can get great pictures and be the center of attention! But you do not want to get carried away with it and keep in mind that you have to choose something that you are most comfortable in. You do not need anything formal here, so its time to take use all your best casual outfits. If you are travelling in summers, you should keep outfits that are easy breezy and not suffocating. If you are going for the trip in winters, you would want to go for something that keeps you warm and not make you freeze. Here are some of your options according to the season:
For summers:
Tank tops
Shorts
Half sleeves shirts
Flip flops
Sunglasses
Hats and caps
For winters:
Hoodies
Jackets and coats
Denim Jeans
Sneakers and Converse shoes
Beanie
Sunglasses
For more tips and ideas, we have rounded up a list of 20 outfits for all you men that you can wear for a road trip. Take a look at these outfits and choose one that suits you best!
↓20 – Outfit with White Tee
Boys, you cant possibly be thinking of going on a trip without one of these classic tees. It is definitely a must have because of the various ways in which it can be styles and the different places it can be worn to. For more ideas, do check out these Men White Shirt Outfits.
Via
↓19 – Tank Top for Men
This is an ideal piece of clothing to stay easy, comfortable and cool on a hot day.
Via
↓18 – Shorts to Stay Comfortable
In summers when all you want to do is just beat the heat, shorts will be your best friends. Here are 20 Stylish Men's Outfits Combinations with Shorts.
Via
↓17 – Collared Shirt over T shirt
If you want to further style a basic tee, you can simply wear a shirt over it unbuttoned. It looks casual and cool at the same time.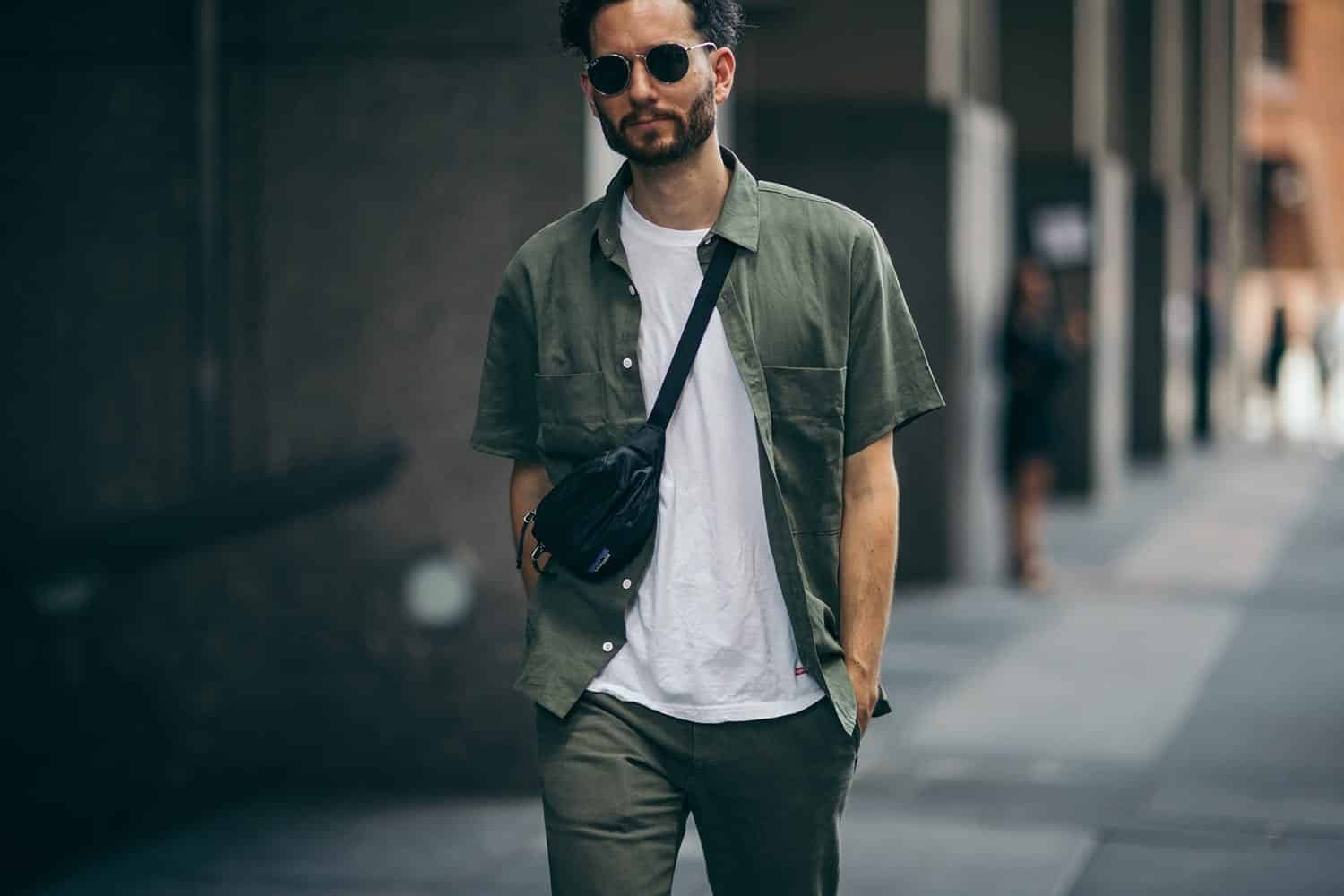 Via
↓16 – Outfit with Sweater for Fall
If you are traveling in winters, you can wear a sweater in many ways. One such way is wearing it over a collared shirt to look trendy and well dressed. Here are 17 Ways to Wear Sweaters Fashionably.
Via
↓15 – Striped Shirt for a Chic Look
If you do not want to look boring, this look is for you. Stripes will add that extra chic style to your outfit.
Via
↓14 – Statement T shirts for a Cool Look
Most youngsters these days prefer t shirts with bold statements and slogans and there is no reason why they should not, they look absolutely amazing. Here are some really good Black Shirts Outfits for Men.
Via
↓13 – Sweatshirts for Road Trips
If the weather is not too cold or hot, this is the perfect piece of clothing for you. You can wear it over denim jeans.
Via
↓12 – Denim Jackets For Men
How could you forget the classic denim look? Denim jackets look super stylish and give a great effortless look. Here are 17 Ways To Wear Denim Jacket.
Via
↓11 – Tropical Prints for Road Trips on Sunny Days
You can also style your outfit according to your destination. If you plan on visiting a beach or island these kind of prints will look great.
Via
↓10 – Comfy and Stylish Road Trip Outfit
To stand out from the rest of the people, you can focus more on your pants and wear one that is unique with simple shirt.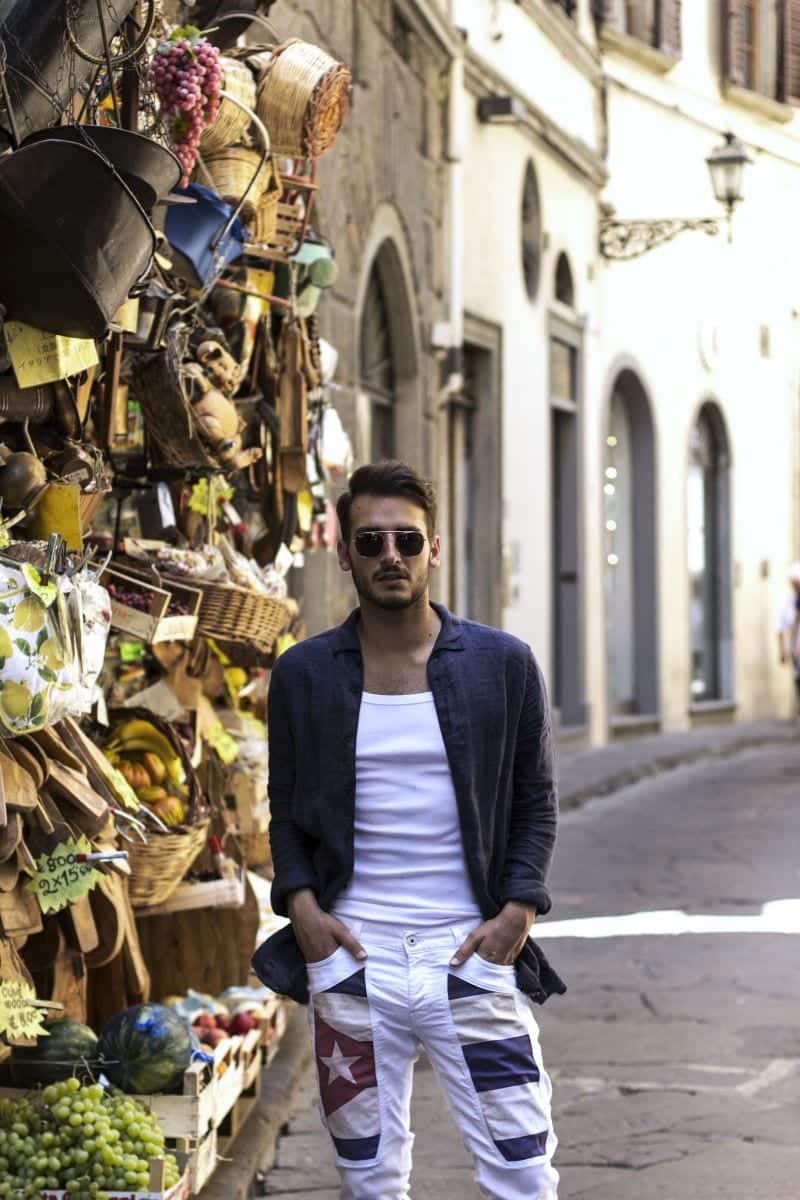 Via
↓9 – Bomber Jackets For Men
Don't these jackets look super cool? You should definitely consider wearing one for your next road trip. Don't miss out these 18 Outfits with Bomber Jackets.
Via
↓8 – Road Trip Accessories For Chilly Weather
In winters you may need some additional clothing such as jackets and scarves to keep yourself warm.
Via
↓7 – Leather Jacket To Look Stylish
Who doesn't like wearing leather jackets? If you've been waiting for the right day to wear it, now is the time!
Via
↓6 – Road Trip Outfit For Beach
When visiting a beach, don't forget a pair of shorts and shades. Here's a complete guide on What Men Should Wear at the Beach?
Via
↓5 – Bags To Take On Road Trip For Men
These handbags and backpacks are great for traveling if you do not have an excessive amount of stuff to keep. Not only that, they also enhance your look.
Via
↓4 – What to Wear on a Road Trip with Friends
Whether you are at home, going to schtravelingvelling there is absolutely no place where you can not rock a hoodie.
Via
↓3 – How to Dress for a Road Trip with Girlfriend
Via
↓2 – Winter Road Trip Outfit
Via
↓1 – Best Shoes to Wear for Road Trips
The best shoes are undoubtedly sneakers as they work great for cold days. But if you're not the one driving and you like to take your shoes off during the trip then you could go for slip on shoes or even some comfortable flip flops.
Via
Keep in mind that road trips are casual, so do not wear formal clothing as it will not only make you look out of place but also make you feel uncomfortable throughout. Make sure to not forget some of the other essentials such as cameras, shades, hats, munchies and of course a good playlist of songs! With everything mentioned in this article in your mind we are sure you will have an awesome and relaxing trip.
Related Posts via Taxonomies