How to wear beanie guys. When we use winters and fashion in the same question, a beanie will always be somewhere in the answer. Especially, on bad hair days, when you are a dandy guy who just doesn't want to look anything less than perfect. But not every type of beanie looks cool on you.
If you want to look your best you need to know which sort of beanie will go with your overall appearance. Here you get to know all about beanies and how you can rock them!
Trendy Ways to Wear a Beanie for Men
Here are some tips to bear in mind.
Donning a suit and wearing a mismatched beanie is a mistake you better not make
50 degrees hot and you sporting a beanie is a big no-no
A bumper jacket and beanie combo is the ultimate on fleek look
Don't try too hard and end up looking like a wannabe. Remember, stay casual
↓ 15 – How to Wear a Beanie with a Jacket
You know what makes a dude stand out? It's the way he carries himself. If you don't know what looks good on you and what doesn't, you often end up making fashion blunders. When wearing a beanie, go for one that not only is in contrast with your clothes but also goes with your face cut and your hair type. RECOMMENDED: How to Wear Bomber Jacket Men-18 Outfits with Bomber Jackets
Via
↓ 14 – Types of Beanies for Guys
There are several kinds of beanies for men. The trendiest ones these days include Cuff Beanies that have extra knitted material at the bottom. Followed by Bobble hats that look childlike yet hip and cool and tight Hipster beanies also called Fisherman beanies. Then there are High Top beanies that are worn more to impress than to keep warm and not to forget Slouch Beanies that have a protruding top that's supposed to hang. All these types look very snazzy.
Via
↓ 13 – How to Wear a Pom Beanie for Guys
A pom beanie is worn covering the ears but high on the forehead. This way it makes one comfy in the winters and looks steezy as well. Comfort along with style is a combination that can never go wrong.
Via
↓ 12 – How to Wear a Slouchy Beanie for Guys
Slouchy beanies are without any doubt the most bonzer of the contemporary fashion of our era. Worn above the ears and high on the forehead, with the top of the material hanging. These give you a classy, laid back look that is a total heart winner.
Via
↓ 11 – How to wear a Beanie without it Falling Off
If you select a beanie type that fits your head fret not it will not fall off. If you still aren't able to make it stay at its place, adjust your hair to make it stick. If nothing works, you can sneak into the washroom every now and then to set it right! RECOMMENDED: Black Jeans Outfits for Men–18 Ways to Wear Black Jeans Guys
Via
↓ 10 – How to Wear a Beanie with Headphones
Don't worry about looking like a fool when wearing headphones with a beanie. Because as long as you have an air of confidence, and do not behave in a silly manner, you will look dapper. You can wear the headphones over the beanie or wear the beanie above your ears and put on the headphones together with it.
Via
↓ 9 – How to Wear a Beanie with Glasses
If you think that your sight glasses will somehow act as an obstacle between you and a beanie-clad, fly look, then you are fortunately wrong. You can rock a beanie even if your eyesight is weak.
Via
↓ 8 – Beanie with Sunglasses
When done right, you can pull off any style, and a beanie cap along with sunshades isn't the least of them. It looks very modish especially if you pair the look with ripped jeans! Check out these amazing Men Outfits with Hats – 15 Ways to Wear Different Hats Fashionably
Via
↓ 7 – Beanie with Long Hair
If you have long hair, the beanie will suit you even more. After all, long hair on men is in vogue these days. A Slim fit beanie will compliment your long locks like no other.
Via
↓ 6 – Styling  a Beanie with Short Hair
If you have short, trimmed hair then your best option would be a tight beanie. A loose fit beanie like a slouchy beanie can make your head look smaller in comparison as you don't have the voluminous hair to balance it. Here are some Disconnected Undercut Hairstyles For Men-20 New Styles and Tips
Via
↓ 5 – Beanie with Curly Hair
Curly hair plus beanie is equaled to a charming look that never fails to captivate. A slouchy beanie will give you an I-woke-up-looking-this-hot appearance.
Via
↓ 4 – How to wear a Beanie with Bangs
If you have those silky, straight bangs falling over your eyes and you want to combine that look with a loose beanie, go ahead! Wear it over your ears but high up on your forehead and see the heads turn.
Via
↓ 3 – Beanie with Denim Shirt
If your hair is the frizzy type or the beanie ruins it, you can always gel it up. This way when you take off the beanie, your hairstyle will be in place. Wear it a little up on the forehead and low by the ears to make sure people get a look of your spiffy hairstyle as well! Here are some awesome Denim Jackets Outfits For Men – 17 Ways To Wear Denim Jacket
Via
↓ 2 – How to Wear a Beanie in the Summer
Honestly speaking, wearing a beanie in summers might not go in your favor unless you are a trendsetter everyone follows. And even then it can get messy. You see, wearing a beanie in the warm weather is like wearing shorts when it's snowing outside, and that is something that you just don't do. Even if you do, you'll need to follow a professional style guide for that which hasn't even yet been writ8. Check out these 20 Stylish Men's Outfits Combinations with Shorts; Summer Style
Via
1 – Street Style Look in a Beanie Hat
Sometimes, it is not about fashion, it's about style. And there is a huge difference between the two terms. If you add up your own spice to an accessory and carry it in your own natural style, then there's no stopping you from capturing hearts everywhere you head. But let's not be overconfident and stay within the boundaries of basic sense for that.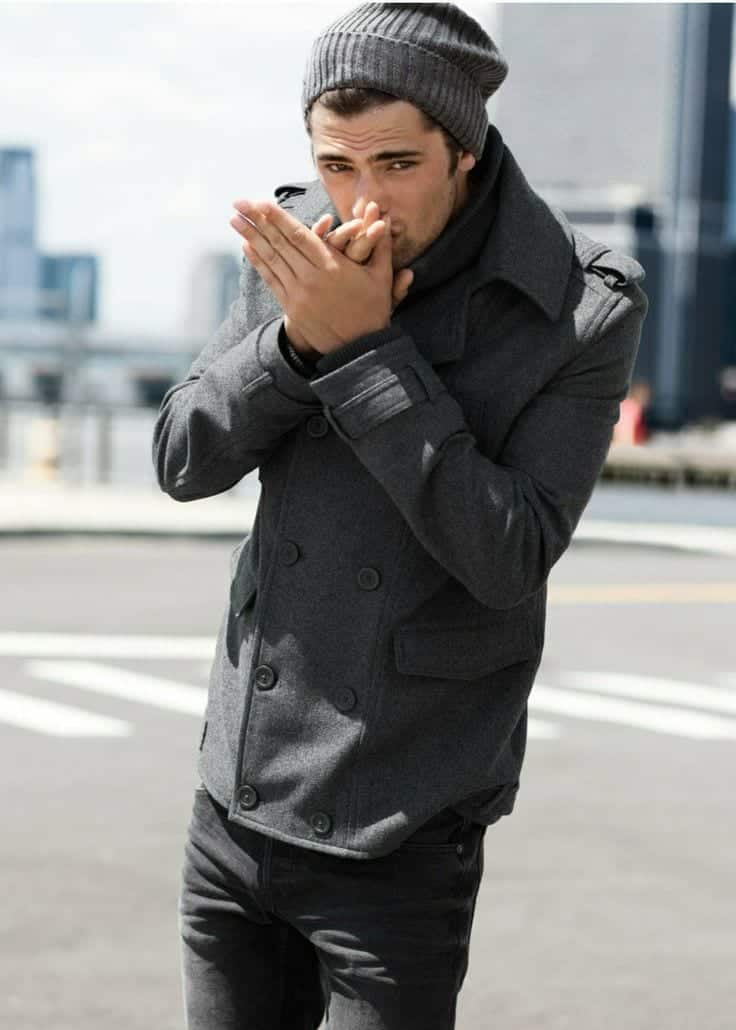 Via
Related Posts via Taxonomies