Girls Outfits with a Corset Belt. Corset belts are back! And no matter how silly the trend sounds, it is very much wearable. It all started with superstars like Kylie Jenner, Kendall Jenner and Gigi Hadid sporting corsets belts. As expected, the trend spread like wildfire until everyone started following it.
Brands like Prada have been portraying the corset belt on runways consistently, making the style spread more fiercely, helping it gain more fan following. Today, the 16th-century garment is worn as an adornment over shirts and dresses and in multiples of different styles. If you are looking for ways you can make your attire look more voguish, then you are at the right spot. Here we have compiled a number of ways you can look stunning in a corset belt embellished outfit!
What to Wear With a Corset Belt
If it's your first time sporting a corset belt, start slow. Don't directly go for an intense leather one; rather go for a lace corset belt that isn't too wide.
Blend the belt with the outfit. Wear a corset belt that goes with the colors of your attire so that it doesn't look like a separate, extra piece. RECOMMENDED: How to Wear Waist Belt?18 Perfect Outfit Ideas with Waist Belt
Do not overdo the look by adding too many adornments. Keep it snazzy by keeping the rest of the outfit on a lighter note so that the corset belt stands out.
There isn't any solid rule that says the corset belt can only be worn tight. You can keep it loose as well for the laid back look.
↓ 30 – What is a Corset Belt
The Victorian era undergarment is back. Only now, it's worn with a twist. The stylish accessory is a fitted, wide belt worn on the midriff. 

Via
↓ 29 – Corset Belt Trend
The street style trend has made way into the closets of several ladies and that also with increasing momentum.
Via
↓ 28 – Corset Belt Outfit Ideas
The corset belt can be sported in many ways. You can wear it with a baggy dress shirt or you can put it on over an off-the-shoulders shirt. For a classy look, wear above-the-knee boots or pencil heels when putting on a corset belt over your outfit. Also, have a look at these amazing Outfits with Boots for girls.
Via
↓ 27 – With Jeans
Via
↓ 26 – Corset Belt With Shirt for Girls Night Out
You can wear a laced corset belt over your shirt in a spiffy manner. If you like you can also go for a leather one. If your entire outfit is black you can put on a patterned one of a unique color. Here are some more amazing ideas on What to Wear for Girls Night Out?
Via
↓ 25 – With Dress
Punk corset belts look stunning when worn over a frock or dress.
Via
↓ 24 – Street Style Outfit
For the ultimate street style look, go for ripped jeans or tights with a button down shirt and throw on a leather corset belt to add the finishing touch. Here are 16 Popular Spring Street Style Outfits Ideas For Women.
Via
↓ 23 – Goth Outfit
Going for the goth look? Wear a full black outfit with a corset belt.


Via
↓ 22 – Casual Outfit
Slip into your button down shirt and tie your corset belt over it. Fold your sleeves and let loose your hair for the fab look. Step into knee-high boots and you're ready to go! Check out these 18 Cute Casual Friday Outfits For Women.
Via
↓ 21 – Work Outfit
Heading to work but want to add a gorgeous look to your outfit? Wear a corset belt over your dress shirt.
Via
↓ 20 – Party Outfit
The fashionable accessory makes an ideal addition to your party outfit. Here are 20 Ideas What To Wear For House Party.
Via
↓ 19 – Prom Outfit
Via
↓ 18 – Gold Corset Belt
The gold corset belt looks royal and sophisticated.
Via
↓ 17 – Plus Size Corset Belt
Chubby women can also rock the corset belt with sass. There's no stopping anyone. Here are 12 Hot Plus Size Street Style Fashion Ideas for This Season.
Via
↓ 16 – Lace Corset Belt
The lace corset is the accessory for the women who want to go easy with the trend. It isn't too tight so as to be uncomfy, though it is as stylish as it can get.
Via
↓ 15 – Black Leather Corset Belt
The leather corset belt is a nod to the days of the past. It looks extremely stylish. Wear it over a crisp white shirt for a striking look.
Via
↓ 14 – Denim Corset Belt
The denim corset belt looks both girly and cool. It's a step ahead of the contemporary style. Here are 32 Beautiful Denim Dress to Inspire your daily Fashion.
Via
↓ 13 – Corset Belt Fashion
Since the mighty trend has reentered the world of fashion, quite many women can be noticed going with flow of the corset belts and making style statements.
Via
↓ 12 – Zip Corset Belt
Have trouble following the instructions when it comes to wearing a corset belt? If so, you can always opt for a zippered corset belt and breeze through the day with ease! Isn't that skirt too adorable though? Find here some more beautiful Outfits with Sheer Skirts.
Via
↓ 11 – Brown Leather Corset Belt
Back in the day, brown corset belts were worn by women to look stylish. Guess the custom has been resurrected. The brown corset belt looks extra snazzy and neat.
Via
↓ 10 – Embroidered Corset Belt
For the traditional look, embrace the embroidered corset belt. Also have a look at these amazing ideas on How to Wear Embroidered Jeans.
Via
↓ 9 – Elastic Corset Belt
Good thing, it's no more those old days when the only way to rock a corset belt was by holding your breath and sacrificing your comfort. In the modern world, corset belts make no absurd demands like that. The elastic corset belt lets you breathe calmly and is also a snug fit.
Via
↓ 8 – Steampunk Corset Belt
For the tough girl look, wear a steampunk corset belt.
Via
↓ 7 – In Summers
Summers and floral printed dresses go hand in hand. Enhance the look by adding a corset belt to the attire. Don't miss out these cutest Spring Outfits With Floral Jackets.
Via
↓ 6 – In Winters
For the chic look in winters, wear your corset belt either over your coat or under your jacket.
Via
↓ 5 – Celebrity Style
Victioria Justice turned heads in this gorgeous corset belt outfit. She took the notch on style up by sporting the choker as well. Here are 20 Ideas How To Wear A Choker Necklace.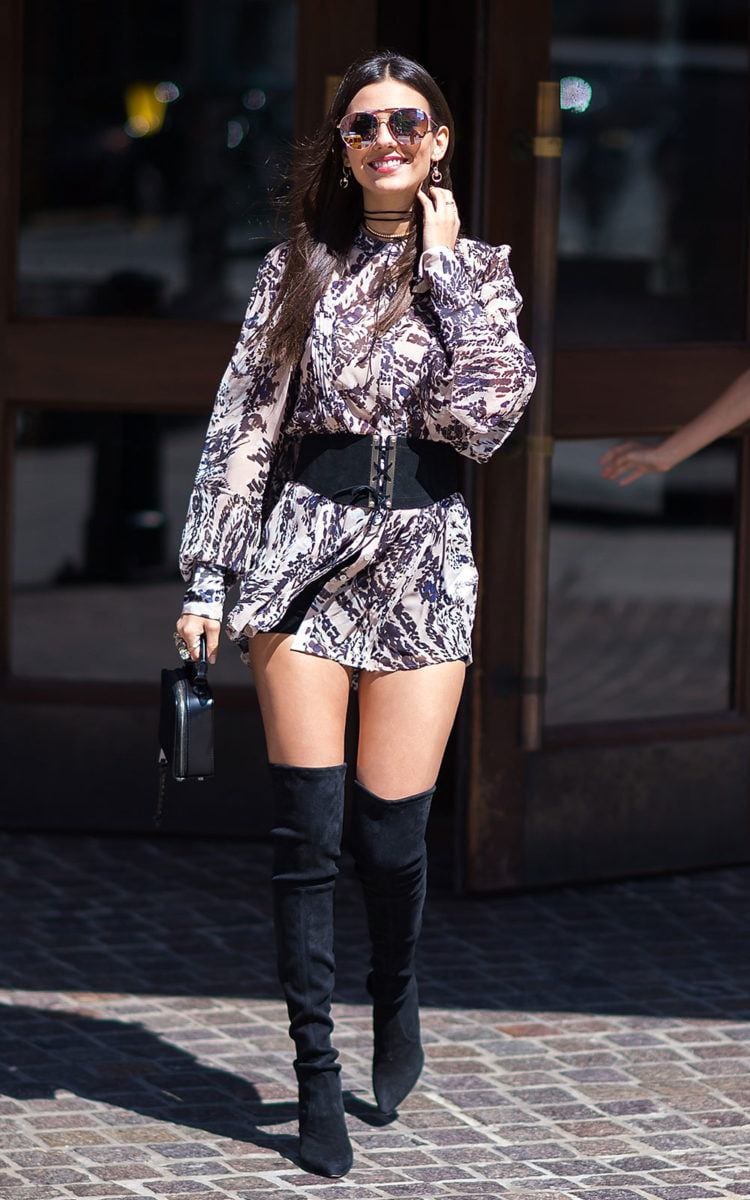 Via
↓ 4 – Corset Belt Styling
The look of it is perfect when worn over over-sized tees!
Via
↓ 3 – Best Corset Belt Colors
Contrary to popular belief, the corset belt doesn't just come in black and brown. It actually comes in a horde of colors.
Via
↓ 2 – Corset Belt Look
For an elegant look, wear a dark, denim corset belt over your glamorous maxi for boosting the overall style of the dress.
Via
↓ 1 – Corset Belt Rihanna
Even the music queen herself has embraced the trend!
Via
Related Posts via Taxonomies