Outfit ideas for women over 60. The world of fashion is not bounded by age. Age is just a number, if you have heard about this proverb, you knpw that you can become a fashion icon even if you are over 60. You might have noticed that most of the latest fashion tips and trends expressed and promoted online are related to the youngsters.
It appears so rare that the ladies going above 60 have any desire to look for an elegant style and fashionable trends. But you must understand that this is not true! Just because you have lived through a certain number of years, does not mean that you can't be attractive and stylish. Although there are some styles and trends which are related to the younger generation only but there are a large number of styles that the senior ladies can comfortably adopt and look sophisticated as well as attractive. In fact, the fashion style for the women over 60 means finding a perfect balance between feeling comfortable and looking elegant too.
What to Wear in Your 60s for Casual Wear
Here we will share the 30 most impressive and super comfy outfit ideas to the ladies who reached or going just above their sweet 60s, along with the best ever fashion and style tips that you must keep in view.
via
↓ 30- Work Outfit for The Ladies Over 60
'Aging with style' is the key concept that you must bear in mind while going to shop for office wear. You can opt for bright and vibrant colors or go for cool pastel shades in your outfit selection, depending on the personality. A white pants or jeans is must have for your wardrobe. White is an iconic color and mesmerizing too in its overall hues. An apparently too bright top would look cool with white bottom and pastel shades would look lovely if paired up with white. Here are Legging Tips for Women Over 40– 20 Ways to Wear Legging when Above 40
You can wear your most loved pearl jewelry along with the work outfit and look absolutely elegant in it. The tip is to tie your hair in a neat bun, it will give you a classy look while adding brightness to your personality.


via
↓ 29 – Bright Colored Outfit Ideas for the Older Women
A most common aging stereotype is to wear dull colors only or you would look out of the way. It's just a misconception because every color is available and looks amazing if managed to wear appropriately. You can team up black pants or leggings with a vibrant shirt of your choice and it will look gorgeous without any doubts.
If you already havea dull colored outfit, brighten it up with a beautiful scarf with all the radiant colors and it will cheer up your complete personality.
via
↓ 28 –  Maxi and Summer Outfits for Older Women
Summer is the best time to flaunt your style by choosing bold colors in maxi or long skirts. Just because you are going above 60 does not mean that you should have dull and drab outfits.
A maxi is the easy to wear and comfortable to carry outfit that you can opt for in the hot summer days. It is also available in a large number of prints and designs to express your own style and personality.
via
↓ 27- Party Outfit Ideas for Older Ladies
While going to a night out or a formal party, you must remember to wear the outfits according to your age elegantly. There is a mistaken perception among many ladies is that if they would wear a party dress suitable for a younger girl they would look younger. The reality is that you might look older and inappropriate if you will not select your outfit carefully. You can choose to wear a graceful long gown in the slim fit and full sleeves with an elegant pearl jewelry and people would love to appreciate the great shape you are in or the glowing skin or the nice hair cut. Check out Office Style For Women Over 50 – 18 Elegant Work Wear Outfit Ideas
via
↓ 26- Outfits for the Curvy Senior Women
Being over 60 and being plus sized too is very frustrating for many. It becomes too difficult to shop appropriate yet stylish clothes as there are hardly any options to buy from. There are certain styles of garments that you should avoid wearing being curvy and senior too; Floor length large printed dresses, long A-line shirts and loose shapeless trousers.
You can opt to wear single colored slim fitted pants. It might sound boring but they will make you look slimmer and younger too. The shirts with the slender style and small-sized printed designs are the best outfit options for you.
A monochromatic outfit style range will make you look stylish and classic
via
↓ 25- Winter Outfit Ideas
A slim fitted jeans or legging is must have to adorn your winter attire. The ídea of wearing all thick and heavy pieces of garments to make you cozy and warm can be modernized by wearing a slim fitted jeans, a warm tee and long warm duster coat or cardigan. This will give you a symmetrical look.
You can add a colorful or just red scarf to cover your neck and look stylish too.
via
↓ 24- Lovely Winter Outfit for the Day Out
You can manage to look stylish and elegant by following some really basic rules.
It's important to wear rightly fitted and well-stitched clothes that define your waist, no matter big or small.
Avoid showing too much of the skin, too short top or skirts would look inappropriate.
Always wear a supportive and well- fitted bra. It will enhance the overall appearance of you Outfit.
via
↓ 23- Work Outfit for the Senior Women
via
↓ 22- Soft Fabric Outfit
RECOMMENDED: 18 Outfits for Women Over 60- Fashion Tips For 60 Plus Women
via
↓ 21- Fresh Spring Floral Outfit
via
↓ 20- Casual Wear For Older Ladies
via
↓ 19 – Evening Wear for the Older Women
via
↓ 18- Green Capri Outfits
Do check out these 15 Fashion Tips For Plus Size Women Over 50; Outfits Ideas
via
↓ 17- Fall Fashion Trend for the Older Women
via
↓ 16- Casual Outfit for Women
via
↓ 15 – Black Tara Tunic for Women

via
↓ 14- Office Outfit
via
↓13- Casual Summer Outfit for Older Women

via
↓ 12- Fashionable Outfit for the Older Women
RECOMMENDED: 18 Cute Casual Friday Outfits For Women; What to Wear on Friday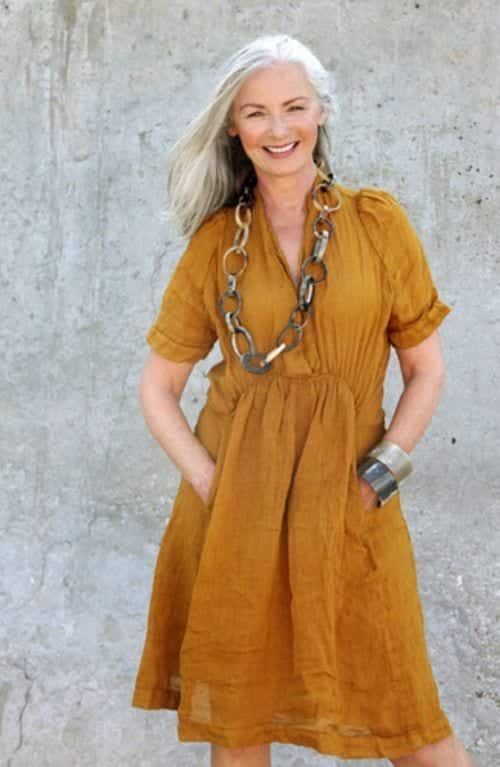 via
↓ 11- Helen Mirren Party Outfit
via
↓ 10-Kimono Jackets with Summer Wear
via
↓ 9- Cool Style of Old Ladies
via
↓ 8- Look Smart at Office
via
↓ 7 -The Best Christmas Day outfit for Old ladies
via
↓ 6- Outfit with Short Hair
via
↓ 5- Midi Skirt for Senior Women
via
↓ 4-  Simple yet Stylish Seniors

via
↓ 3- How to Wear Sleeveless
via
↓ 2 – Celebrity Style Over 60
via
↓ 1-Gorgeous Outfit for Women Over 60

via
Related Posts via Taxonomies