With summers just around the corner, many folks are already down with their plans for hitting the dock-side. Who doesn't love a nice breeze and a good day out on the waters, right? That is the fun part. With activities, foods, and gatherings already planned out, it comes down to what to wear. Either if it is a boat party or a casual boat ride, you are usually opting for something both stylish and comfortable.
Women choose to experiment around with the wearables before settling for what they want it to be.
While choosing your boating outfit, keep the outfit as simple as you can. Here are some amazing ideas to take your boating style up a notch for every occasion.
↓ 26 – Keeping It Casual
Boating in summers is all about being as casual as one can be. If you are opting for a comfortable yet chic outfit, don a pair of cotton shorts or pants with a light-weight shirt, and a pair of flip-flops for that hassle-free weekend boat trip. Here are 18 Cute Casual Friday Outfits For Women.
Via
↓ 25 – Casuals with button-downs
Take your boating style up a notch with pairing a breezy toned button-down shirt with your favorite pairs of cotton pants, and a pair of comfy sandals to hit the waves.
Via
↓ 24 – Nautical Overalls
Overalls are one of the most comfortable wearables. Make your boating trip a lot more uncomplicated by pairing some overalls with plaid shirts or white shirts, a comfy pair of toms and a cap to help you with the heat.
Via
↓ 23 – Stripes
Stripes possess the ultimate nautical charm. Bring back the classic nautical look with a striped shirt worn with plain pants. Play around your wardrobe pair up some striped culottes with your favorite shirts and you're good to go.
Via
↓ 22 – Summer Dresses/Skirts
Nothing beats summer dresses and flowy skirts on a warm summer evening on the waters. Channel your inner French girl with an ocean-toned summer dress and charm bracelets.
Via
↓ 21 – Off-shoulder dresses
Off-shoulder dresses are perfect for a casual afternoon boat trip. Play around with pastel hues to get the perfectly chic yet comfortable outfit with a dainty pair of hoops to get you going.


Via
↓ 20 – Maxi dresses
Beat the heat with a flowy maxi dress for your boat trip. Best for both spring and summers, maxi dresses are stylish yet comfortable for a nice evening on the waters. Accessorize your outfit with a beach hat and a pair of sandals and give your boat style a twist. Check out these Stylish And Trendy Maxi Skirts For Women.
Via
↓ 19 – Night boat life
Light cardigans are your way to go for a comfy night on the boat. Make your night-time boating a little more easy handling with pairing a wrap with tank tops or even a sundress. Toms or Vans are perfect footwear for a summers' night out.
Via
↓ 18 – Rompers
What's better than tees or sundresses? Rompers. With a variety of styles available, rompers are a perfect to-go outfit. Style a romper the way you like it, be it chic, boho or a classic pastel toned romper nicely paired with a pair of sandals.

Via
↓ 17 – Summer boat party
Summer calls for a boat/yacht parties. There are so many ways to style a sophisticated summer party outfit. Flowy dresses are one of the A-listers for summer parties. You can also add an extra oomph to your summer party style with off-shoulder or crop tops paired with light-hued pants and a pair of dainty earing for your breezy night out. Also see these 16 Best Beach Party Outfit Ideas for Women.
Via
↓ 16 -Chilly boating
Who said you can't go boating in fall? Add a nice vest jacket to your casual boating outfit and enjoy a perfectly cozy boating trip.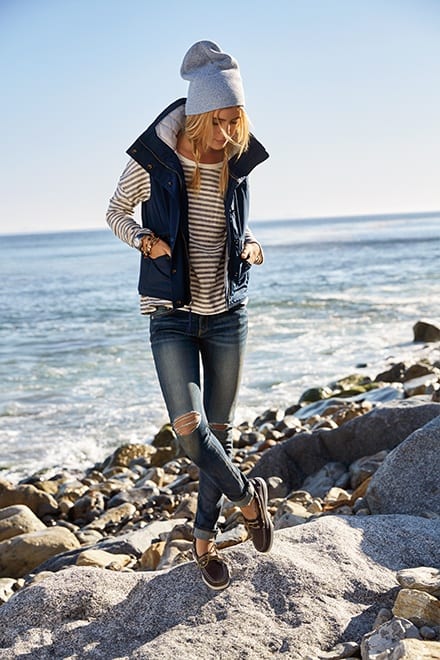 Via
↓ 15 – Hoodie nauticals
Hoodies can make anything and everything better. Pair your favorite hoodie with a button-down or a casual t-shirt and denim. To make it even more expedite, match your outfit up with a pair of converse or boat shoes. Here are the 27 Best Winter Travel Outfits for Women Trending these Days.
Via
↓ 14 – Winter boat nights
Don't want those chilly nights to stop you from having fun? Oversized sweaters are your best friends. With so many ways of wearing an oversized sweater, be it tucked in, worn with a pair of worn out denim, shorts or comfy tights, it offers a range of outfit ideas to experiment with.
Via
↓ 13 – Layers
Puffy windbreakers have made a comeback. Nothing is better than to go boating in fall in a more stylish way than donning a puffy jacket with a pair of jeggings or tights. There is your comfy outfit for a chilly evening.
Via
↓ 12 – Semi-formal fall boat party
Experimenting with winter wardrobe is one of the best parts of being a girl. A dress and knee-length boots can never go wrong as your winter boat party outfit.
Via
↓ 11 – Formal fall boat party
Cut a stylish figure with a full-sleeves body length dress for your perfect winter yacht/boat parties.
Via
↓ 10 – Jumpsuits
Jumpsuits can be worn for both fall and summer boating trips. Accessorize your look with a hat or a cardigan and there is your comfortably chic outfit. Don't forget to check out these 16 Cutest Jumpsuits Outfits.
Via
↓ 9 – Casual cardigans
Don't want to overdo your casual look? Opt for a cardigan to match your casual attire. Perfect for a fall noon boating trip.
Via
↓ 8 – Hairstyles for boating
A loose ponytail or a messy bun is your casually stylish hairstyle for a day on the waters. Accessorize your hairstyle with a bandana and voila!
Via
↓ 7 – Hairstyles for boat party
Party on the waters is all about those beautiful beach waves. If you are opting for a more formal look, a classic sophisticated bun as what you are looking for.
Via
↓ 6 – Nautical accessories
Add an extra charm to your outfits with dainty bracelets, hoops, wavy hats or a couple mid-rings.
↓ 5 – Shoes for boating
Be it a casual boating day or a boat party, boat shoes,Toms, converse and a nice pair of sandals are perfect for boating. Here are 16 Amazing and Comfortable Women Flat shoes/Loafers.
↓ 4 – Makeup for the waters
Keep your daytime makeup as minimal as possible. Go for slightly thickly made eyebrows, a tint to the cheeks, highlighter and a dab of coral for the lips.
Via
↓ 3 – Makeup for boat party at night
Nightlife on boats is all about that sultry, earth-toned looks. Add a pop of colour to the lips, add a pair of dainty earring to your look. depending on the occasion and let those beautiful beach waves do the talking.
Via
↓ 2 – Boating essential
Sunglasses
Hat/cap
Sunscreen
Flip flops
Via
↓ 1 – Tips for boating outfits
Do not choose a tacky outfit.
Avoid tight skirts/shorts.
Avoid high heels.
Keep your outfit simple.
Do not overdo your style.
 

Via
Related Posts via Taxonomies