Christmas Outfits for Plus Size Women. With Christmas on its way, the celebration and the hype is just about never ending chaos yet also overwhelming.
We all want to make our Christmas celebrations as joyous and triumphant as possible and for that we want everything top notch; let it be our clothing, the food, the hair, the gathering!But what really counts as the start of a wonderful Christmas celebration is how you dress for it. Because at times, only by dressing your best for an occasion, you can already add so much fun and joy to it already!
And for that, we have got your back as always. Gear up, because we have got some classy Christmas outfits for the classy plus size ladies who need not lag behind to look their best. So have a look at these 23 Christmas outfits for plus size ladies this year that includes all the fashion you need for Christmas this year.
Also, have a look at 17 Cute Valentine Day Outfits for Plus Size Women
2016  Christmas Outfit Ideas for Curvy Women
#23 – Fancy Christmas wear and Shoes
For women who wish to spend their Christmas in a much more celebrated manner, we have a got a bit of tip to do that. For fancy styles, go with silk or lace dresses, or even pencil outfits. Make sure to match them with heels for the best look.
Makeup for Christmas
For fanciest look ever, try this makeup look:
via
#22 – Plus Size Silk Dress
A plus size gorgeous silk dress will be your most comfortable asset when you have got to manage a lot of tasks while also looking your best, and silk outfits will make it much possible for you.
via
#21 – Leather Pants
Leather pants for a Christmas outfit will be suitable if you have planned a night out with your peers on the big day and are up for an enormously night out mode. Don't forget to match this with heels, as heels always go nicely with leather pants and will give you the swag you want.
via
#20 – Casual Christmas Outfits
When you cannot seem to let go of the youthful fashion and want to dress youngest! So here is your try with some cute and casual outfits that you can try.
Makeup Style and Hairdo: Go with some pretty and simple makeup styles and leave your hair open to make sure you really dress the most casual and cutest!
via
#19 – Sparkly Plus Size Outfit
A sparkly outfit for your sparkling personality will be a nice option too. Go light on makeup, best if you try a more nude or natural try with makeup to make your outfit look more casual.
Hair and Accessories for Christmas: Leave your hair open and match nude heels to go with black for a catchy look.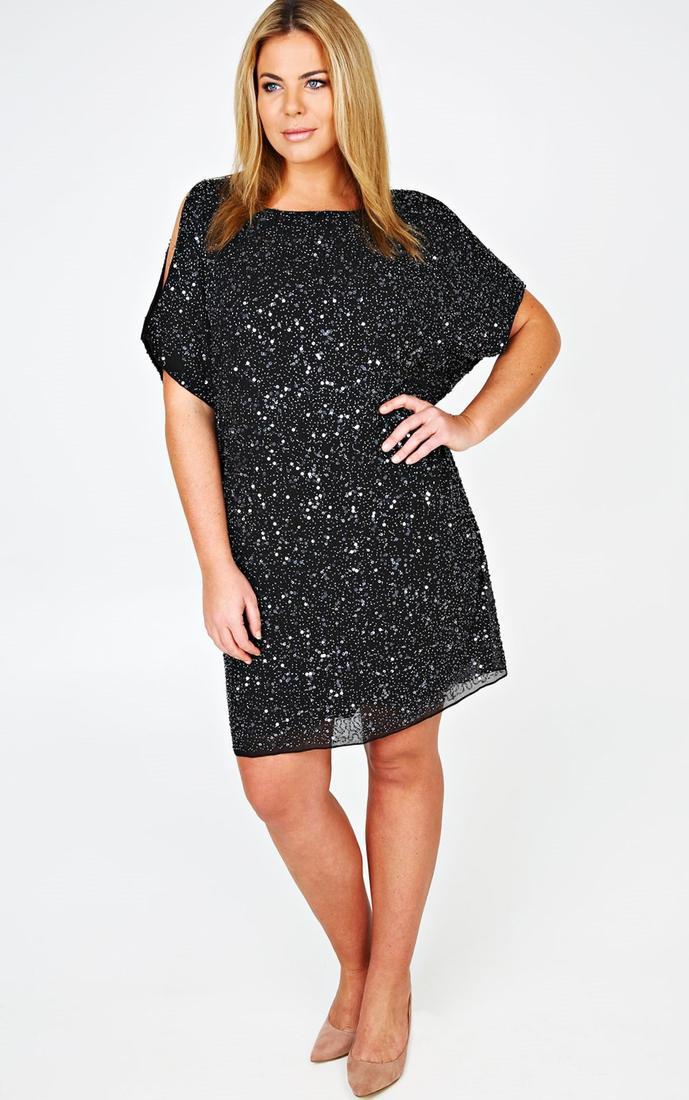 via
#18 – A Formal Christmas Wear
If you are a bit too attached to your office going outfits and style, then we have got your back to dress formally, even when it comes to celebrations. Get a formally attractive try like this one below, and make it go with either heel or with flats.
via
#17 – Vintage Plus Size Outfit
via
#16 – Sexy Red Dress
via
#15 – Club Style Christmas Dresses for Big Bust Women
When you are simply not an indoor party kind of person and cherish nights out; these styles will come in handy then! Try these club styles for Christmas for all the sensual plus size ladies. Try fancy or lace styles. We have also got some makeup tips for your Christmas nights out. Have a look below.
via
Makeup for Christmas
#14 – A Printed Swing Short Dress
A printed swing short dress when you plan on having a great lunch in the summer light and want to make it as casual and warm as you can.
Makup styles for Printed Dresses: Keeping makeup light with printed dresses is the best choice. Try some new natural makeup looks of 2016.
via
#13 – Lena Dunham Painted Outfit
When the coolest celebrity to have ever lived is here to charm us more with her fashion endeavors — Lena Dunham brings us to the coolest plus size casual dress with a painted texture printed on it and we cannot find it more beautiful. Try a red lip color for further perfection.
via
#12 – Fancy Party Christmas Styles
via
#11 – Outfit with Belt
When winter is getting the best of you but you have also got to enjoy — try a Christmas outfit with belt and boots to keep you warm and equally much intact with style and swag.
via
#10 – Lace Sleeves
When your Christmas night also happens to be your date night with the special one, then an outfit like this will be your guide. A classy and swaggy lace outfit with a dark silk underneath and a stunning pair of platform heels to give you a boost.
via
#9 – Accessories for Plus size Girls
For all the gorgeous plus size girls, we have got some cute accessories that you cannot miss with your outfit.
via
#8 – Simple Christmas Casual Style
When you find the most style in the simplicity! Try this composing simple red straight dress with a bit of formality but also a lot of prettiness.
Lip colors for Christmas: You can try a pretty red or coral lip color with this one and a matching pair of heels for an impressive Christmas look.
via
#7 – For Above 30 women
For all the above 30 women, these styles will be your best try on Christmas. They give decency, formality and all the class you need for a party.
via
#6 – Plus size Vintage Clothing
Planning to turn your Christmas into vintage costume party theme? We have got you some ideas that you can try which include the two styles in the middle, their dresses, hairdos — for a matchless vintage look for plus size ladies.
via
#5 – Rebel Wilson Frock Style – Celebrities Christmas Dresses
The queen of awesomeness, Rebel Wilson has got us covered when it comes to fashion because she rocks the plus size fashion like no other. Check her cutest party frock style.
via
#4 – Cocktail Dress Style
via
#3 – Mermaid Frock Style
via
#2 – Plus size Maroon Lace Outfit
Matching it with grey glittery heels will be the best combo.
via
#1 – A Carmen Dress
via
Related Posts via Taxonomies