Blazer Outfits for Curvy Girls: You love to dress up or lazy to choose your dress, in both cases Blazers are the savior. That one thing in your wardrobe which notch up your outfit and gives a very trendy look to whole attire is none other than but a tailored jacket. Some people think blazers or jackets are good for winter and fall season but even in the summer season, tropical cloth would work. Latest fashion trend, lace blazers are the new item which is getting popular in very short time. They add some more bulk to your body but it does not mean curvy or plus size women can't wear it.
How to Wear Blazer for Curvy/Plus Size Women
Wearing a jacket give an oomph to your whole personality. Just know the right kind and fabric for and follow our fashion advice to get the blazing look with blazers. To outshine the attire with basic garments is possible with a then. Mixing up jackets with your favorite color or the one that suits you most, gives a unique combination. Keep trying new colors with blazers to come up with something pretty and unique.
RECOMMENDED: 28 Fashionable Nightclub Outfits For Plus Size Women This Year
Important Tips to Wear a Blazer
Keep basic solid color blazers in your wardrobe. Who knows when a white blazer or pink blazer could be needed. Having more than one solid color blazers is a very cheap and affordable idea as they can be worn in multiple ways.
Plain solid color Blazer looks amazing with a print camisole or tank top for a simple and adorable attire.
Solid blazers can be worn with print dresses, do not wear print on the print without trying this idea before. It may fail you badly.
 In the winter season, do not layer up under your jacket, it looks bizarre and adds more volume to your body.
Avoid wearing very thick fabric as it gives more bulk to the body. Thin fabric is ideal for curvy or plus size women.
Women with "Pear Shape" body type should wear a blazer with padded shoulders.
Printed jackets are ideal for women with "Apple Shape" body type and having a short length, slightly below waist, looks perfect.
Blazers and jackets look pretty good with slim line bottoms, like pencil skirts, maxi dresses, and denim (regular or distressed). Consider it.
Always check before buying a blazer that it's comfortable. Your curves must be enhanced, arms are not jammed and you do not look like an Iron lady stuck in an Iron made costume.
 Showing up some skin is sexy and adorable as well. Cuff up your sleeves a bit and flaunt some style.
#20- Tropical Outfit for Summers
The best way to show your curves on a summer lunch is to wear floral print tropical blazer with a black cami, white button-down shirt and black pants.
Source
#19- Neon Color Blocking Dress Idea
Neons are not only  bright but fashionable as well. A pencil skirt with blue and hot pink is the best way to do color blocking in a full neon color outfit. You do not even look like a "glow in dark" stick in this outfit.
Source
Also check out Neon Outfits for Women-16 Latest Neon Fashion Trends to Follow
#18- Breezy and Cute Spirng Outfit for Curvy Women
Source
#17- Formal Maxi Dress with A Hint of Pink
Nude pink is quite famous among working women as they can use this color with as many dresses you can think of. Going for a formal meeting or attending a theater, this outfit never fails you.
Source
#16- Casual Yet Simple Outfit
Source
#15- Cheeky College Girl Dress Combo for Summers
Source
#14- Modern Stylish Outfit with Nude Pink
Trying new things is always amazing. This stylish and trendy blazer is something very chic and elegant.
Source
#13- Chic Yellow and Gray Combo
Going for a girls day hangout? Keep your style statement simple and look elegant. Adding some spell with statement jewelry ablaze your look. Yellow and the gray combo has unending romance. Try it and let us know how do you find this combination.
Source
#12- Formal Black Over Black Dress
Black has infinite diversity and hundreds of ways to style yourself. If you are a woman who is sober and wants to reflect this from attire as well, a printed black blazer with a black bodycon suit and subtle makeup is something all you need.
Source
#11- Fashionista Look with Animal Print
Animal prints are not easy to carry and not everyone can look this much good. You must realize which print compliments your body type. Like in the image below, medium size cheetah spots with a plum pant and the black tank looks perfect. Abstain from wearing heavy prints.
Source
Do have a look at Swag Outfits for Chubby ladies-18 Plus Size Swag Styles
#10- Stylish Lace Blazer for Curvy Women
These are the new chic thing in the market and best for summer day outings. Whether you are going to the office or attending annual dinner, lace blazers give your attire a chic and contemporary look. Be easy and choose accessories wisely, as dangling bracelets could harm the jacket fabric.
Source
#9- Energetic and Vibrant Yellow Outfit
It is not mandatory to follow every fashion trend. If one is not comfortable in long blazers then they should stick to short ones, or if the shorter ones do not suit you then pick the right length as per your body type.
Source
#8- Sexy Black and White Outfit
White and black is a deadly and sexiest combo. Wearing some gold jewelry and bold makeup is perfect for a date night. If you are curvy or plus size, choose the printed blazer wisely.
Source
#7- Decent Date Night Outfit for Curvy Girls
Most flattering dresses for curvy women are ones which enhance your curves. Being bulky or plus size is something else but having good curves make you stand among all. Choose your date night outfit carefully and be playfull. Wearing dangling earrings is not a bad idea at all, as they look charming.
Source
#6- Evening Outfit for Working Women
Source
#5- Elegant White and Rosy Pink Stylish Dress
Neutral shades are easy to wear but if you have not tried them earlier, stick to basic black and navy. Once you are familiar with style then go for neutral or nude shades.
Source
#4- Summer Outfit for Plus Size Women
Source
#3- Pretty in Print Combo
Source
#2- Sexy Outfit for Lunch Parties
Source
#1- Cute Winter Outfit for College Girls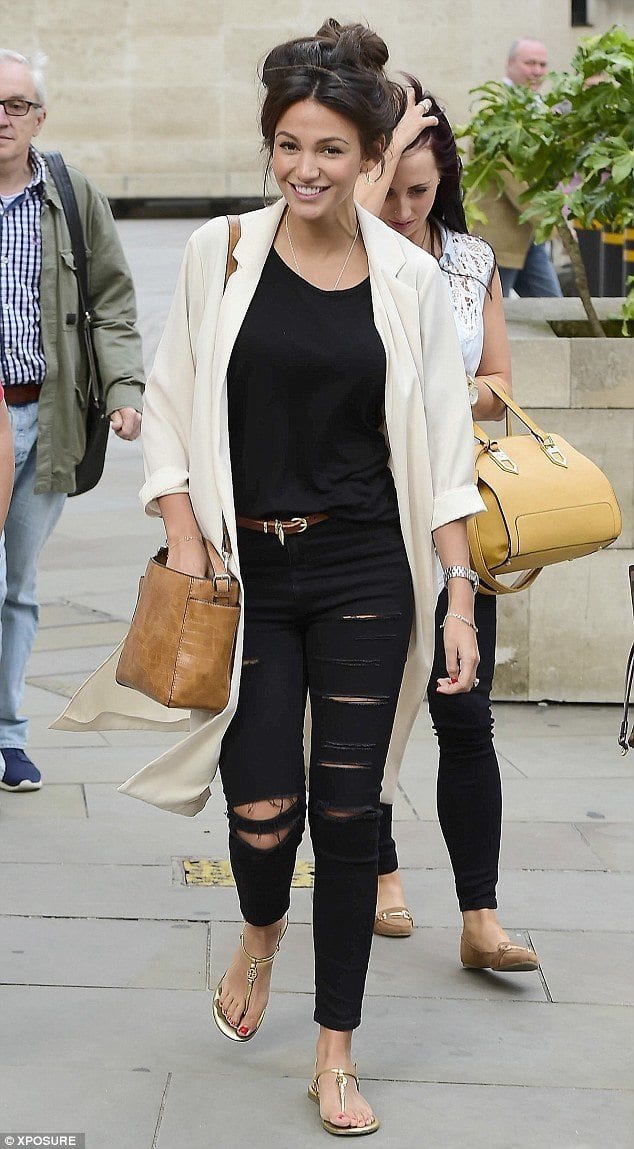 Source
Related Posts via Taxonomies