Easter Outfits for Teen Girls- Easter is here and all of you teenage ladies must be excited when it comes to the associated festivity and celebrations. Easter comes up with family get-togethers and Easter parties along with formal Easter ceremonies held in the church. Well, it is a great idea to flaunt your style statement a bit when it comes to dressing up for Easter as the festivity is asking for it and being a fashionista, you want to celebrate it in style.
Being a teenager is all about trying on cool outfits in vibrant and unique shades and cuts. Celebrate this Easter with full zeal and experiment a bit by trying some of the latest looks, you never tried before. Some of the clothing articles you will find below will hopefully be the ones, you call staples. A few others can be bought to keep up with the trendy looks being considered super chic nowadays.
How to Dress-up This Easter for Teenage Girls
Teenie girls who are picking Easter outfits for themselves can find a well-researched guide here which can enhance their style statement, making you look trendy and classy, all at the same time. The 20 dress-up ideas below will inculcate the necessary tips to dress fashionably on Easter Day and some killer combos which will make your life easier as you can get the clear ideas of what to get before shopping for Easter dresses.
↓20- What to Wear to Easter Sunday Church?
Easter Sunday comes up with visits to church and fam brunch. But are you ready for the styling in the daytime as it is one of the best days to keep up with the new trends? A pair of nude heels and sunglasses is a must for Easter Sunday. A beautiful cotton sundress with cute patterns i.e. either florals or birdy prints is one of the best options to opt for. Here are 27 Decent Ideas What to Wear to Church.
Via
↓19- Funky Easter Outfit
What can get better than a silk luxe printed kimono over a plain white tee and denim shorts on Easter as funky is trending these days? Try some ankle booties along with chic multiple chains to complete the look.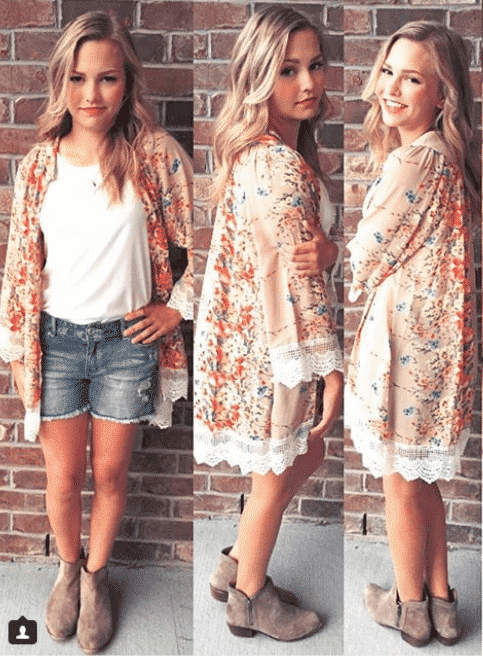 Via
↓18- Make a Statement with Ankara Outfits
The vibrant Ankara outfits' swag is unreachable. Ankara flared pants are super gypsy and look killer with plain crop tops. Accessorise with teardrop earrings and wear it with stiletto pumps to get the perfect Easter look.
Via
↓17- Florals Forever
Florals look pitch perfect on Easter day as these are fresh and brighten up your day even more. For teenagers who want to keep it a bit formal, a floral short dress made of chiffon and silk with pearl embellishments is a cool option as it will make them look more bright and modern. A long sling bag in a neon color like yellow and purple will make you look more unique. Do have a look at these 25 Ways To Style a Floral Blouse.
Via
↓16- Frilly Dresses for Easter Sunday
Looking for a retro ensemble? Well, frilly cotton or chiffon tops in shades of off-white and beige are the best options. But to spice up your attire wear them with embellished jean pants or glittery skirts. The attire is quite appropriate for Easter brunch or dinners as well as Easter parties.
Via
↓15- Trendy Easter Outfits for Chubby Teens
Chubby teens should opt for patterns like little florals or polka dots or multiple stripes. A knee-length onesie is an amazing option for such girls and heels will add grace to their ensemble. There is no need to wear any accessories other than spectacles and a thin bracelet.
Via
↓14- Quirky Easter Dress for Teens
An embroidered top in multiple colors and a pleated neckline can be worn with bright yellow or aqua green shorts. Add some lace to it and you will look unconventional and super quirky on Easter day.
Via
↓13- Sheer Easter Wear
Sheer dresses have been taking over teen's fashion trends for quite a long time now. A black sheer frock can be worn over a bright inner dress or even printed ones. Add a few bracelets in multiple colors and some sassy wedges to amp up your festive look.
Via
↓12- Boho Easter Outfit for Teenies
An off-shoulder boho top with lace and embellishments can be worn with faded skinny jean bottoms and a few silver choker chains on Easter day out. Pair it up with some embellished sandals and a watch as well. Don't miss out these 20 Outfit Ideas For Teen Girls In Summer.
Via
↓11- Long Skirts
Slightly longer skirts can be worn with cutely patterned tees and a fancy belt on Easter Day as it looks cool and different. Also, it is quite appropriate considering the auspicious occasion.
Via
↓10- Monochrome Outfits
The girls who do not want to wear too much color can go for a black and white tee with a black skirt. But red sandals or any other bright colored flat pumps will add style to your ensemble. Do not hesitate to add accessories like chokers and bracelets as it will make you look stunning.
Via
↓9- Denim Look for Teens
Denim jackets or shirts will never get old no matter what and add floral embroidery to it for the sake of enhancing the cuteness of the outfit.
↓8- Holo Jackets
Let it be Easter or any festive occasion, Holo jackets look the best. For teenies who are Holo lovers can go for an athleisure top and shorts along with a Holo jacket to create an enchanting style statement. Here are 2018 Cute Hairstyles for Teenage Girls!
Via
↓7- Polka Dot Outfit for Easter
Polka dots and pom-pom laces are gonna look the best in summers especially when it comes to a summer dress. Add a quirky sling bag to it and wear your summer sandals with it.
Via
↓6- Casual Attire for Day Wear
For teens who are fans of casual, it is always appropriate to go for a plain cotton top with little print and their favorite denim jeans. The style will be semi-casual but definitely comfortable.
Via
↓5- Onesies for a Cute Look
Printed onesies look the best on Easter day and colors like aqua green and mustard will look the best in the day-time.
Via
↓4- Mother-Daughter Matching Easter Look
Mothers can match their sundresses with that of their daughter on Easter as it is a cool option for mommies as well. Check out these 100 Cutest Matching Mother Daughter Outfits on Internet So Far.
Via
↓3- Pastel Attire for Easter Spring
A pastel shoulder-less top made of chiffon and white jeans can never get old. Add white stilettos and it will look super classy for Easter.
Via
↓2- Semi-Formal Dress-up for Easter
A chiffon blouse with pleated sleeves and a luxe printed skirt in pastel colors is a perfect idea to dress up for family brunch. However, add stilettos to enhance the charm.
Via
↓1- Easter Accessories for Teenage Girls
Pastel denim jacket over a floral short dress looks killer on Easter spring but gladiator sandals will complete the look.
Via
Share your ideas in comments as we would love to have your feedback.
Related Posts via Taxonomies