Black Shoes With Khakis- The dilemma that, you cannot slay a pair of black shoe with yellow-brownish bottoms, has gone for quite a long time now. Today you will hardly find a man who does not have a black-obsession as our slogan remains the same i.e. the darker the better. Black conventionally was worn with tones of gray and navy most of the times.
However, after the evolution of khaki, beige and white pants, the haute trends have transformed now as black is considered to be the ultimate option with such shades.
The true perception prevailing currently is the darker your khakis are, the better it is to avoid black shoes; but when it comes to softer frequencies of khakis nothing can beat the fashionable vibe that is created by black shoes. Black dress shoes or black boots can look stunning regardless of the frequency of khaki color but when dressing casually you are required to keep up with different types of shoes which go well with different types of garments. If you love to play around with different clothing combos which are rare but classy, then it is best to wear some dark shoes with your charming khaki pants. As it is a daring idea to shirk convention and set your own example by wearing a pair of chic black shoes with a khaki wear. The idea of not getting away with the black shoes and the khaki pants combo is quite old now as black is no more solely associated with highly formal suits and tuxedos only. However, as your khakis get darker in color, the probability of wearing black shoes rightly declines.
How to Style Your Khakis with Black Shoes
There are always a few parameters to be kept in mind while experimenting this unique combination. Also, to be noted here black shoes come up with a more aggressive vibe when compared to brown or blue shoes, thus the location is always critical when picking up your shoes. Here I am going to gather the 12 killer ways in which you can look totally chic in khakis and black shoewear and some pro tips which will make your life easier if you love your branded, high-priced black shoes and want to wear them a bit more frequently.
↓12- Khakis and Black Shoes in Casual Style
Although khakis are never so formal (other than khaki shorts), you can definitely opt for cropped khaki pants such that your ankles are on display with a jet black button-down collar shirt which has cuffed half sleeves. Wear it with a pair of glossy loafers which are both sleek and simple and miss on socks as socks will kill the vibe of cropped pants. Such an attire looks perfect when you are traveling around and desire to keep a few essential pieces for your adventure. While clubbing or a casual coffee date, this attire will look super charming and a bit more unique. Here are Men's Business Casual Outfit Ideas.
Via
↓11- Khakis and Sneakers for Teenage Boys
Teenage boys who want to dress like a mature guy can opt for straight khaki pants with a check print collar button-down casual shirt and round-neck patterned knitted sweater. Sneakers in dark black shade will complete your look, however, if you want a more fashionable demeanor, then go for cuffed ends of your bottoms as it will break the monotonicity of the attire. Such an attire is quite appropriate for college or university as it is both simple and stylish.
Via
↓10- Black Loafers with Tan Suit
Men who want to wear a tan suit to a party or an engagement ceremony need to go for a tassel or buckle loafers as loafers look more stylish and unique when compared with the standardized moccasins. If wearing a tan suit with a white shirt, then try to incorporate a black tie and a printed black pocket square in your ensemble somehow, such that it highlights your shoes. Here are 30 Ideas How To Wear Loafers Shoes.
Via
↓9- Khakis and Black Sneakers for Summers
A floral black button-down shirt or a printed black tee or any other dark athleisure top can be worn with light tan cotton bottoms which are cuffed at the ends. For shoewear, go for low-top simple black sneakers and a black leather watch plus black shades to complete your ensemble. Such an attire is just perfect for summer or spring vacations or holiday parties even, as you are trying out options which are generally considered a bit too dressy during routine days.
Via
↓8- Khaki Skinny Pants with Black Shoewear
Skinny khaki pants are hard to slay in but if your body is in shape and you have a muscular structure, then you can definitely pull on a skinny khaki pant with a geometric or polka printed collar shirt that is tucked inside your pants. For shoes, you can go for perforated black Oxfords or glossy dress shoes. Opt for a black belt as well since it is a rule to pair your shoes with your belt.
Via
↓7- Black Boots and Khaki Pants for Fall Look
A blackish-brown fur coat with a knitted sweater underneath looks killer with some khaki pants. However, to spice up this ensemble you essentially require a pair of black boots. To accessorize your ensemble, go for black leather gloves and shades as well. Winter attire cannot get any better than this especially if you like to try unique trends and want to dress cozy for holiday traveling.
Via
↓6- Perfect Streetstyle with Khakis and Black Boots
A black semi-formal blazer with a light gray tee underneath can be worn with tan khaki pants and jet black boots. However, accessorize your attire with some sunglasses and a wristwatch. Such an attire looks perfect for clubbing or dinners during winters. Check out these 17 Most Popular Street Style Fashion Ideas for Men.
Via
↓5- Black and Blue Joggers with Skinny Khakis
A sporty blazer and a pair of skinny khaki denim pants is a super cool winter college outfit idea. Wear it with black joggers with a blue pattern on them and a plain black beanie to keep you cozy during fall.
Via
↓4- Professional Khaki Look with Black Formal Shoes
Tan suits and black dress shoes go hand in hand especially when you are wearing them for office meetings with a white crisp shirt underneath and a black patterned tie. A white or black pocket square will definitely add to your style statement.
↓3- Semi-Formal Tan Pants with Black Shoewear
A maroon or plum round neck knitted top can be worn under a khaki blazer with straight khaki pants. A pair of black glossy monk or dress shoes will enhance the charm of your ensemble. You can also find inspiration from these 28 Best Ideas on How to Wear Converse Shoes for Guys.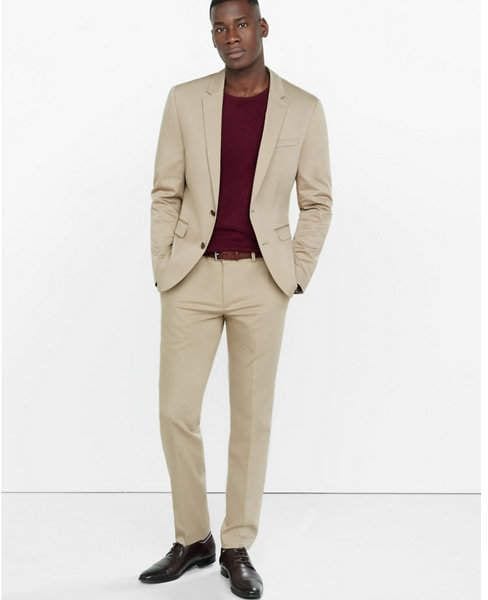 Via
↓2- Summer Tan Wedding Suit with Black Sneakers
Wear a tan suit to weddings or receptions with sporty low-top black sneakers during summers.
Via
↓1- Khaki Jeans and Black Loafers
Cuffed khaki jeans and a black leather or denim jacket is an enchanting idea for a date night or an adventure. Wear it with simple black loafers and spectacles.
Via
Give your feedback on the respective styles within the comment section.
Related Posts via Taxonomies