How to wear Business Casual Jeans for women- It is not that simple for multiple women to decipher business casual attires for office considering the kinds of jobs out there, however, by using your aesthetics the right way and following the basic business casual tips, you can definitely stun everyone with your not so professional yet professional office look.
What could get better than a hybrid of business clothes and not so formal casual garments? Time of wearing the same boring neutral colored suits is gone but you can obviously not wear a sundress with slides to work. Jeans can be turned in to a formal office wear with just a little mixing and matching. It is time to wear jeans to work without any stress and violation of the dress code. Nowadays, most of the workplaces are trying to provide their employees with the professional-casual environment, which has led to the removal of the stereotype of wearing jeans being a sartorial blasphemy at the job.
How to Wear Jeans to Work And Still Look Professional
There are multiple ways you can turn your jeans into a work-appropriate attire and I'll try to gather the 21 best ways out of all which will go perfectly with not only your body shape but your occupation as well. It is time to move from extravagantly polished suits or pencil skirts to semi-formal jeans combos.
↓21- Business Casual Look with Denim Tops
Denim tops are going to be considered highly unprofessional but you can definitely make them look office-appropriate with jean pants in black, grey or navy and a neutral color blazer, let it be charcoal, navy, or beige. This attire works well for women who are more into jobs like designing and teaching. Don't miss on a pair of black stiletto pumps.
↓20- Office Look with Cropped Pants
While picking jeans for office, make sure it has enough stretch to keep you comfy at work and go for a dark wash with no fade jeans, as these look nearly formal when worn in a professional environment. If you want to wear some sassy cropped bottoms to work then opt for a luxe neutral color blouse with them and a pair of simple stiletto sandals. A leather sling bag will be a great option. Try to opt for navy or black jeans with a dark color or extremely light shade blouse, no in between.
Via
↓19- Printed Business Casual Bottoms
If you work as a designer, a writer or a programmer, then you have some margin to add a bit of color and prints to your office silhouette. Printed denim pants like polka dots or gingham prints are available which can be worn with a bright colored plain blouse and sky-high pumps. Give up on accessories with such a bright ensemble but always keep a charming leather tote bag with you.
Via
↓18- How to Wear Bright Colored Bottoms to Work?
If you are a fan of colors other than charcoal, navy and black, then you'll have to give up on stylish colored blouses. Wear a dark maroon or plum jeans with a simple black top and blazer, keeping your pumps black and high. Such an attire is perfect for women who belong to managerial and assistant jobs.
Via
↓17- Celeb Style Business Denim Pants
Miranda Kerr has been known for her exceptional business casual ensembles. All you need to dress up like a celeb to work is a luxe silk blouse in an enchanting shade with your skinny black jeans and casual black blazer. Make sure your handbag is going with your attire and go for textured sky-high pumps.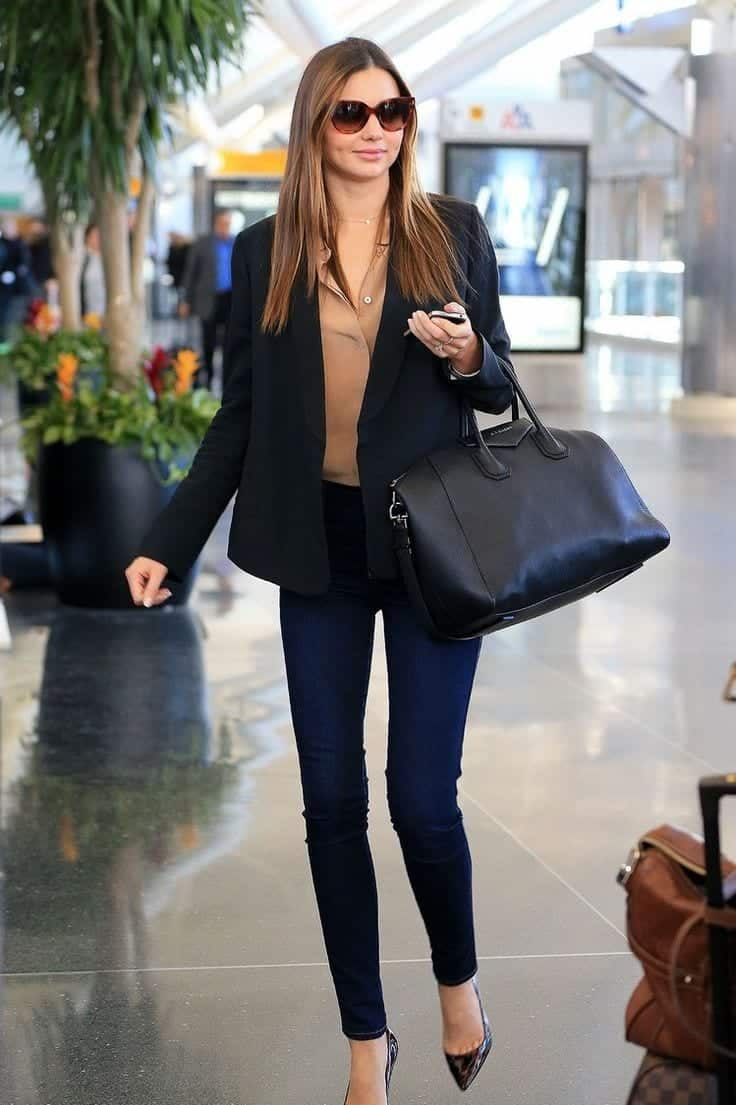 Via
↓16- Printed Blouse with Work Jeans
Soft, cropped and straight denim pants can be worn with a chiffon floral or textured blouse in matching shades as that of jeans. However, you can go for bright shoes to enhance the look of your attire. Doctors and teachers will look extremely fresh and pleasant in such an ensemble particularly during spring.
Via
↓15- Office Jeans Outfit for Plus-Size Women
Black is the perfect shade for plus-sized women as it can make them look smarter and charming. Black skinny jeans with a black top and a colored blazer are one perfect option for ladies who are curvy. Also, nude heels and a formal strap watch will enhance the ensemble.
Via
↓14- Button Down Shirt with Office Jeans
A crisp white formal button-down shirt and a short camel color blazer with dark blue denim skinny pants is an option which goes well with sterling silver ear studs and a sling leather bag.
Via
↓13- Fall Look with Office Denim Bottoms
Fall is all about dressing warm and a bit of layering to keep the cozy feel in office as well. A formal charcoal coat with a simple knitted top and jean bottoms will go perfectly with ankle boots.
Via
↓12- Boot-Cut Jeans for Work
Boot-cut denim pants are super professional when worn with a white polished blazer and a peachy polka dot classy top tucked inside the jeans. Wear it with stiletto sandals in colors like rosy pink or off-white.
Via
↓11- Scarf with Business Casual Denim Bottoms
Scarves always add to a woman's ensemble. Bell-Bottom navy jeans with a white round neck shirt will ask for a light color scarf you can knot around your neck.
Via
↓10- Casual Jeans Work Look for Summers
A simple mandarin collar crisp white top can be worn with faded jeans and white pumps, keeping your bag in a lighter gray shade; making it an amazing business casual summer look.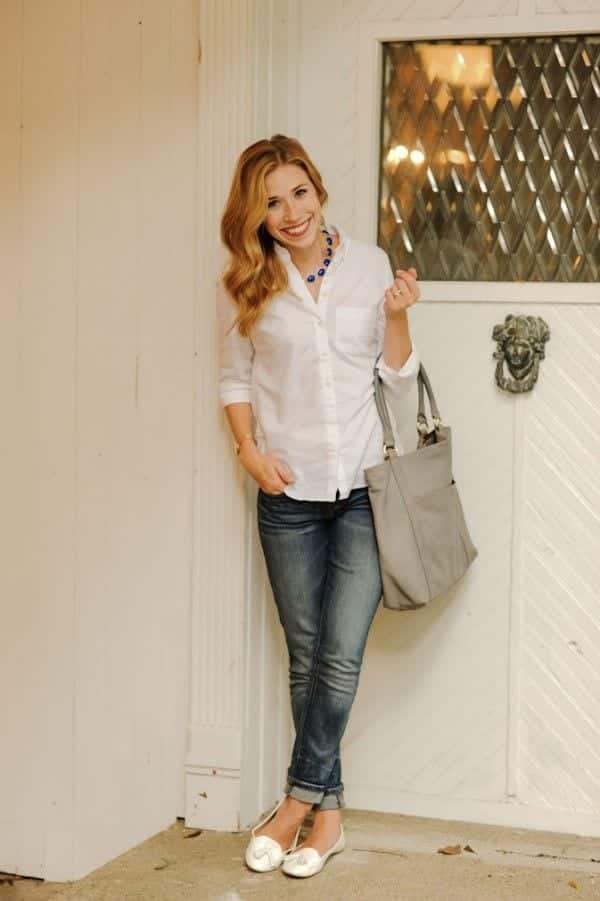 Via
↓9- Turtle Neck Tops with Office Jean Pants
Turtleneck knitted tops will look formal if worn with a polished black blazer and block heel mules.
Via
↓8- Vintage Blouse with Office Jeans
Wearing a vintage blouse with ruffled sleeves and deep neckline and pairing it with dark wash denim pants in boot-cut style looks super classy at work if worn with simple black pumps.

Via
↓7- Skinny Girl Attire with Office Jeans
All a skinny girl needs to make her jeans look professional is a cool blazer in modest shades like beige, brown, copper etc.
Via
↓6- Faded Professional Jeans with Printed Blazer
Although it is advised to abstain from wearing faded jeans at work, if you work for the fashion industry or as a stylist then it works for you. Wear it with a black yet printed blazer to add charm to your ensemble.
Via
↓5- Glamorous Office Look with Casual Jeans
Casual jeans can look glamorous at the office if worn with a luxe silk blouse or you can also add a glamorous belt to your simple outfit.
Via
↓4- Oversized Jeans for Work
Oversized jeans with a simple tucked in blouse is a good option for young petite girls if they are working in the arts industry.
Via
↓3- White Jeans for Office
White jeans look perfect at work if worn with a simple button-down shirt in stripey print. Shirts in pastel shades often go well with white at the office.
Via
↓2- Light Wash Professional Jeans
Light wash skinny jeans can be worn during winters with an enlarged formal coat.
Via
↓1- Pastel Professional Jeans Outfit
Pastel pink, blue or purple jeans can be worn at work with a gray blazer and round neck simple white tops. Also, you can go for matching heels to make your outfit look more coordinated.
Via
Give your feedback regarding these few business casual jeans styles in the comments section.
Related Posts via Taxonomies