School Outfits for Girls in Summers. The first day of school calls for many new beginnings. You make new friends, get into a new class with new teachers and so much more. Basically, when it comes to school every single day is valuable in some way. One of the things that make the school special and so much fun is dressing up every morning.
You get to show a piece of yourself with the way you dress. You don't just style for yourself; you know that people judge you by the sort of clothes you wear. Often times, on just the basis of that, students classify each other as nerds, jocks, mean girls etc. So, while being yourself you also have to be careful about what you wear. Here are some ideas on how you can dress to school this summer.
What to Wear to School in Summers for Girls
Before we start, here are some guidelines on fashion for school:
Be yourself and be comfortable. The only way you can beat the heat and look stylish as well, is by considering both comfort and style when choosing your attire.
Try new styles and give a chance to new trends.
Be true to yourself and never overdo the look. RECOMMENDED: 19 Cute Sporty Style Outfits for School Every Girl Must Try
Don't go for clothes that expose too much otherwise you might be called for a chat with the school's authorities.
↓ 30 – Cute Summer Outfits for School
Every season comes with its own styling perks. When in summers, dress as the weather demands. You can obviously not wear thicker clothes or layer one clothing item on another. You have to wear lighter fabrics and colors.
Via
↓ 29 – School Appropriate Outfits for Summer
Whether or not a particular outfit is proper for your school depends on the rules and regulations that the institute has enforced. Many schools deem it unfit to wear necklines too low or in short clothes that are too revealing. Either way. style doesn't require you to be immodest. Go for jeans and tees or midi skirts with button down shirts if you are looking for a decent attire idea for school.
Via
↓ 28 – Summer Wear for Teenager
Teens can go for shorts, onesies, pants, dress shirts, tops, frocks, and skirts. The challenging part is pairing two items. In summers, white and blue make a lovely combo. You can also try yellows, pinks or lighter tones of other colors. The only exception to this rule is black. You should try to avoid a full black outfit though and should go for either a black top with jeans of another lighter shade or vice versa. Do have a look at these Home Remedies for Glowing Skin for Teenagers.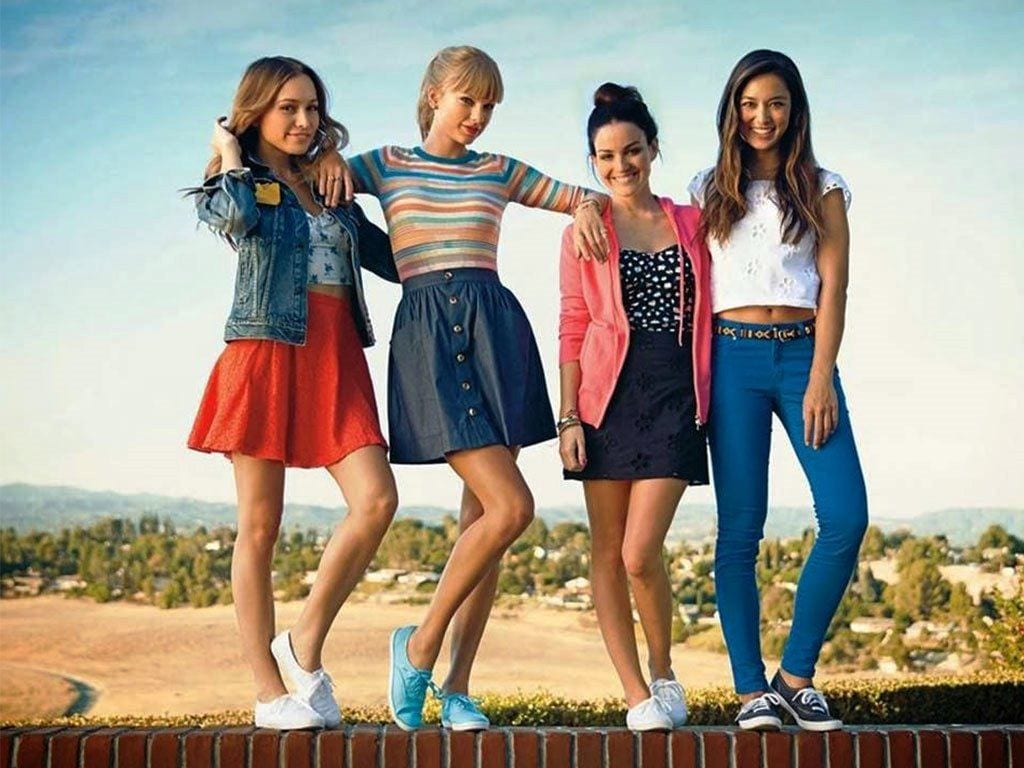 Via
↓ 27 – What to Wear in Summer Without Showing Legs
If you don't want to show too much skin you can opt for a pair of jeans or a long skirt. Track pants are a nice choice.
Via
↓ 26 – Cute Summer Outfit Ideas
Pair your comfy flannel tee with light blue jeans or wear a sky blue top with navy trousers. Want to go for skirts instead? Good idea. You can rock a skater skirt or an A-line one with a top. Or you can skip the double clothing items and go for a yellow frock or a chiffon onesie. A white shirt is extremely important for Summer season as you can pair it up with so many outfits, here are 18 Ways To Wear White Shirts For Girls.
Via
↓ 25 – Cute Back to School Outfits
If you are starting a new year at school and aim to take the style up another notch then don't hesitate. Wear cooler clothes and hold your head high. While letting your hair open looks beautiful it can be a nuisance in summer time. You can choose to tie your hair in a bun or high ponytail and breeze through the day. Keep the style laid back like you don't have a care to give to anyone's opinion and put on casual clothes like a jeans and tee. If you want to be a head turner go for an off-the-shoulder top with a pleated skirt or ankle length jeans.
Via
↓ 24 – Outfit for School Reunion
Ripped jeans are very much in vogue these days. Pair them with a black, white or a gray top for a stellar look. Here are 10 Cute Outfits with Jeans for School for a Perfect Look.
Via
↓ 23 – Trendy Summer Outfit
Going for the girly look? Make floral your go-to print these summers for school. Flowery prints are trending this year.
Via
↓ 22 – Hipster Outfit for Summers
If you want the ultimate chic look slip into high waisted shorts. Complete the look with a flannel tee. You can wear a white or black top underneath the flannel shirt and leave the plaid shirt unbuttoned. Here are some more Cute Hipster Outfits Ideas For Hipster look.
Via
↓ 21 – How to Dress for School Summer Trip
Plaid flannel shirts aren't just snazzy but they're snugly as well. Throw on a flannel shirt over a crisp pair of jeans.
Via
↓ 20 – Casual Outfit
Slim fit jeans are a wardrobe staple of almost everybody these days. The look is both relaxed and fabulous. Don't miss out these Season's 12 Most Hot Casual Outfit Combinations for Girls
Via
↓ 19 – Nerdy Look for School
Put on a pair of ankle length jeans with a graphic tee for the adorable yet chill look. If your goal is to look glam instead, ditch the graphic tee for a plain one.
Via
↓ 18 – Classy Attire for School
A white frock would make for a polished and classy appearance. Try this look for school this summer. Here are some great Tips to Dress Well in College.
Via
↓ 17 – Laid Back Look
For a cool and casual look go for blue jeans with a white tee.
Via
↓ 16 – Chic Skirt for School
Summers are here and it's time to brighten up! Wear a multicolored skirt with all the summer hues and pull on a white shirt with it. Do check out these awesome Maxi Skirt Outfits for Teen Girls.
Via
↓ 15 – Outfit for School Party
These wide legged pants look gorgeous and we women know that there are no other pants as snazzy as these. To look even more stunning, wear a lace top over the palazzo pants.
Via
↓ 14 – Unique Outfit
Via
↓ 13 – Outfit ideas for School
Via
↓ 12 – Summer Prom Dress
RECOMMENDED: 15 Cute Prom Outfits Combinations for Teen Girls
Via
↓ 11 – Dress Ideas for School Tour
Via
↓ 10 – Preppy Outfits
Preppy is indeed the new black for school, here are 18 Preppy Hairstyles for Women.
Via
↓ 9 – Outfit for School Last Day
Via
↓ 8 – What to Wear for School Interview
Via
↓ 7 – Quick Outfit Idea for School
Via
↓ 6 – Denim Outfit
Via
↓ 5 – Outfit for School First Day
Via
↓ 4 – Simple and Elegant for School
Via
↓ 3 – Cool Look for School Picture Day
Via
↓ 2 – Vintage Attire for Summers
Via
↓ 1 – Classy All White for Summers
Via
Related Posts via Taxonomies