Snapback Hairstyles for Girls. Not just boys but girls have embraced the snapback look as well. It's the modern era and snapbacks are a thing. These caps look steezy and hip. They amplify your overall style and upgrade your look if done correctly.
You can give the vibe of someone who knows what she's doing by doing justice to the snapback without making a fashion fiasco. Here's insight on the matter so that you may never mess up!
What Hairstyle to Choose with a Snapback Cap
These tips will light your way in this matter. Keep them in mind
Choose a color that goes with your outfit. Try matching the snapback to the secondary colors of your clothing
Make sure that donning on a snapback is appropriate for the occasion
Try different styles beforehand to find out which will look best on you
Never overdo the look. Remember, casual is the new cool
↓ 25 – Snapback with Long Hair
The typical way girls don on snapbacks is by tying their hair in a ponytail. However, you aren't required to be that traditional. Style your hair as you prefer; in a low bun, a braid or just keep it open! Long free locks under a snapback? You are bound to look like a fashionista! Love wearing hats? So here are 22 Ideas How to Wear Hats with Different Outfits
Via
↓ 24 – Snapback with Short Hair
Pixie cut or a bob? Don't worry, you're gonna look as pretty sporting a snapback as the other girls with long hair do!
Via
↓ 23 – Snapbacks with Wavy Hair
Curls are cute! Let them show under your snapback proudly. Wear it forwards with the tip up!
Via
↓ 22 – Snapbacks with Straight Hair
Hair too silky and smooth? Don't bind them in a tight hairdo! Unless it's a snazzy pony tail or a messy bun, let your hair loose. Wear it in whichever style suits you. Though, know that a backwards worn snapback looks very steezy with luscious straight locks.
Via
↓ 21 – Snapbacks with a Fringe
Whether you have fringes or bangs, you can rock the snapback like no other! Wear the snapback forwards or backward with the tip high on the forehead to show off your pretty haircut. RECOMMENDED: How to Look Preppy- 18 Preppy Hairstyles for Women
Via
↓ 20 – Sexy Snapbacks with a Braid
A fishtail braid is a very classy look combined with a snapback. Wear it forwards and make a style statement.
Via
↓ 19 – Elegant Snapback with an Afro
Is your afro too wild to be tamed? Well then, why tame it! Rock it with a snapback for the tough girl look.
Via
↓ 18 – Swag Snapback with a Ponytail
Here's the classical look; Snapback with a ponytail. Tie your hair in a pony and let it out from the window of the cap.
Via
↓ 17 – Coolest Snapback with Dreads
Don on the snapback forwards or backwards with the dread locks and look like a style diva!
Via
↓ 16 – Cool and Casual Snapback with a Hair Bun
A low hair bun or a messy bun? Whichever style you decide to go for, a forwards worn snapback would look great with it. We love how this style is the best for Winters, so do check out these Stylish Winter Hats for Women.
Via
↓ 15 – Modest Snapback with Hijab
Hijab and snapback together, actually are a thing! You can look really cool following this trend if you pull it off correctly. Wear your snapback forward, tipped high over your headscarf. RECOMMENDED: Hijab with Hats Styles-18 Modest Ways to Wear Caps with Hijab
Via
↓ 14 – How to Wear a Snapback without Messing Up Hair
How to keep your hair from turning into a mess? Utilize the hair pins! Tie a flannel shirt around your waist and be ready to rock the outfit, here's How to Wear Flannel Shirts in the best possible ways.
Via
↓ 13 – How to Wear a Snapback with Style
The one way you can wear a snapback with swag is by being yourself. A wannabe look ruins it all so try to wear the snapback in a style that looks good on you. Consider the outing and your age. Go for a color that complements your clothes.
Via
↓ 12 – How to Wear a Snapback Casually
For a casual look, don't overdo anything. Neither the clothes nor the makeup. Look simple and cool in a tee and jeans or shorts. RECOMMENDED: 18 Cute Casual Friday Outfits For Women; What to Wear on Friday
Via
↓ 11 – Snapback Outfits for Girls
Snapbacks don't go with gowns or suits. They aren't the best buddies of frocks either but sometimes they can enhance the look of those too. Tees, jeans, jackets, shorts; make sure your outfit consists of these items.
Via
↓ 10 – Snapback Hairstyles for Girls
From messy buns to French braids, from high ponytails to open hair, there's lots of hairstyles you can try with your snapback. Just make sure they fit and don't give your snapback even a slight bump. If you're in love with this denim on denim look as much as we are then you have to see these Beautiful Denim Dresses to Inspire your daily Fashion
Via
↓ 9 – Wearing Snapbacks Backwards
Backwards is considered cool if you do it right. But don't forget to consider the occasion before going for this look. If the gathering leans towards a formal one then this style is a big no-no. For a formal get together, it's a triple yes!
Via
↓ 8 – Wearing Snapbacks Forwards
Wear the snapback forwards without a care. It hardly ever goes wrong. Sneakers will surely be the best shoe choice here, do have a look at these Cutest Outfits with Sneakers.
Via
↓ 7 – Wearing Snapbacks Sideways
The sideways snapback style isn't in vogue these days. You can look  absurd in it so only try this one if you are sure that you'll look awesome in it. A naturally hip girl can pull it off convincingly though.
Via
↓ 6 – Wearing Snapbacks Up on Top
This is the trendiest style these days. Whether you wear it forwards or backwards, let the snapback rest high on the forehead.
Via
↓ 5 – How to Wear a Snapback with Sunglasses
Adding accessories just adds to the sass! RECOMMENDED: Top 10 Sunglasses Brands For Women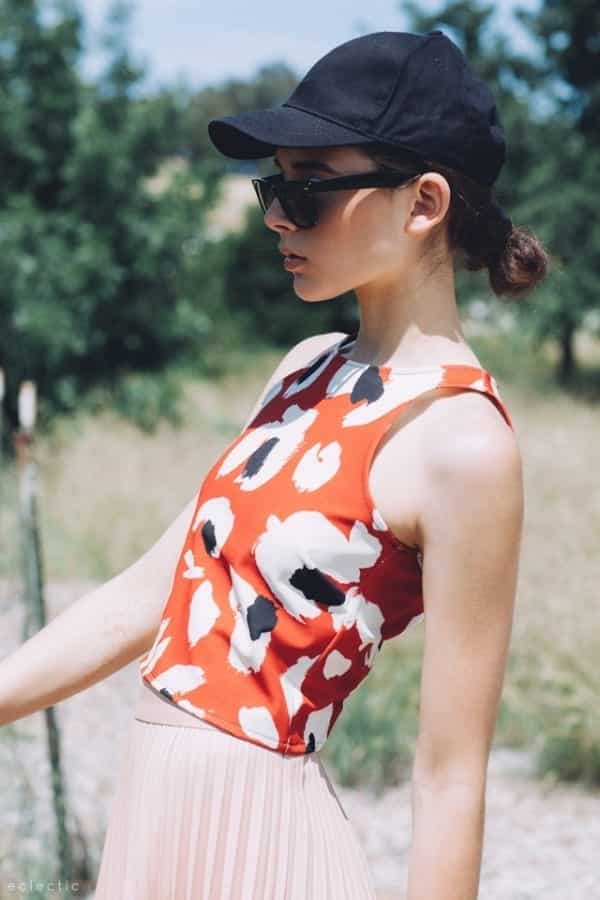 Via
↓ 4 – Snapback with Glasses
Don't let the glasses keep you from rocking the snapback. Just make certain you wear it high on the forehead.
Via
↓ 3 – Snapback with Headphones
Listen to music without having to take off your snapback.
Via
↓ 2 – How to Wear a Bandana Under a Snapback
Take a notch up on the swag by trying this combo.
Via
↓ 1 – What color of Snapback Goes with Everything
Your snapback doesn't necessarily have to match your clothes. Go for general colors like maroon, black, white or ones that complement your outfit ideally.
Via
Related Posts via Taxonomies