Women Shoes with Sweatpants. Sweatpants are one of the most popular pieces of clothing in many parts of the world. They are comfortable and easy to wear. However, according to a popular belief, sweatpants are for gym, workout, running or laying around in the home.
They are not to be worn at parties or formal get together. It is true to an extent and people do like to wear sweatpants, usually when the are expecting some physical activity or at home, however with some latest cool designs available you can style sweatpants to wear them to a limited formal occasion too.
They are so comfortable to wear that people would love to wear sweatpants on formal occasions also but as it is not considered a formal wear, you might style it such to attend a party among friends, where you want to feel easy and comfortable, but it is definitely not worn to the weddings material.
Different shoes can be worn with sweatpants to enhance their look and make a great outfit out of it. Sneakers are the best companion of sweatpants. When you are running or jogging, your favorite sweats with sneakers make up the best combination so that you can exercise without getting stressed. Also as we have mentioned before, sweatpants are good for physical activity as it is easier to stretch and run in them, so all kinds of sports shoes like joggers and canvas shoes are normally worn with sweatpants.
But shoes with sweatpants are not limited to sneakers only. There are other shoes too, that if worn in a proper way can be pulled off with sweats and would make you feel nice and comfortable. Ballet flats and flat sandals are also commonly worn with sweats. It is another combination to feel easy and relaxed in the outfit. You can also wear boots with sweatpants. RECOMMENDED: Outfits with Combat Boots. Ankle boots are better as sweatpants are usually baggier than jeans so it will be uncomfortable to wear high boots with sweats. Boots also look classy with sweats making them stylish and giving you an overall hip and chic look. You can also wear heels with sweatpants if you are going to any formal event in them. You can also experiment with colors, both in sweatpants and shoes. As sweatpants are considered casual you do not need to wear formal shoes with them. You can try on some funky sneakers with your favorite pair of sweats. You can experiment with Neon like yellow or orange or you can even wear glitter sneakers with sweats. Similarly, sweatpants are available in a plethora of various colors. Besides that there different prints and designs that you can pair up with a number of tops as well as accessories like scarves and caps. You can have a special pair of sweatpants for your gym that goes with your gym accessories like the gym bag and gym shoes. If you are a fan of running or walking then, a track suit with sweats is a must item that you should have in your closet. In fact having a great and comfortable workout outfit is a motivation to workout too.
What Shoes Look Best with Women Sweatpant Outfits
If you want to enjoy the company of your favorite sweats and do not want to look underdressed too, we have some great ideas about how to style sweatpants and which shoes to wear with them.
↓ 20 – Style Sweatpants With Scarves And Flip Flops
Who says you cannot rock in a sweatpants outfit? If you want to feel very easy, wear a great pair of flip flop with the sweats and then accessorize. You can wear a fancy top and a cute scarf. So you are comfortable as well as you look very stylish.
via
↓ 19 – Crop Sweatpants With Ballet Flats
Sweats can be full length, calf length or knee length. There are sweat shorts too. All kinds of sweats can be worn with ballet flats.
via
↓ 18 – High Top Sneakers With Sweatpants
High top sneakers look great with sweats. Just as they add extra bling to any outfit, they can make your sweats look extra stylish too. For some cool ideas on how to wear your sweatpants, here are 20 Chic Ways to Wear Sweatpants.
via
↓17 – Black Sweatpants With Funky Colored Sneakers
As mentioned before too, you can wear sweats with all the nonconventional colors that you might not wear normally.
via
↓ 16 – Sweatpants With Sneakers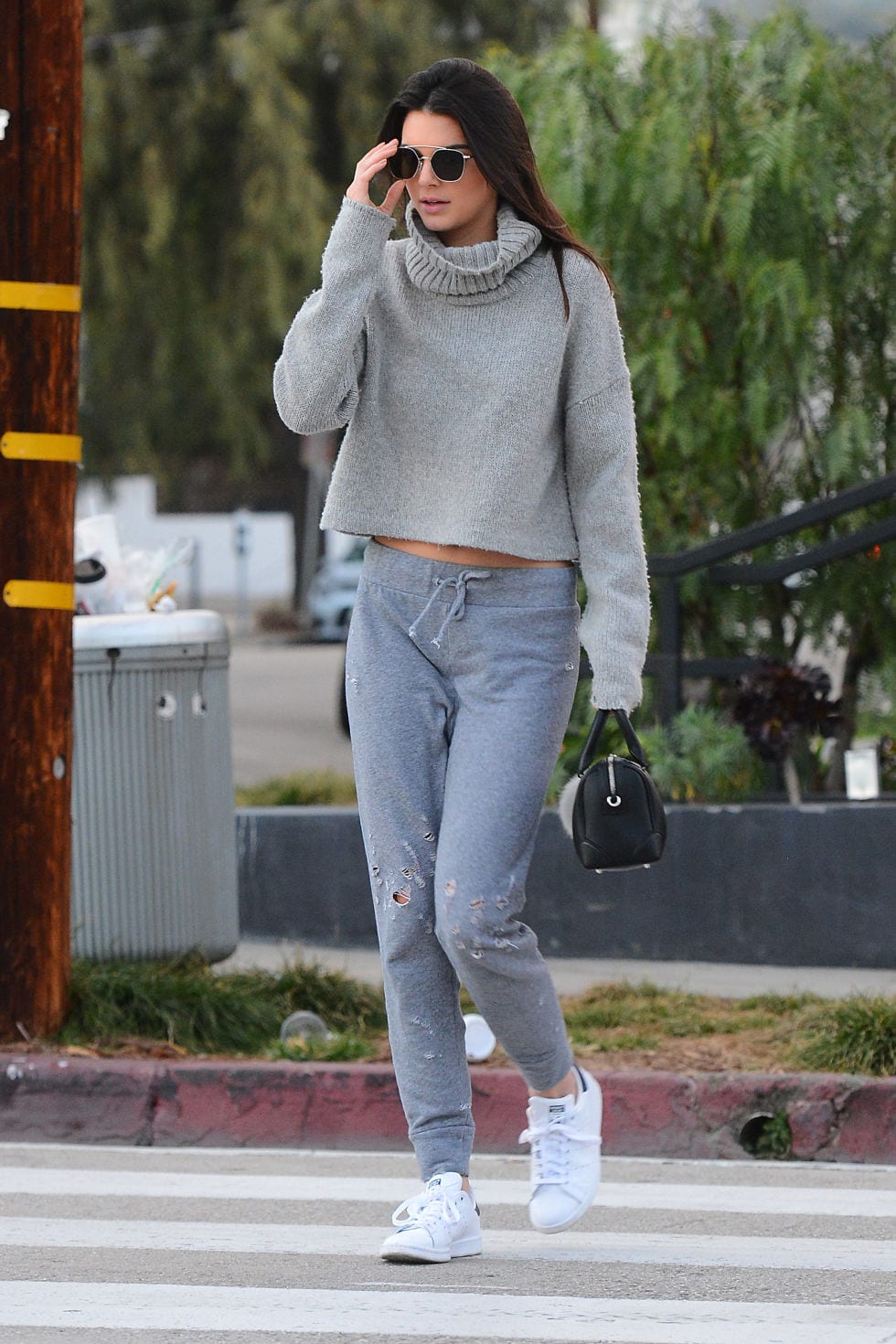 via
↓ 15 – Sweatpants With Heels And Accessories
If you want to wear sweats to a formal occasion, here is a good style guide as to how you can wear heels with sweats and then add Accessories too. Jackets look good with sweatpants, so does a nice handbag. If you love heels then here are some amazing Ways To Wear Jeans With Heels.
 via
↓ 14 – Sweatpants With Signature Nike Sports Joggers
via
↓ 13 – Women's Glitter Sneakers With Sweatpants
What is better to pair up a pair of hot looking glitter sneakers. Well sweatpants, of course. Snazz up for look for the up coming part at your friend's place with glitter sneakers and if you are confused about how you can carry them off, well a great pair of sweatpants is the solution to your problems. Here are some Cute Outfits with Adidas Shoes for Girls to try this Year
via
↓ 12 – Sweatpants With Multi Colored Sneakers
via
↓ 11 – Sweatpants With Converse Shoes For Women
via
↓ 10 – Classic Black Sneakers With Sweatpants
via
↓ 9 – Sweatpants With Loafers
RECOMMENDED: 17 Cute Outfits to Wear with Loafers for Women This Season
via
↓ 8 – Sweatpants With High Heel Ankle Strap Sandals
via
↓ 7 – Printed Sweatpants With Metallic Shoes
via
↓ 6 – Sweatpants With Boot For a Chic Look
via
↓ 5 – Sweatpants With Slip On Shoes
via
↓ 4 – Sweatpants With Canvas Shoes for School
For more chic and sporty school outfits, have a look at these 19 Cute Sporty Style Outfits for School.
via
↓ 3 – Sweatpants With Red Shoes For Women
via
↓ 2 – Formal Party Shoes With Sweatpants
Here is a good example of how sweatpants go with formal outfits. You can wear a long and stylish jacket with very formal and fashionable shoes. Here by combining a cool fleece outwear jacket with very high end peep toe black heels, we got the perfect formal look with a very snug and cozy pair of sweatpants. You can also try out similar combinations and enjoy your sweats at many different occasions.
via
↓ 1 – Sweatpants With Heels For Plus Size Women
Plus size ladies can wear sweats and still look hot. Here is a good style you can adopt to look great in sweatpants.
via
Related Posts via Taxonomies