Raniy Day Outfits Ideas. Since we all know the rain-y season is just around the corner and while the sky showers it's blessings on you in the form of rain, doesn't mean that you put all your nice clothes aside and look like a homeless drug addict in order to protect yourself from the rain. Don't let the rain bring down your inner fashionista.
 You can still look great on a rainy day all you have to do is choose your clothing wisely in order to save yourself from getting drenched and also allow you to be comfortable. Moreover, when it rains, it also gives you a chance to accessorize. You can experiment carrying different sized, colored and patterned umbrellas to complete your look. So here are 26 cute ways to dress on a rainy day.
What to Wear on a Rainy Day for Girls
RECOMMENDED: What to Wear for Girls Night Out?17 Girls Night Out Outfits
#26- Runway Ready
Look runway ready. Wear a short dress with synthetic tights and a burgundy leather coat. Finish the look off with black ankle boots and shoulder bag.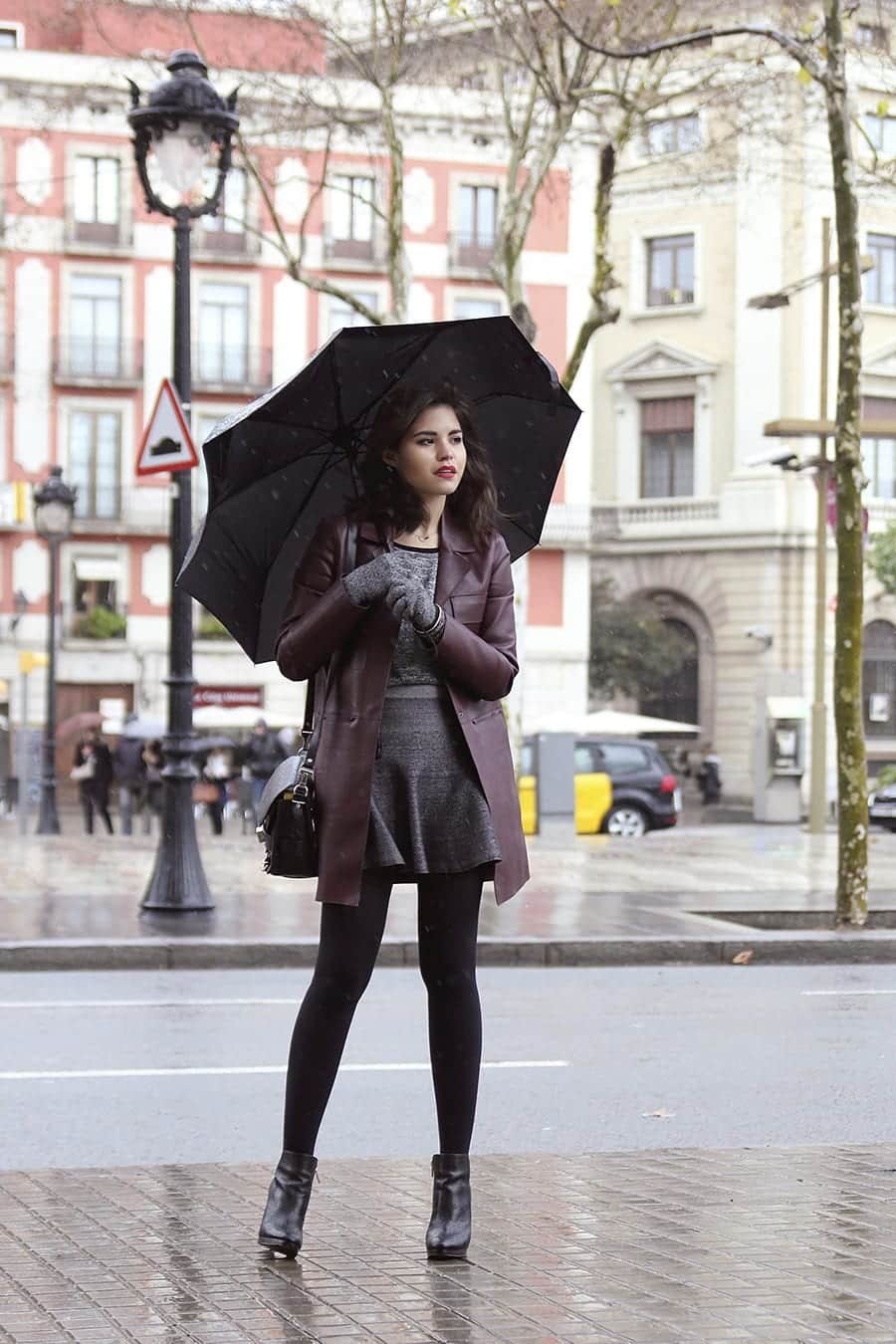 Via
#25- Long Coat
Wear a long coat with black shirt and trousers and black long boots with a black bag.
Via
#24- Add Some Color
Wear a striped shirt with jeans and long leather boots. Add color by wearing a yellow leather trench coat and you're good to go.
Via
#23- Spring-y Florals
Pair a neutral colored shirt with black tights and long boots with a super cute frock style floral jacket.
Via
#22- Patterns and Denim
Patterned dress with denim jacket and chunky ankle boots. Super Cute!
Via
#21- Scalloped Skirt Set
Wear a scalloped skirt set and Mary Janes with a shoulder bag.
Via
#20- Casual and Simple with Cropped Pants
A denim jacket layered over a striped knit and faded army green pants with ballet flats. Casual yet cute.
Via
#19- XOXO Gossip Girl
Dress like your FAV gossip girl character by wearing a patterned skirt with a sleeveless crop top and high heels.
Via
For some more fun ideas, have a look at Gossip Girl Outfits – 20 Ideas How to Dress like Gossip Girl
#18- Dress up for a Hot Rainy Day
Wear an ankle length dress with ugly-pretty buckled slippers.
Via
#17- Chic on the Street
Look chic in a faded shirt and jeans with nude sandals and a bag.
Via
#16- Black and White with Long Boots
Wear a white dress with black boots, a black bag for a perfect rainy day look.
Via
#15- Hot Booties on a Wet Day
Pair a black shirt with black leather pants and skin leather jacket with HOT RED loafers and a handbag.
Via
#14- Rainy Day in Striped Shirtd
Wear a black and white stripped dress with a white trench coat, red bag and nude heels.
Via
#13- Layering Up on Rainy Days
Layer your look up with a striped shirt topped with a knitted sweater shirt topped with a windbreaker jacket with simple jeans and a hand bag.
Via
#12- Celebrity Style All Black Outfit
Wear a black shirt, with black leather coat, pair it up with black short skirt and leggings as well as black leather ankle boots. Finish up with a black handbag.
Via
Love wearing all black outfits? Then don't miss out these 25 Celebrities All Black outfits Styles for Fall to Copy
#11- Go Super Long
Wear a cream crop top with cream trouser and finish the look off with a super long trench coat and brown boots.
Via
#10- Wear a Hoodie on a Rainy Day
Wear a turtleneck with black jegging and a zip up hoodie with black ankle boots.
Via
#9- Street Style Swag
Pair these leopard print pants up with blue shirt, cherry color heels and an envelope hand bag.
Via
#8- Oversized Outfit for a Hot Casual Look
Wear an oversized white sweater on an oversized tunic with above the knee boots.
Via
#7- Classy Coat for Rainy Winter Days
Look classy by wearing this elegant cream and black coat, light blue jeans, brown rain boots.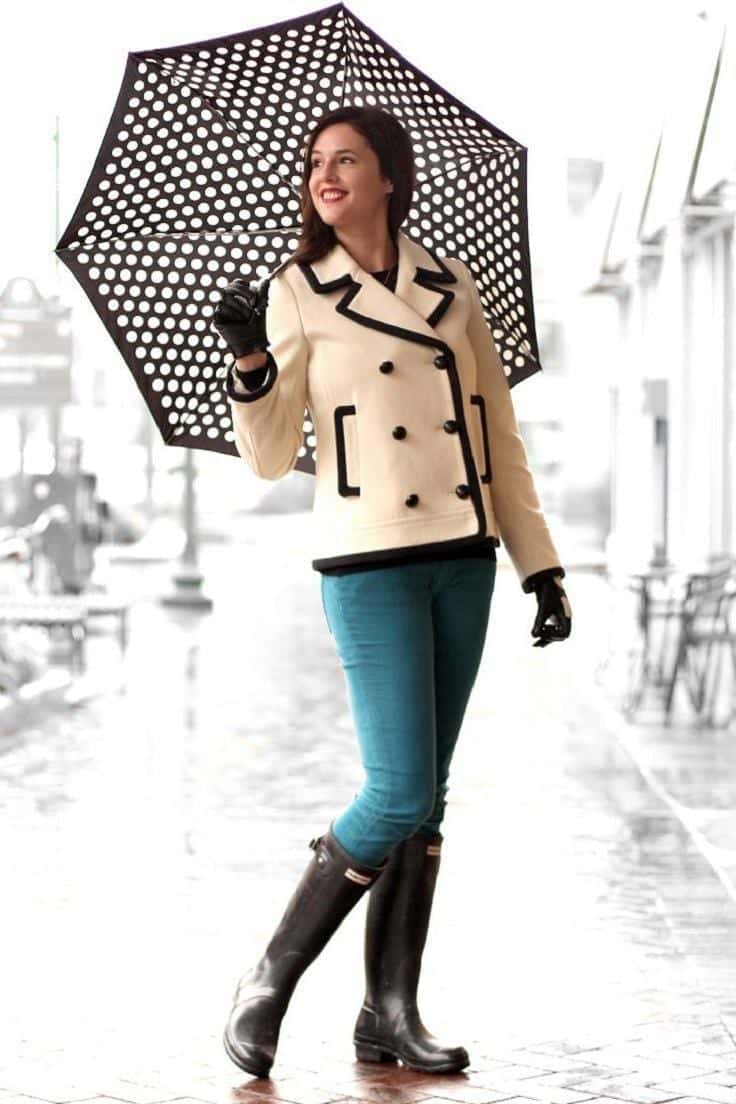 Via
#6- Dress Up for a Date on a Rainy Day
Pair up with jeans and a bag.
Via
#5- What to Wear to Work on a Rainy Day
On a working day wear a grey shirt with a blue blazer and blue and polka dotted pants.
Via
#4- Go Yellow for the Cold Rainy Days
Wear it in yellow and pair it up with a black shirt, bag and high heel long boots.
Via
#3- Rainy Day College Look
Wear that with a peach undershirt and black leggings.
Via
#2- Bright Prints for Spring Rains
Go bold by wearing a bright printed outfit and printed shoes in Spring.
Via
#1- Opt For Sneakers for a Rainy Day in Fall
Bored with long boots? Opt for sneakers with a skirt outfit.
Via
Related Posts via Taxonomies