Shoes without Socks- Why not go for something lighter and comfier on a day out under the sun or on a rainy spring evening? Well, socks do not always work for you especially when you want your shoes to stand out in public. Slaying classy loafers on the streets and wearing socks along with them is a big no for your street style.There are times when all the guys are simply obsessed with denim, suede and woven shoes.
Most of which do not require any socks to look appealing and can only be rocked without any socks. You can follow the tips given below to protect your favorite pair of shoe from any sort of odor.
How to Wear Shoes without Socks for Men
Guys before going sockless, you gotta know the right ways and the fashion techniques which can help you slay the entire look in a phenomenal manner so, here is your ultimate guide to going sockless.
↓27- Printed Sockless Shoe Style
Patterned shoes in the form of loafers, slip-on, or mocks can be worn by young guys with a casual button down shirt and simple slacks or cargo shorts and a simple plain tee. Go for simple leopard and gingham prints with stylish black Tom Ford glasses. Here are 30 Ideas How To Wear Loafers Shoes for Men.
Via
↓26- How to Slay No Sock Sneakers at Work?
Sneakers are often considered to be the violation of the work decorum but that is no more true considering the classy look they give with formal shirts and ties. Also, they make you look cool when your job is related to marketing or designing. Keep your sneakers classic to achieve a bit of a formal style.
Via
↓25- Perfect Sockless Dress Shoes
Well, formal oxfords can be turned into not so formal when worn with casual shirt and shorts. But you have to keep the tones lighter and must go for bluchers instead of oxfords. Also, brogue style will make it a bit more casual for you.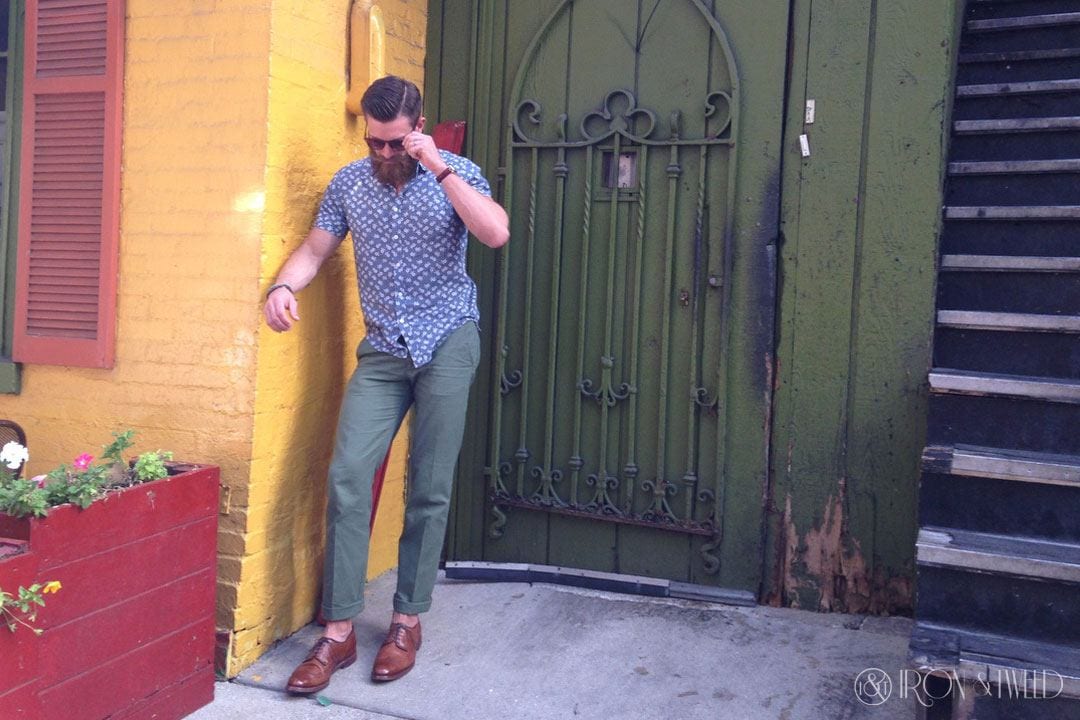 Via
↓24- No-Show Socks Are Your Saviour
You do not have to go around without socks to achieve your beloved no-sock look instead you can buy a few pairs of no-show or hidden to socks and rock the same look. The socks cover your feet well and keep the shoes safe from any ugly odor. Have a look at these 30 Best Men's Outfit Ideas to Wear with Monk Strap Shoes.


Via
↓23- Boat Shoes with No Socks
Boat shoes are considered to be quite unique but they can't last for longer if worn without socks. Also, full-length pants are not supposed to be worn with these classy items, so keep your pants cropped.
Via
↓22- Shorts and Sockless Shoes
Shorts are available in denim as well as many other comfy materials like polyester and cotton and you can totally rock your summer look with sockless loafers or even perforated oxfords. Also, keep your shorts dimmer and your shoes are colored.Check out these 20 Stylish Men's Outfits Combinations with Shorts; Summer Style.
Via
↓21- Amp Up Your Street Style without Socks
Well, there will be hardly any guy who hates a pitch black attire. Guys can rock these summers with a simple black sexy tee and straight cuffed at the end pants. Black wingtips are gonna add to the charm of your attire but do not forget hidden socks.
Via
↓20- Insoles to Go Sockless
Insoles are super comfy and perfectly appropriate to get rid of unendurable odors when going sockless and you can find plenty of them in reasonable prices on Amazon.
Via
↓19- Prevent Odor with Powders
Using medicated foot powders is going to protect your feet from burning in the heat of burning summers and keep them fresh regardless of the sweaty weather.
Via
↓18- Suits with Sockless Shoes
Suits look just outstanding when worn with shoes that don't require socks specifically. Another rationale behind going sockless is the rising trend of crop pants or straight pants which compels you towards wearing trendy loafers and camp mocks with your too formal suits. Here are 20 Ways to Wear Blue Suits with Brown Shoes Ideas for Men.
Via
↓17- Say No to Boots
You can wear brogues, classic loafers or any other shoes but say no to boots if going for a summer look without socks.
Via
↓16- Moleskin Patches for No-Sock Look
Sometimes leather shoes might cause blisters so you can protect your skin and toes with moleskin patches which will work excellently in keeping your feet safe from any welts.
Via
↓15- Rock Cropped Pants Sockless
Cropped pants either denim or cotton look super cool when worn with either blucher or camp mocs. You can go for stylish and printed sweatshirts to add to your casual style.
Via
↓14- Celebrity Style No-Sock Look
Just like Harry Styles, you can rock skinny denim jeans which are rolled up at the bottom with cool neon shade joggers and a boat hat which will make your traveling look just effortless. Here are 18 Ways to Wear Sneakers Fashionably for Men.
Via
↓13- Studded Shoes without Socks
Studded shoes by Christain Louboutin had stunned the fashionistas with their unique style and classy look. Wear them with a tuxedo to your friend's or cousin's wedding without socks and slay your straight pants.
Via
↓12- Vintage Shoes without Socks
Vintage tan buck or bluchers can be worn with scarves and sweaters in winter with raw denim jeans to get the perfect vintage boy style but low-cut socks will be perfect instead of giving up on socks entirely. Check out these 20 Shoes To Wear With Guys Sweatpants.
Via
↓11- Waterproof Loafers Need No Socks
Another option for going sockless is waterproof loafers which are definitely perfect for a day along the bay of a beach.
Via
↓10- Denim Shoes Sockless Style
Classic denim hi-tops are your ultimate option if you want to give the illusion of a sockless look by wearing ankle socks with folded denim jeans. Here are 27 Ways to Style Guys Blue Jeans.
Via
↓9- Going Sockless with Vibrant Shoes
Shoes in bright colors like violet and pink are perfect to go sockless with due to their casual and chicer style because you can slay a completely simple outfit like faded jeans with a simple white tee with such shoes.
Via
↓8- Classic Unfinished Shoes Need No Socks
Unfinished shoes which give a look of partial sandals are amazing for the high-end fashionistas.
Via
↓7- High-Fashion Ankara Shoes
Ankara shoes are super funky to go sockless with due to their slightly sharp colors and unique prints.
Via
↓6- How to Wear Jeans with Sockless Shoes?
Check only straight or skinny jeans whenever trying shoes without socks because you have to flaunt your ankles if going sockless with a pair of retro tan bucks.
Via
↓5- Sweat Free Shoes
Various brands including Nike and Onemix have introduced sweat-less joggers which are the ultimate option to sockless workout.
Via
↓4- Sweatpants to Sockless With
Sweatpants are another chic option for young teenage guys to try sockless shoes with. Here are 20 Cool Ideas on How to Wear Sweatpants.
Via
↓3- Semi-formal Attire with Sockless Shoes
A semi-formal attire for clubbing or a casual friends day-out will be complete with sneakers or whole cuts which do not require any socks.
Via
↓2- Model Like No-Sock Attire
If you want to slay like a model then keep your pants length accurate so that they will compliment your sockless shoes.
Via
↓1- Shoes without Socks for Men Over 40
It's a style that men of all ages can choose to wear, isn't it?
Via
Share your tips with us in the comments section.
Related Posts via Taxonomies