Summer Business Attire Ideas for Men. When it comes to business attires, you just can't just throw on the tee that sits nearest to you. You have to wake up shave, make sure your outfit is ironed without even a crease left and then head to work after setting your hair and polishing your shoes.
Most firms have dress codes that you have to follow. Some of them are okay with their employees dressing informally while others are very strict about it.
You don't necessarily have to wear suits, on some occasions they look absurd as well. If you work at a fun place where no one wears suits and everyone is to dress casually then you can perhaps dress in any way you like. But that's not how it is for most businesses. If you don't want to wear a suit you still can't wear ripped jeans. There are some regulations spoken and unspoken ones that you have got to follow. Here's all the info you need on business attires.
What is Best Choice for Men's Summer Business Attire
Here's some basic tips for you:
We are talking about summers so wear light colors and breathable fabrics
Shoes, cufflinks, hair, wrists, nails, buttons; pay attention to every detail
Keep it simple and sophisticated
Follow the dress code
↓ 27 – Business Dinner Outfit
For the business dinner, dress traditionally. Wear a dark suit with a light-colored shirt. If you want to go for a patterned suit make sure that the pattern in muted and not loud. Here are 20 Facial Hairstyle for Businessmen to go with these amazign outfits.
Via
↓ 26 – Business Casual Outfit
Looking for a causal outfit to wear to work? Slip into a crisp pair of light blue jeans and put on a white button down shirt. If you want you can throw on a blazer as well. Or wear a plain tee with a blazer on with your jeans.
Via
↓ 25 – Business Interview Outfit
Slip into your best suit when going to give an interview for a business. Wear a tie as well; keep it formal instead of laid back. Wear socks that match your pants and keep the color scheme dark. Wear a watch too and stay confident. Make sure the shade of your dress shoes is same as that of the belt.
Via
↓ 24 – Business Meeting Outfit
You don't want to style yourself wrong to a business meeting. Wear a suit that fits you right, not one that sags off your shoulders. Pay attention to each detail; hair must be trimmed, nails must be clean, shoes must be polished to a shine. Wear a classy watch for added elegance. Do check out 20 Ways to Wear Blue Suits with Brown Shoes Ideas for Men.
Via
↓ 23 – Business Seminar Outfit
When attending a business seminar make certain you are dressed appropriately. Wear a blazer with a button down. You can wear khakis instead of trousers. If you want then you have the option to ditch the dress shirt for a polo one. Leave the tie behind.
Via
↓ 22 – Business Conference Outfit
RECOMMENDED: 30 Amazing Men's Suits Combinations to Get Sharp Look
Via
↓ 21 – Business Cocktail Party Outfit
Here is a guide on how you should dress when invited to a business cocktail party: Wear a dark suit with a light-colored shirt; you can go for gray or another muted color. A subtly patterned tie would do. Well-groomed hair that looks sober, not funky. Leather shoes to keep the sophistication in check.
Via
↓ 20 – Business Event Outfit
Via
↓ 19 – Business Luncheon Outfit
Heading to a business lunch where everyone would be wearing comfy clothes? In such a case, showing up in a suit would make you look absurd. But wearing torn jeans or graphic shirts isn't going to make you look any better either. Put on a dress shirt with pants. Keep the color combo light because its summer.
Via
↓ 18 – Business Outfit for Summer
What you wear to work depends on the dress code that's set for that specific workplace. Most allow the business casual outfits. This includes button down shirts with either khakis, chinos or slacks. Make sure your clothes are well-pressed. Throw on a blazer if you want to. Wearing a tie isn't essential. Here are the Essential Men's Fashion Pieces for Both Business and Casual Wear.
Via
↓ 17 – Summer Business Suit
For summers wear lighter shades, take off the jacket when you feel it's intolerably hot. Go for fabrics like cotton, linen and fresco. If your firm doesn't require you to wear socks, ditch the socks.
Via
↓ 16 – Summer Business Fashion
Via
↓ 15 – Summer Business Casual Attire
Via
↓ 14 – Summer Business Shoes
Go for loafers minus the socks. Try monk strap loafers as well. Those would look unique and classy. Here are some of the coolest Black Shirts Outfits for Men.
Via
↓ 13 – Summer Business Dress Code
Via
↓ 12 – Business Meet and Greet Outfit
Via
↓ 11 – Business Attire for Men
Via
↓ 10 – Business Attire for Juniors
RECOMMENDED: White Jean Outfits for Men-Top 25 Ideas for White Jeans Guys
Via
↓ 9 – Business Attire Hair
Your hairstyle speaks volumes about your personality. Your hair must be cut in a clean, versatile and conservative manner. The top business hairstyles include the taper haircut, the ivy league haircut, the slicked back side part, the butch cut and the crew cut. Keep your hair short, fussy hair do not look good. If you like your hair long make sure it looks neat.
Via
↓ 8 – Business Attire without Tie
It's not necessary for many workplaces to wear a tie. You can go for one on special days but you can skip it as well.
Via
↓ 7 – Business Attire without Jacket
When the sun shines extra brightly and the heat is unbearable, take off your jacket. You don't want to melt yourself at work.
Via
↓ 6 – Business Attire Etiquette
Dress appropriately following all the rules of the dress code. Keep it suave by wearing a watch. Make sure your buttons aren't loose and both the cufflinks and shoes are glossy. Don't miss out these 30 Best Men's Outfit Ideas to Wear with Monk Strap Shoes.
Via
↓ 5 – Business Stylish Attire
Basically, you should aim for the conservative yet classy look instead of the trendy one. But if you want to up your style game, go for jeans with a button down and light colored blazer. You will surely look impressive.
Via
↓ 4 – Business Travel Attire
Going on a business trip? Pack your best slacks and blazers. Wearing a suit isn't a prerequisite, you can wear a slightly different but matching shade of slacks with your blazer and dress shirt. Loafers would be a good choice. Here are some of the best Men Waistcoat Styles for ideas on how to wear waistcoat for a classy look.
Via
↓ 3 – Business Swag Outfit
Wear a suit that's the right fit for you. A tailored suit carries the most sass. Your shoes must look on fleek and shiny. Your hair; spruced. Dress in jeans and a button down. Or if you are the boss go for a suit. You can wear a plain tee with your slacks if your workplace allows that. Beat the heat with lighter and tan shades.
Via
↓ 2 – Business Attire for Seniors
Via
↓ 1 – Business Internship Attire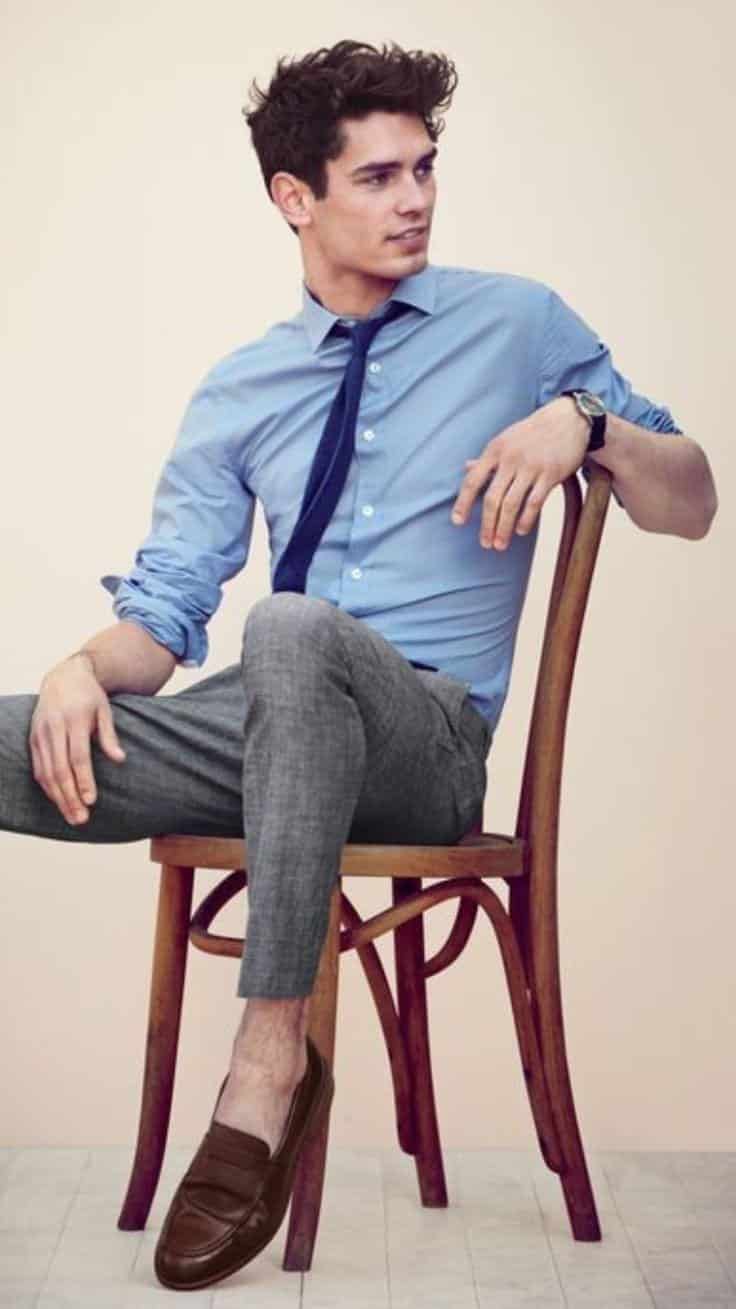 Via
Related Posts via Taxonomies