Stylish ways to wear a Leather Jacket for Men: Men love strong style statements and this is not that simple. Finding good fashion staples that are capable of giving you a jolt of style and make your presence impressive is not very easy. One has to make some investment for that and leather jackets can do that.
They are beautiful, manly, long lasting and expensive at the same time. If you stay in shape then a good piece of leather could work for almost a decade which is indeed a good deal. Some men ask why do they need a leather item in their wardrobe, well there are pretty much good reasons for that.
Styling Tips to Wear Leather Jackets for Guys
Leather coats give a very masculine and tough look. Even if we look at history, the tough men used to hunt and cover themselves with animal skin, which is the raw form of leather. The style, attitude, and impression associated with leather goods are unparalleled. Here we give you few ideas on how to wear this precious and stylish pieces in a fashionable way.

RECOMMENDED: Jacket Outfits for Guys – 24 Ways to Style Jackets Sharply
A leather coat is must have for men looking for a safe investment in upgrading their wardrobe. Along having many suits and casual wearable items, a good leather coat can be worn not only on casual days but in semi-formal and adventurous trips as well. Here are some tips on how to style your next leather piece.
#18- Wearing Leather Jacket to Work
Wearing a motocross or moto racer jacket gives you a style jolt. They are dressy and streamlined, good for men who love simple yet classy pieces. Layering them with sweater keeps you safe from cold weather as well. And if you're looking for the best beard style for work then have a look at Professional Beard Styles-20 Facial Hairstyle for Businessmen
Source
#17- Leather Jacket for Party Guys
The Biker jackets are a classic American style of wearing leather. This might bring Harley riders in your mind, though they had a tough, rough and impressive style, try this for parties, award shows or some casual gatherings.
Source
#16- Leather Jacket Style for Young Boys
The zippy, loose and with many construction models, biker jackets are very popular in young men. The rappers tyle to cool guy look, wear them the way you want.
Source
#15- Decent Outfit with A Fatigue Jacket
You instantly want to get style and look as if you are some brand model? Then pairing a unique color or you may say textured leather coat with denim, tie and a check shirt. The given look is very elegant and stylish at the same time. For some hairstyling tips to go with the look, check out these 2016 Hairstyles for Men
Source
Mainly, leather coats are available in multiple styles, but there aren't too many options for that. Usually, fatigue, Bomber, racer and biker jackets are liked by men of the different age. Well if you are a fan of Indiana Jones, then there is a chance you might wanna get Cattlemen or Duster, but these are not favorites of young and Urban men.
#14- Stylish and Unique Dress for Young Men
Talk of eastern fashion or western, leather goods are equally famous around the world. Black is the color which is safe to buy. Due to the longevity of these jackets and eternity of black color, men love to invest in a good black leather coat.
Source
#13- Fashionable Dress Idea for Hangouts
Source
#12- Stylish Semi-formal Look for Weddings
Brown is also one of the most liked colors in leather coats after black. This color jackets can be paired with denim and white pants also. Make your bold personal style statement by choosing a unique color jacket, and do not get afraid if it is not in fashion, you would surely rock this piece. Sperry shoes would pretty much complete this look, check out these Mens Outfits With Sperry Shoes
Source
#11- Rugged and Handsome Look
Don't worry if you leather piece is old, it is still workable, stylish and looks very tough.
Source
#10- Tough Guy Look with Biker Jacket
Source
#9- Chic Way to Wear Leather for Routine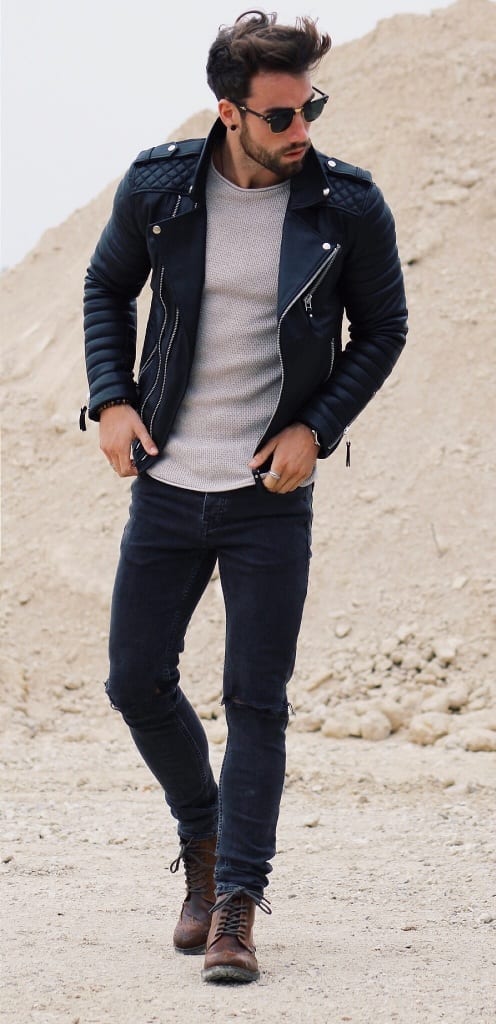 Source
#8- The Cop/Pilot Style Outfit with a Bomber
Usually, bomber jackets are specifically made for pilots, but we have seen cops also wearing bomber jackets. Some think it is not easy to pull off this fashionable piece, but it is also not that difficult. Either keep it simple or make it bold, this long lasting fashion item is easy to carry in winter. It looks like the perfect form of Festive Attire for Men
Source
#7- Celeb Styling for Office
Mostly celebs love wearing leather coats. Either you see them wearing on airports or in their routine life, the safe choice is a fatigue or bomber jacket in black color.
Source
#6- Funky Dress Idea for College
The safest and trusted way of styling a leather jacket is wearing a white shirt. This is how fashion designers advise and this is the way most celebs wear it. If you are a beginner, then pair your jacket with a white shirt and denim. Choose shoes according to the event. If wearing it casually, then you can wear a white t-shirt, on semi-formal event pair them with a dress shirt.
Source
#5- Rough and Tough in a Brown Leather Jacket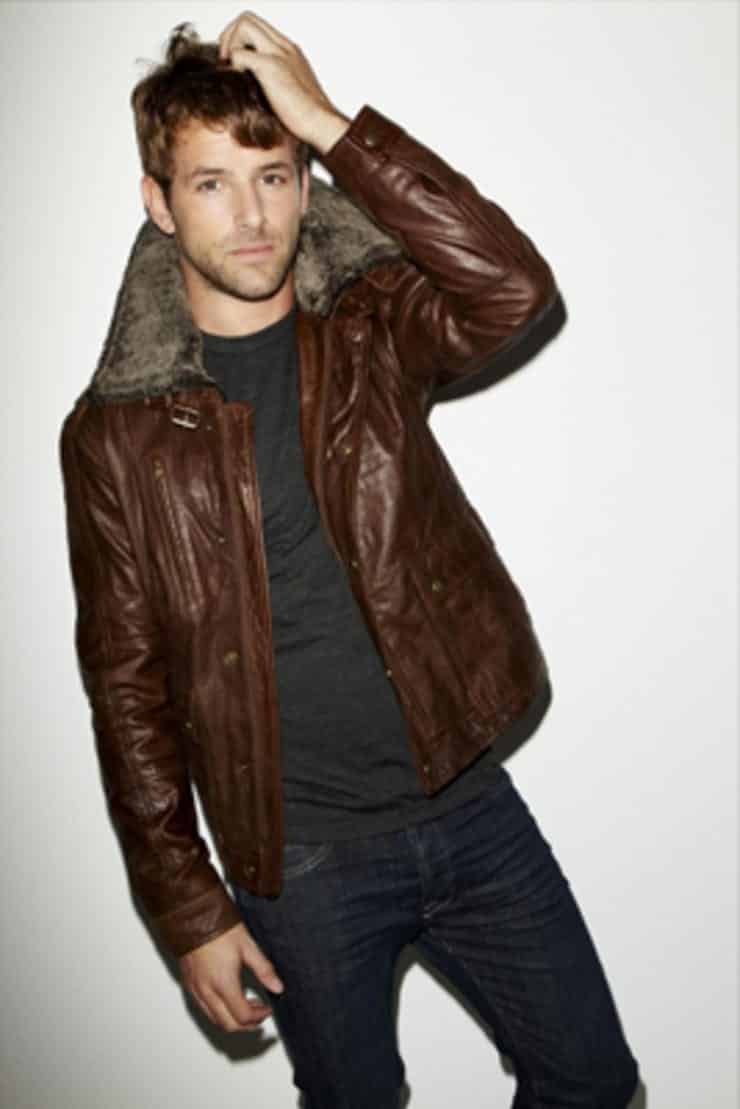 Source
#4- David Beckham Style of Wearing Leathers
This is how David Beckham rocks this look. Choose the belt color wisely. If your jacket is of black color or any other bold color, and shoes are brown, then go for the brown belt. Though it won't be visible much, but you should be prepared fully. Also, you can wear a sleek necktie with shirts and leather coats to give a formal and semi-formal look on dinners, lunch or get-togethers. Never forget to show your classy side.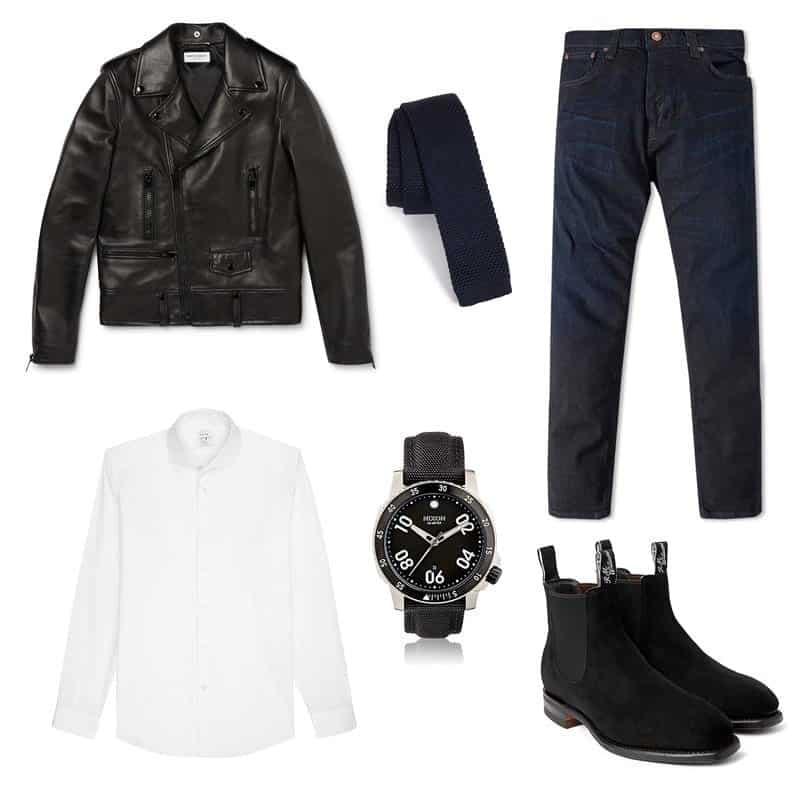 Source
#3- Stylish Leather Coat for Semi-formal Events
It is good to experiment with different styles, colors like gray, tan and  other discolored textures. Get the guts to carry any style. Just like the Game of thrones star, you can dare to be unique and try pairing a leather coat in a semi-formal way.
Source
#2- Old and Smart Style for Leather Coats
Just like in old movies, heroes love to wear leather coats and make their classy style statement. Even you can choose one as well, but beware if that color does not work for longer. This might also look a bit preppy, then choose slick designs, as they could be little workable in any fashion trend.
Source
#1- Simple yet Stylish All-Black Outfit
Source
Related Posts via Taxonomies