Jumper Outfits in a Fashionable way. One of the favourite pieces of clothing item in winters are the Jumpers. They are so warm and comfortable, but dressing up in them can be confusing. In fact, many girls hate wearing them as they feel they can not look good in such oversized and plain jumpers. But that is so not true, today we will be sharing the secrets to how you can look stylish and sexy in jumpers. So after reading this article, you'll be able to wear jumpers with skirts, jeans, dresses or even shorts without the fear of looking fat.
How to Style Jumpers in Different Ways for Winters
Here are 20 amazing ways to wear your jumpers this season for a chic and trendy look.
 #20- Printed Jumpers – College Girl Style

via
#19- Gorgeous Look – Celebrity Style
Selena Gomez takes style to a whole new level by wearing her jumper as a dress, plus those heart shaped sunglasses are adorable.
via
#18- Matching Outfit for Couples
#17- Celebrity Style Christmas Outfit
#16- Classic and Warm
Yes, you can wear your jumper with a skirt for an awesome look.
 #15- Tartan Pants
For more ideas, have a look at Tartan Outfits for Women – 18 Ways to Dress Up Fashionably
 #14- For the Love of Pink
 #13- Black and White Look
via
#12- Add in some Floral Prints
One celebrity who loves wearing jumpers is Alexa Chung. Here we see her looking hot as ever, wearing a jumper over a floral printed maxi, surely a trend sitter. 

 via
 #11- The Effortless Chic Outfit
If you too love being lazy in winters then this is the outfit for you.
via
 #10- Jumper Outfits for the Beach in Winters
Mustard and Pastel blue are the most favourite colours you can wear to the beach this season.
via

via 

via
For more outfit ideas you can try at the beach, check out 16 best beach party outfit ideas for women – Beach style loo.k
 #9- Holiday Party Outfit
Winter is the best season to wear your all black look. This black jumper looks just too sexy with the leather skirt. An outfit you must give a try at the next party this season.
via
Have a look at 13 cute minimalist outfits for winters – Minimal Fashion Style
 #8- Game Day Look – Celebrity Style
This amazing jumper of Emma Watson is perfect for a day out in the field.
via
 #7- Street Style Fashion
Tuck in your jumper a bit and show of your belt in street style fashion.
via
 #6- Vintage Look
This H&M jumper seems to be perfectly paired with the hat and jacket.
via
 #5- The Perfect Nude Look
The beige jumper looks amazing with a nude make-up look. Really simple and classic for everyday wear.
via
 #4- Christmas Jumpers
An adorable outfit and colour for plus size girls.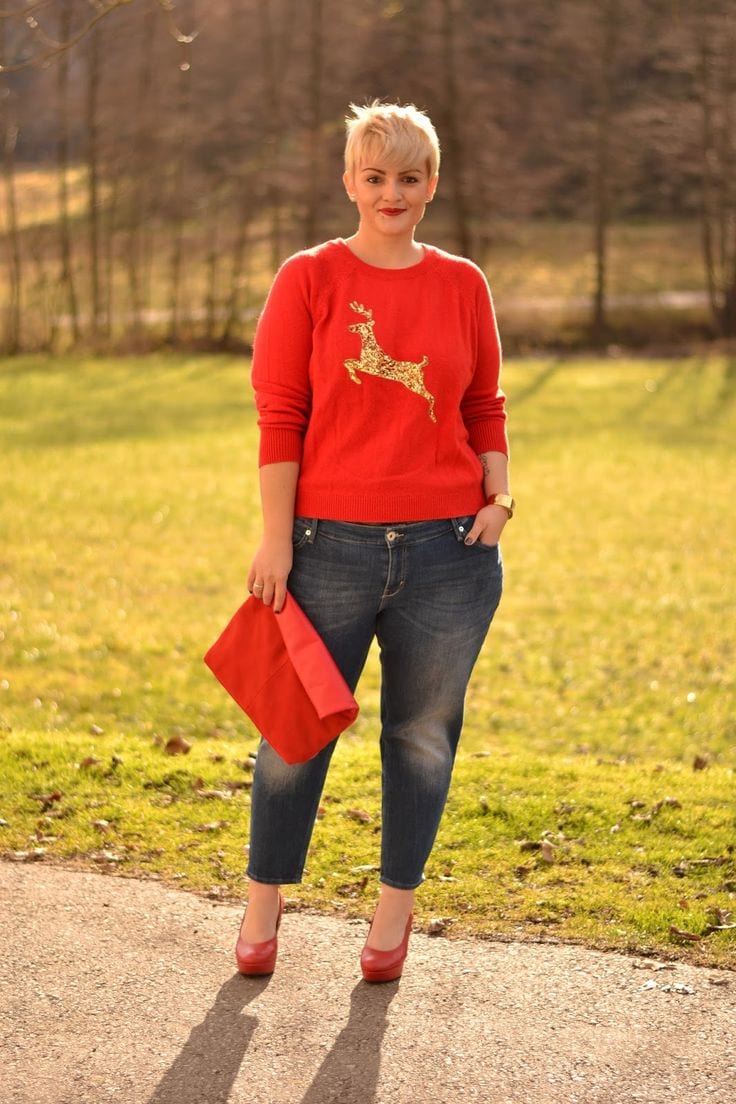 via
 #3- Professional Look for Work
A collared check shirt under your jumper is a really chic and sophisticated outfit for work.
via
For more work outfit ideas, check out 17 cute winter workwear outfits for women or an elegant look
 #2- Cute Schoolgirl Look – Jumpers with Shorts
The heart elbow patches are absolutely lovable.
via
 #1- Turtleneck Jumpers
The turtleneck style of this oversized jumper gives it such a comfortable feel that one can wear it all day long.
 via
Related Posts via Taxonomies