How to wear bomber jackets for men. Men in uniforms have always inspired the fashion industry, and it won't be wrong to say that a lot many fashion pieces are truly inspired by military style. From ancient times till today many styles are adopted from them.
Bomber jackets, which date back from the era of World War II were used to keep the men warm in chilly winter days, and keep them safe from the winds of the winter are now a huge fashion and style statement. From army to civilians everyone loves bomber jackets, in fact now these have become a huge in women's fashion too.
How to Wear Men's Bomber Jackets Stylishly
As easy as it is to style it for women, for men it is not generally an easy task. Well, well, well, worry not dear men, we bring you 18 ways to style your bomber jackets and make you stand out!
Let's begin:
Style # 1: How to Wear Leather Bomber Jacket
A plain leather jacket is an essential, not only it gives a classy look but it is an effortless style. A plain leather jacket can be styled along many sorts of attires. It can be kept casual with a tee shirt and a pair of jeans or can be carried out formally with dress pants and shirt.

Via
Have a look at how the cutest actor, Ashton Kutcher styled his leather bomber jacket for a formal event:
Via
Style # 2: Nylon it Up
A nylon bomber jacket is perfect to glam up a little, doesn't add too much drama and still keep you looking elegant for the event. Nylon jackets are the traditional bomber jackets, with time they've also shifted to being slim fits which are also preferred by a lot of men.

Via
Style # 3: Lightweight Bomber Jackets
Via
Summer times call for less layering and something easy to wear. A typical bomber jacket is a big no for hot summer days, so with the evolution in fashion, for hot summer days lightweight bomber jackets are the easy pick. These can be combined with simple clothing and yet look elegant and smart. RECOMMENDED: Casual Wedding Outfits for Men -18 Ideas What to Wear as Wedding Guest
Style # 4: Wear Along a Printed Shirt
Via
Always wearing jackets over plain shirts become boring, why not style them up with something printed? A printed shirt adds a lot of style and charm. It instantly uplifts the entire dressing, add colors and does not seem boring at all.
Style # 5: Pair Up with Ripped Jeans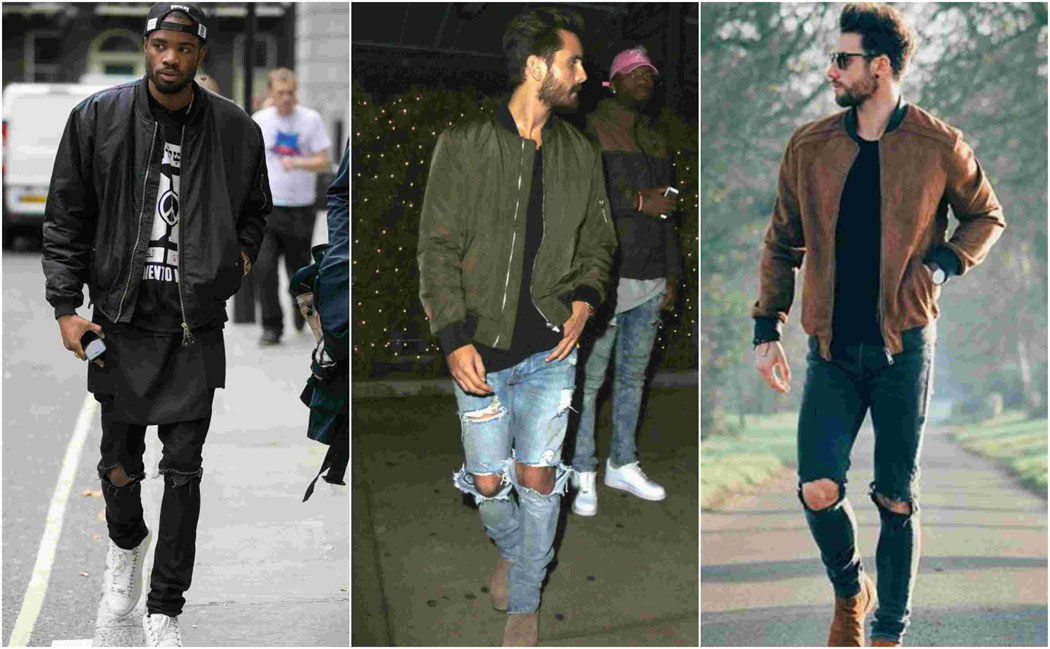 Via
Yes, you read this correct, styling and pairing up your bomber jackets with ripped jeans give a casual look and is absolutely fashionable in its own way. It is much preferable if these are combined with skinny denims and trainers to achieve a much casual look. Here are some more Men Ripped Jeans Outfits-18 Tips How To Wear Ripped Jeans
Style # 6: Go Single Toned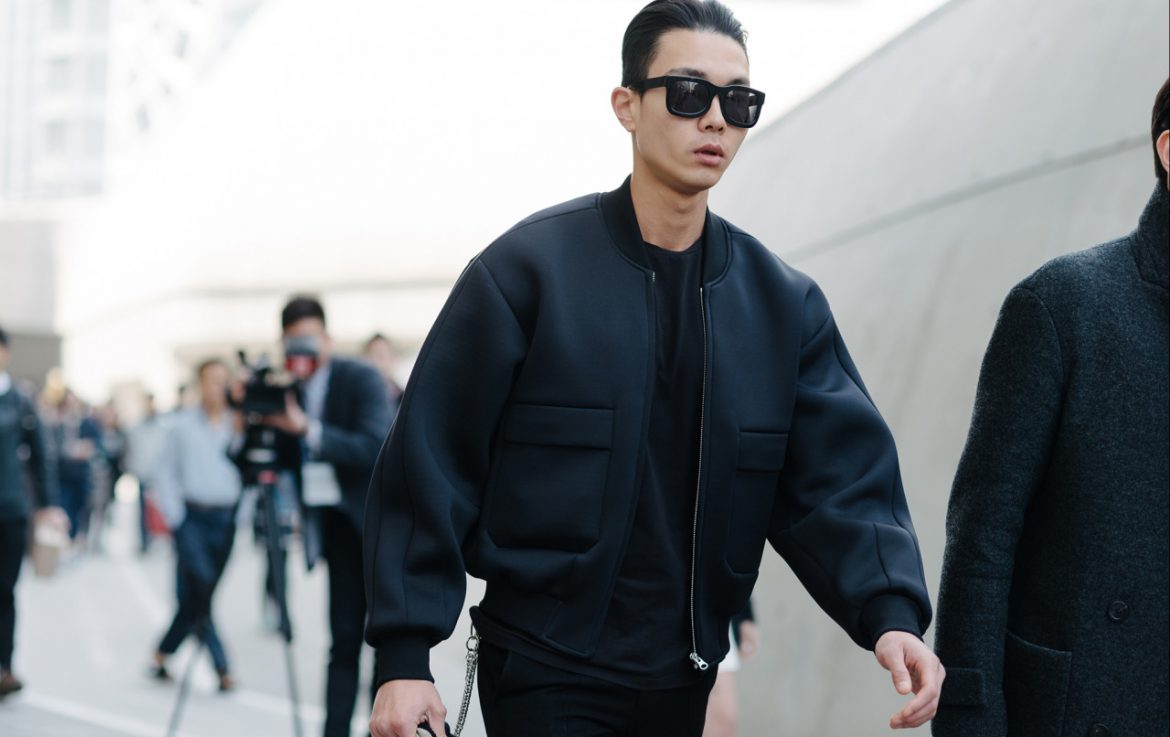 Via
Every once in a while try going single tone with your bomber jacket, that is, your entire attire should be in one tone. From the tee/ shirt and the pants along the bomber jackets shall be of one color. This can be used for both casual and formal purposes.
Style # 7: With A Woolen Turtleneck
Via
Winters are usually severe, so in order to keep you stylized men can also wear bomber jackets on woolen sweaters and tops. Since bomber jackets are usually baggy and a little over sized jacket don't hurt any ways! Wear a woolen sweater inside and combine it with a jacket to complete the look.
Style # 8: Longline Bomber Jackets
Via
Longline bomber jackets are a new addition to this line. The advantage of these over the typical ones is that it is much tailored and isn't as baggy as the traditional jackets. Plus these look much more stylish if they are worn out in single neutral color and add a classy touch to entire attire. RECOMMENDED: Men Outfits With Loafers- 30 Ideas How To Wear Loafers Shoes
Style # 9: Printed Jackets
Via
Another way to add instant style to your look is by wearing a printed jacket, with passing time men are now not only confined to typical neutral colors, instead prints and patterns are becoming popular among men as it gives versatility. It is best advised to wear a printed bomber jacket with a simple, neat and one toned dress.
Style # 10: Bomber Jacket with Denim Jeans
Via
Denim can never get out of fashion; basically denim is here to stay. So why not pair a denim jean with your bomber jacket? Denims and Jackets can be paired with a crisp white shirt or a monochrome blue sweater or some, it requires the least and yet can look absolutely complete.
Style # 11: Pair it with a Scarf
Via
Cold days have always an extra baggage for more clothing, more layering. A bomber jacket can be always paired up with a scarf that compliments the jacket, a set of trainers and a pair of jeans. Pairing it up with a scarf gives the overall look an additional volume and a hint of more personalized style.
Style # 12: Casually Styled Up with a Tee
Via
Men can also casually carry it around, for instance university going guys can pair it up with folded denims jeans, and a plain tee. This gives a casual on-the-go look and is absolutely effortless. From young boys to middle aged men all can carry this look.
Style # 13: The Traditional Army Jacket
Via
Since bomber jackets are basically an invent of military men, so the traditional army jacket can never go out of fashion. To date men from military as well as civilians wear the traditional bomber jackets, which look absolutely fashionable yet so organized and smart.
Style # 14: Pairing them with Sweaters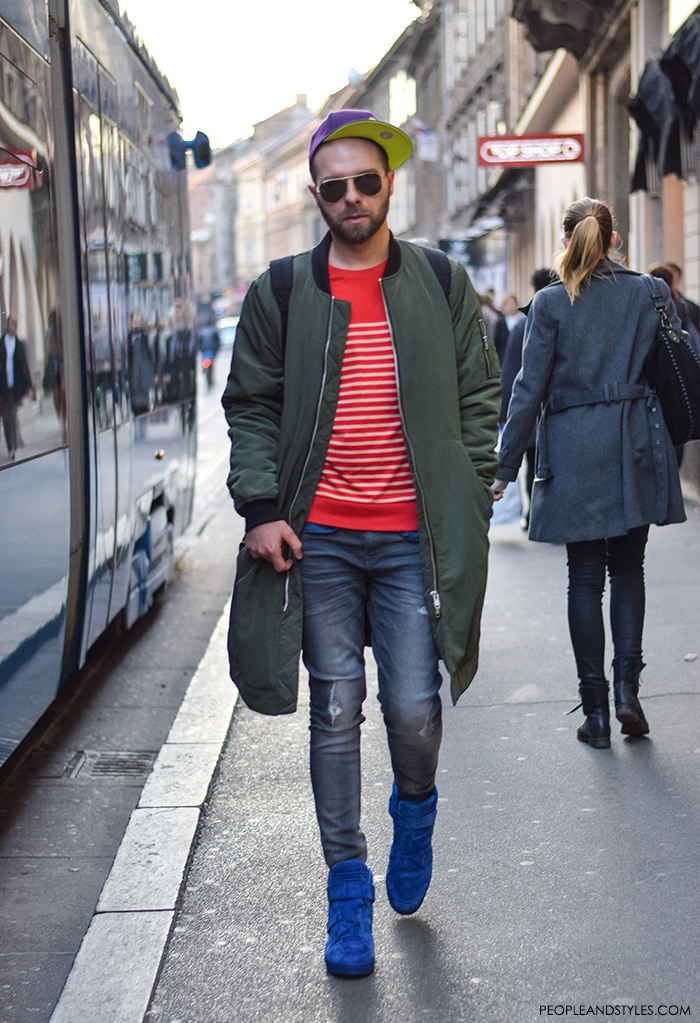 Via
Another thing is to pair up with colorful sweaters, this will ultimately help in enhancing the overall look of the dress, longline jackets can be worn to compliment the sweaters.
Style # 15: Padded Bomber Jackets
Via
Padded jackets are a great for guys who are skinny, it not only gives volume but that extra buff which makes the jackets look even more classier and smarter.
Style # 16: Styling up the Sleeves for Party Look
Via
Sometimes less is more, instead of going for a whole printed jacket, or some men may not be comfortable with the idea of completely printed jacket yet want to add color to their attire, they can wear jackets which have printed sleeves only. This will add versatility to the entire dress code.
Style # 17: Collared Up Swag Style
Via
Again men who are not easy with the thought of a funky bomber jacket can simply wear a jacket which has a different collar than the rest of the jacket. Be it in the material or color.
Style # 18: Half Printed Jackets
Via
To add a funky style to the bomber jackets, men can also wear jackets which are half printed. These add a variety and a touch of boldness to the dressing.
Celebrity Style Bomber Jackets
Here's our favorite, David Beckham looking hot as always in a burgundy bomber jacket by H&M:
Here's Kanye West wearing Bomber jacket by Alpha industries:
Via
Here's Jude Law wearing a Velvet bomber jacket by Saint Laurent:
Via
Related Posts via Taxonomies