Ideas to Carry Grunge Style: Grunge fashion is inspired by Grunge Music, most of us like to be neat and tidy but few of us want to stay as much casual as they can be. Grunge look is dirty, way too casual, excessive use of flannel and very comfortable too. This 90's fashion is quite popular in celebs, teenagers and people who are opposite to be formal.
Easy Ways to get Grunge Look
This 90's fashion is widely popular in people who want to live a comfortable life without paying much on their clothing and this never goes out of fashion. Here are some easy ways to get this complete look and you do not need to do much effort.
RECOMMENDED: 25 Cute Grunge Fashion Outfit Ideas to Try This Season
How to wear Grunge fashion on Top:
From crop tops to grunge dress, layer up the plaids or flannel shirts, wear some band shirts underneath, or leather jackets. Shredded shirts, tank top with oversized shirts are also a favourite choice.
Also, baby doll dresses in neutral or earth color palettes can give you the perfect look in grunge fashion.
Dressing up lowers:
Baggy pants, ripped or patched jeans are top of the list. Buy jeans bigger than size or two which normally you buy. Save money on jeans  and ripping them by yourself. Such jeans are cheaper and you can make holes in them where ever you like. Denim shorts, sheer leggings, A-line printed skirts, and leather pants or skirts are also part of the grunge fashion. Ripped Tights are also in fashion and neutral colors are a safe option to match with anything.
Makeup and Hair:
For having a low maintenance and comfortable look is the main theme of grunge fashion. Dark shade eyeshadows and lipsticks with thick mascara and eyeliner are enough makeup used for this fashion trend. Even smokey eyes with a messy look are good to go. Dark color lipstick does not need many layers of makeup so it becomes easy to carry the look.
Red dyed hair locks give life to Grunge girls'look. Either dye all of them red or just towards bottom, dark red, maroon, ash blonde, brown, or caramel colors give you a very quick fashionable look. To be some funky even pastel pink, purple, or blue hair color will also rock the look. ut color should not be too vibrant. Always make it sure that the look must be messy and natural. Never straight hair and don't try them to fix much.
#20- Soft Grunge Look
It's all about cheap clothing, and worn clothes carelessly. Thrift stores are a good option to shop for Grunge look.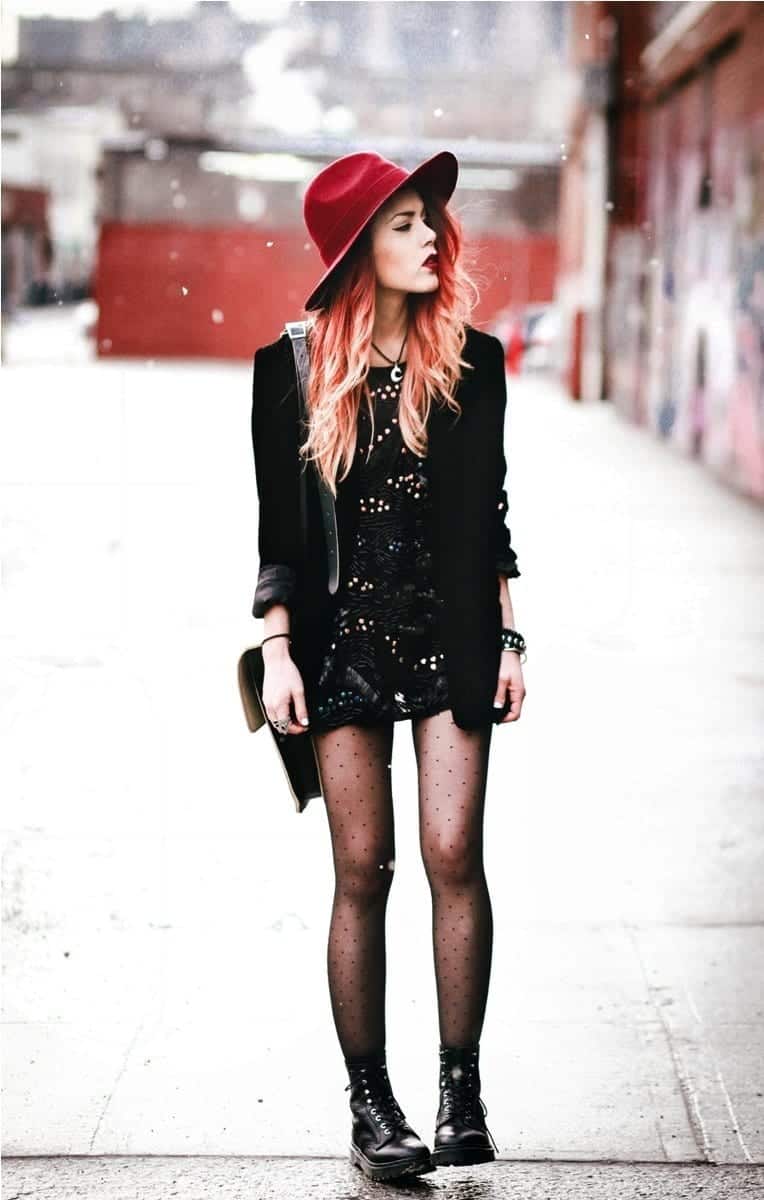 Source
#19- Vintage Rock Lover Look
From combat boots to long boots, no grunge outfit this accessory. From black, maroon, even grey or brown shoes are the perfect option for this look. These shoes are comfortable and easy to wear when you go to college or hang out with friends. Chunky shoes are also a good alternative to combat boots.
Source
Also check out Outfits with Black Jeans-23 Ways to Style Black Denim Pants
#18- Teen's Fashion Outfit from 90's
Overall dress is a huge trend in grunge fashion. From florals to denim, these look perfect on girls of all ages.

#17- Summer's Refreshing Look
The messier you are the look will be more grunge, so having rough attire is the best choice when trying to carry the look.
Source
Related Posts via Taxonomies