College Girls Dressing Style. College is a very important phase in one's life not just because it makes or breaks your future but also because whatever happens in college stays with you forever.  We all know what fashion blunders in this time of life make us: losers.
That's because a major mistake can make you become victim to the mean girls' bullying tactics. And no one wants that. This is why it is essential to be very sure of what you wear to college. A single mistake can cost you your respect. You don't want to be catcalled by weird names just because your dressing sense isn't good enough. If you are confused about how you should dress to college or just need some attire ideas, you are at the right place. Here's all you lasses need to know about how you should dress in college.
How to Dress in College for Girls
Before we start bombarding you with ideas on how to dress in college, here are some basic tips:
Learn to be comfortable in your own skin. College is as difficult as it is fun and you have got be thick skinned in order to make it through safely. The only way you can rock your attire is by being confident.
Don't funk up the look too much. You can end up looking like an outsider who doesn't know anything about dressing.
Minimalistic should be your go-to style when you aren't sure about what to wear. Remember simple is stylish and causal is laid back.
Wear light make up that goes with your outfit. Don't overdo it; it's not prom night Monday to Sunday.
Wear cute, trendy but light accessories. A watch or studs or an arm band and a locket. Too much of it and you are walking right into the trap of the bullies.
↓ 18 – Classy College Outfit
For a classy look, you can don a black fitted frock and throw a shrug over it. Wear long boots to finish off the look. Your shrug can be white, gray, tea pink or camel color. Or you can wear long boots and a shrug with your blue jeans and blue top as well. Shrugs are very in trend these days. It's not necessary that shrugs be worn only in winters. You can buy one of light material for the warm days as well. Your hair is as important as your outfit so here are 20 Best College Hairstyles for Girls with Medium Length Hair.
Via
↓ 17 – Dressing for College Interview
Wear dark leather pants, preferably slim fit ones, with a white button down shirt. You can style this outfit in another way as well. Wear black leather pants or tights with a blue button up shirt. Throw on a velvet coat if the season calls for it. Wear heeled boots for a snazzy touch with this type of an outfit.
Via
↓ 16 – What to Wear for College Tour
A full denim look also look very nifty. Contrary to what many people think as true, different shades of blue can be worn together even when both the fabrics are denim. Wear your denim dark blue skinny jeans with a denim shirt for a snazzy look. Not only is this choice of outfit comfy but it also makes for the tough-girl look. Do check out 20 Cute First Day Of College Outfits For Girls For A Chic Look.
Via
↓ 15 – College Fashion Outfits
Your dressing sense speaks volumes about your personality. Your clothing reveals the sort of person you are. When girls talk about fashion inspiration the one TV series that pops into the mind is Pretty Little Liars. You can get an idea of how to dress to college from the actresses in this show. Dress in skirts or cute frocks like Aria does, or go for Spencer's preppy style. You can also follow Emily's calm, collected and casual style. Want to go for the classy look? Take some ideas from Hanna. These girls sure know how to dress like divas!
Via
↓ 14 – Cute Fall Outfit for College
Skater skirts make for adorable outfits. Wear your skater skirt with leggings and sneakers and casual tops or go for a chicer style. Don the skater skirt with a black and white striped tee and throw on a leather jacket. Here are some more amazing Outfits with Leather Jacket.
Via
↓ 13 – Statement Making First Day of College Outfit
You can stalk Danielle Campbell for some style hacks. Look how stunning she looks in this stylish jacket and white dress. Would make for a perfect college outfit.
Via
↓ 12 – Flannel Shirt Outfit
Flannel outfits aren't just cozy but they also look smart and snazzy. Wear your flannel shirt over a white round-neck tee. Here's a complete guide on How to Wear Flannel Shirts.
Via
↓ 11 – Wrap Skirt and Denim Shirt
Wear a black and white bohemian style wrap skirt with a plain shirt. A button down denim one would look ideal. The look is unique and chic.
Via
↓ 10 – Elegant Outfit for College Career Fair
Midi skirts make for fabulous attires. Wear your midi skirt with a crop top for the glam look. Or put on a white dress shirt for a nerdy and neat look. Here are the Perfect Monday outfit for school & College.
Via
↓ 9 – College Fashion Campus
Minimal is stylish as the saying goes less is more.
Via
↓ 8 – College Gameday Outfit
Skinny jeans with a plain top would make for a simple yet cool look. Here are the best Shoes With Skinny Jeans Women.
Via
↓ 7 – College Fashion Trends
Via
↓ 6 – Simple Outfit when Getting Late for College
Ankle length jeans would look extremely snazzy with a dress shirt. Throw on a pretty cardigan if it suits the weather. Do check out 17 Cute College Outfits for Short Height Girls to Look Tall.
Via
↓ 5 – College Outfits in Winter
Layering looks awesome and goes with the winter season.
Via
↓ 4 – College Outfit in Summers
Loose clothes and light colors for the summer season. RECOMMENDED: 20 Stylish High School/ College Outfits for Curvy Girls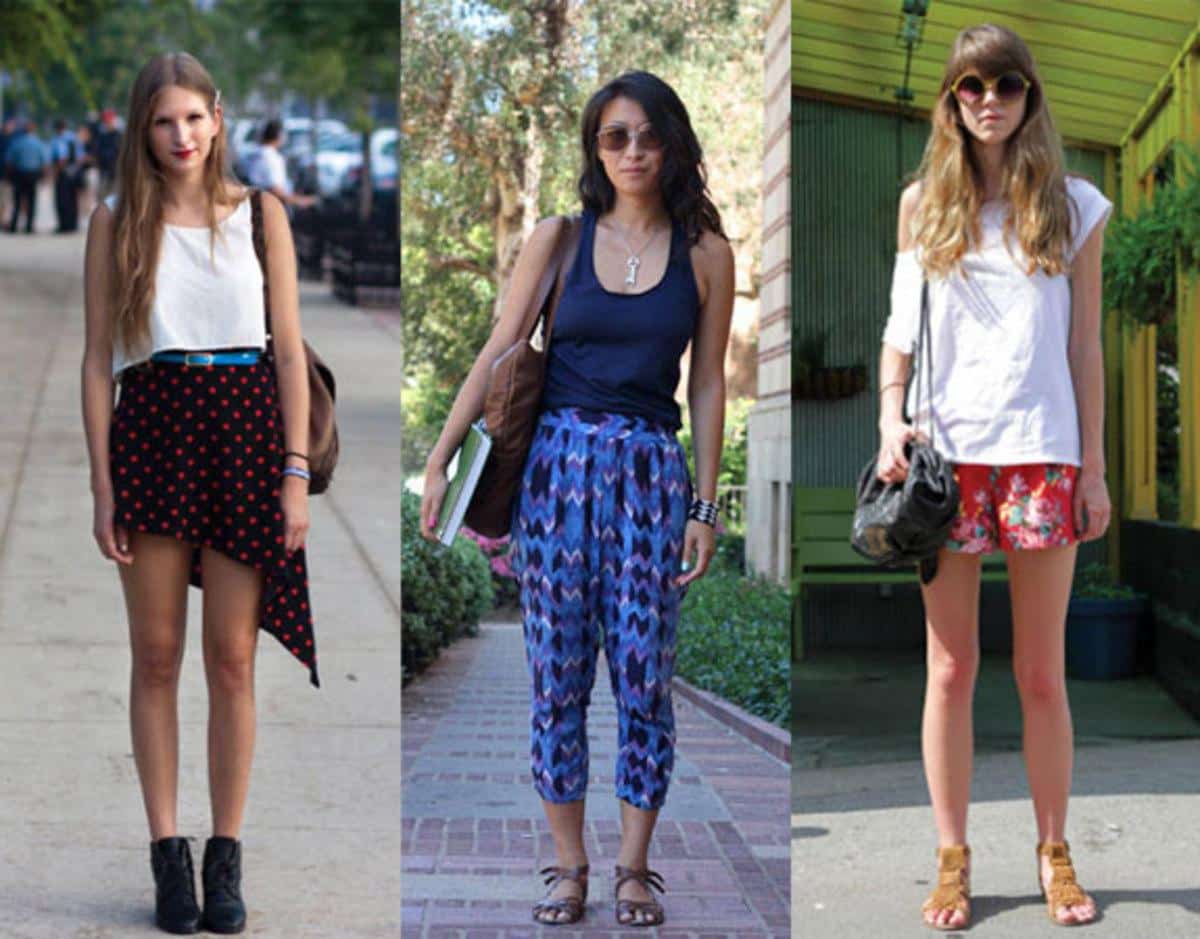 Via
↓ 3 – How to Wear Palazzos at College
Palazzo pants can be styled in several ways for college days. Wear with an off-the-shoulder shirt or a flowy top. A fitted tee would also look very fancy. Heels, pumps, flats and sneakers will make for the best footwear options. Printed palazzo pants with a plain top would make for a classy and trendy look. If you like wearing palazzo pants then you can't miss these Top 20 Ways to Style Palazzo Pants with Sneakers for Women.
Via
↓ 2 – College Preppy Outfit
Going for the cool nerd look? Good idea.
Via
↓ 1 – Summer College Outfit
Too hot to tolerate a pair of jeans? Go for shorts paired with a plain top. Beat the heat with a light outfit.
Via
Related Posts via Taxonomies