Cobalt Blue Skirt Outfit Ideas. Blue is a neutral color; neither too showy nor too formal. It manages to maintain a balance. It has several shades and every single one tells a different story. Cobalt blue makes for a very snazzy and classy hue. Skirts of this shade make you look prominent without overdoing your look.
There are several ways you can style your attire with a cobalt blue skirt and there are many types of skirts as well. Here's a complete guide on how you can wear a cobalt blue skirt in a chic manner. With these ideas, you are bound to never go wrong!
How to Wear Cobalt Blue Skirts
Here are a few things you should take note of while wearing this color
First off, unlike other bright colors, Cobalt Blue looks pretty with flashy colors as well. For instance, Orange and Yellow would look lovely with a Cobalt Blue Skirt.
Don't pair it with more than two colors. Of these two as well, only one should be bright apart from cobalt blue. 3 bright colors would make for a clownish look.
This shade of blue looks best with colors like black and gray.
Don't be too conscious, experiment with styles with confidence and flaunt your individuality.
↓ 25 – Cobalt Blue Pencil Skirt
Pencil skirts look very elegant. A cobalt blue one paired with a white button-down shirt looks gorgeous. Or for an even classier look, pair it with a black top and put on your high heels! Here are some more great Outfits with Pencil Skirts.
Via
↓ 24 – Cobalt Blue Leather Skirt
Leather makes for opulence and sass. A cobalt blue leather skirt with a white top and a black leather jacket would look very fancy. Or you can wear it with a black and white striped shirt for a fabulous look. Here are some of the best Leather Skirt Outfit Ideas.
Via
↓ 23 – Cobalt Blue Tulle Skirt
Tulle skirts make for a princess-like look. Paired with black leggings and a fitted black top it would make for a marvelous outfit! Don't miss out this guide on How to Wear Tulle Skirts?
Via
↓ 22 – Cobalt Blue Midi Skirt
Midi skirts look sober and chic. Don your cobalt blue midi skirt with a black off-shoulder top, the look is delicate. Or for a look that leans toward the tough-girl style throw on a black leather or suede jacket! Don't miss out these 16 Cute Outfits To Wear With Midi Skirts.
Via
↓ 21 – Cobalt Blue High Low Skirt
High low skirts give you the vibe of a woman who knows her fashion. Combined with a sleeveless bright yellow or orange top the attire is mesmerizing.
Via
↓ 20 – Cobalt Blue Maxi Skirt
For a graceful and stylish look, wear a maxi skirt of this color. Here are 12 Best Ways to Wear Maxi Skirt.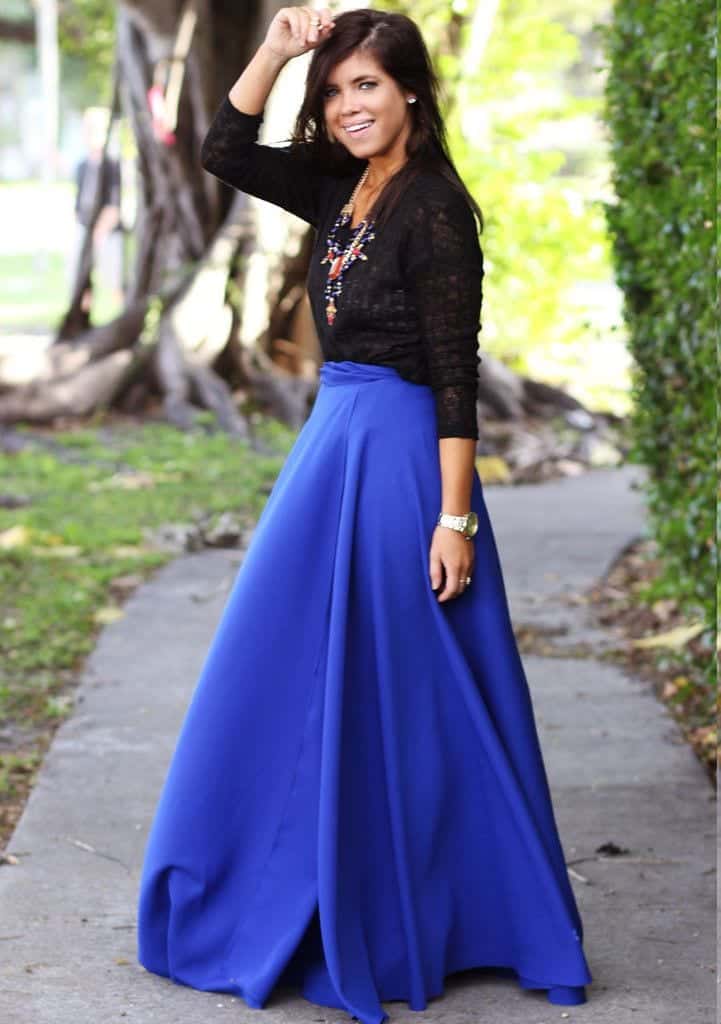 Via
↓ 19 – Cobalt Blue Long Skirt
Long skirts aren't just stylish but they make for a modest look too. If you are the sort of person who doesn't want to flash some skin, you can always go for long skirts. Dial up the style by donning a cobalt blue long skirt with a sky blue or any other light tone of blue top. Makes for a very fashionable dress.
Via
↓ 18 – Cobalt Blue Mini Skirt
For a trendy look, wear your cobalt blue mini skirt with a cute top. RECOMMENDED: Mini skirts Outfits.
Via
↓ 17 – Cobalt Blue Chiffon Skirt
Wear your cobalt blue chiffon skirt with a colored top for a glamorous look.
Via
↓ 16 – Cobalt Blue High Waisted Skirt
For a vivacious look, wear your high-waisted cobalt blue skirt with a tight dress shirt. If you're into high waisted outfits then don't miss out these 20 Ways To Wear High Waisted Pants.
Via
↓ 15 – Cobalt Blue Skater Skirt
For the girly look wear your cobalt blue skater skirt with knee high stockings and an adorable top. Your footwear options are vast with this outfit. Go for sneakers, boots or pumps. Another way to don a cobalt blue skater skirt stylishly is by pairing it with an oversized black and white tee that has full sleeves. Wear leggings beneath the skirt to cheer up the dress even more.
Via
↓ 14 – Cobalt Blue A-Line Skirt
Cobalt blue A-line skirt would look fab with a white top. You can go for other colors as well like black or orange. For more ideas, check out these beautiful Asymmetrical Skirt Outfits.
Via
↓ 13 – Cobalt Blue Lace Skirt
Lace looks sleek and stylish. A cobalt blue lace skirt would look very sophisticated with a pretty pair of high heels or ballet flats. Go for a fitted top for maximum style.
Via
↓ 12 – Cobalt Blue Pleated Skirt
Pleated skirts are flowy and look very gorgeous. Pleated cobalt blue skirt would look amazing too. Try the look. Here are 23 Ideas How to Wear Pleated Skirts.
Via
↓ 11 – Cobalt Blue Wrap Skirt
Wrap skirts look snazzy and unique. A cobalt blue one would look ultra stylish with a classy white top! A white top is a must have for summers because there are so many great looks you can create with it, find out some of the best ones here: 18 Ways To Wear White Shirts For Girls.
Via
↓ 10 – Cobalt Blue Skirt with Leggings in Winters
Don't want to show too much of your legs? Wear a pair of leggings beneath the skirt for a fancy look. RECOMMENDED: Outfits with Black Leggings – 21 Ways to Wear Black Leggings.
Via
↓ 9 – Cobalt Blue Skirt with Crop Top
For a modish look, wear a crop top with your cobalt blue skirt. Add accessories for added style.
Via
↓ 8 – Cobalt Blue Skirt with White Top
White and black can never go wrong. Try a white top with your cobalt blue skirt if you aren't sure about other colors.
Via
↓ 7 – Cobalt Blue Skirt with Black Top
A cobalt blue skirt would look very fashionable with a plain black tee that is fitted and has a boat neck.
Via
↓ 6 – Color Combination with Cobalt Blue Skirt
Cobalt blue goes with several colors. Mint green would look lovely with it. So, will yellow and orange. Black and white go with cobalt blue as well. Different shades of grey would also look stunning. Light blue would make for a gorgeous look as well. The slit surely makes this outfit perfect for parties, here are 40 Best Outfit Ideas with Thigh High Slit to Copy.
Via
↓ 5 – Cobalt Blue Skirt Summer Outfit Ideas
All sorts of tees and tops can be worn with a cobalt blue skirt. Throw on a jacket, blazer or vest for cheering up the look. You can wear boots, sneakers, pumps or heels depending on your dressing. Don't overdo the look by wearing too many different bright colors. There's a fine line between an eye-catchy look and an outright funny look. Make the right pairs, there are a lot of choices of how you can do that.
Via
↓ 4 – Cobalt Blue Skirt for Work
RECOMMENDED: Outfits with Pink Skirts-30 Ideas How to Wear Hot Pink Skirts
Via
↓ 3 – Cobalt Blue Skirt Casual Day Wear
Via
↓ 2 – Cobalt Blue Skirt for Girl's Night Out
Via
↓ 1 – Street Style Cobalt Blue Skirt and Top
Via
Related Posts via Taxonomies