Great Summer Outfits for Women over 50. Aging doesn't mean that you need to retire from having fun and dressing well. There's no reason you should stop looking after yourself. In fact, you should start taking care of yourself even more. Even when it comes to fashion.
Because after a certain age you can't follow all the fashion trends. You have to follow some rules not because the society demands that of you but because you would surely look more stunning that way.
When talking about outfits for women above 50, some ladies aren't sure of how they should dress at this stage in life. Many feel conscious about what if the clothes just don't suit them. Here's a guide on this very topic to walk all elderly women through how they can style their attires in summer.
How to Dress in Summers for Women Above Fifty
Here are some basic tips for you before we move ahead:
Keep your makeup minimal. Dark makeup isn't for summers. Make elegance your goal and keep it light.
Same goes for accessories. One trendy accessory you can include in your jewelry box is a pearl necklace and pearl studs. RECOMMENDED: Dressing Styles for Women Over 50 -18 Outfits for Fifty Plus
The best colors for summers: pistachio green, sky blue, bright yellow and white.
Clothes to avoid: those which reveal too much saggy skin.
↓ 30 – How to Dress When Over Fifty and Curvy
Over fifty and overweight as well? no worries. There's always plus sized clothes that you can go for! Wear shades that make you look slimmer. Avoid low necks and shorts. Knee length dresses and long skirts are a great option.
Via
↓ 29 – Stylish Clothes for Over Fifties
Growing older than fifty doesn't mean that you should stop dressing stylishly. It's summer and you should embrace the summer vibe as much as a 20-year-old girl. Wear flowy dresses that scream "beach day today" or don sheer shirts and skirts. When in our fifties, we all tend to gain some weight so here are 15 Fashion Tips For Plus Size Women Over 50; Outfits Ideas
Via
↓28 – Summer Fashions for Over Fifties
There's no age when you should stop dolling up. Reached 50? Don't let that be an obstacle between you and fashion. Summer fashion for this age and up includes white cropped pants and loose elegant shirts. Keep it cool to beat the heat.
Via
↓ 27 – Casual Outfits
From a pretty floral dress to a button down with khaki pants, there are several casual outfit ideas to choose from. RECOMMENDED: Casual Outfit Ideas for Women Over 60-How to Dress in Your 60s.
Via
↓ 26 – Party Outfits for Mature Women
They say age is just a number and you are as young as you feel. Let your inner kid flash through and live to the max. Wear snazzy and sophisticated party outfits when the occasion calls for it. Don't let that jolly frenzy in you die.
Via
↓ 25 – Work Outfits
Heading to work? There's a perfect outfit for that too. Don't raise the volume on funk and go for graceful dressing. Suits, pencil skirts, and jeans with a button down would be ideal options. You can find some more great office wear ideas from these Elegant Work Wear Outfit Ideas for Women Over 50.
Via
↓ 24 – White Jeans and Button Down
White jeans should be the go-to choice of everyone in summers, not just old folks. The color is perfect for the season. With a button down shirt, the look is all the more classy.
Via
↓ 23 – Shorts and Top
Fed up of wearing cropped pants and skirts? Wear shorts for a change! It would look very chic if you are heading out with your friends for an outing.
Via
↓ 22 – Long Shirt and Tights
Want to wear something more modest? Go for a long shirt with tights. The look is very elegant. If you're fond of wearing tights and leggings then don't miss out these Legging Tips for Women Over 40.
Via
↓ 21 – Polka Dots Midi Skirt
Midi skirts look sober as well as fun. And the timeless polka dots print enhances the beauty of the outfit.
Via
↓ 20 – Khaki Pants and Top
Combine style and comfort by donning khaki pants with a decent top. The look is amazing.
Via
↓ 19 -Gray Pants and White Top
Gray pants and a white top would look lovely together. Try this look this summer.
Via
↓ 18 – Animal Print Shirt and Cropped Pants
If you are aiming at standing out of the crowd go for an animal print with cropped pants. You'd surely impress others. Don't add any other accessory that has an animal print as that could ruin your look.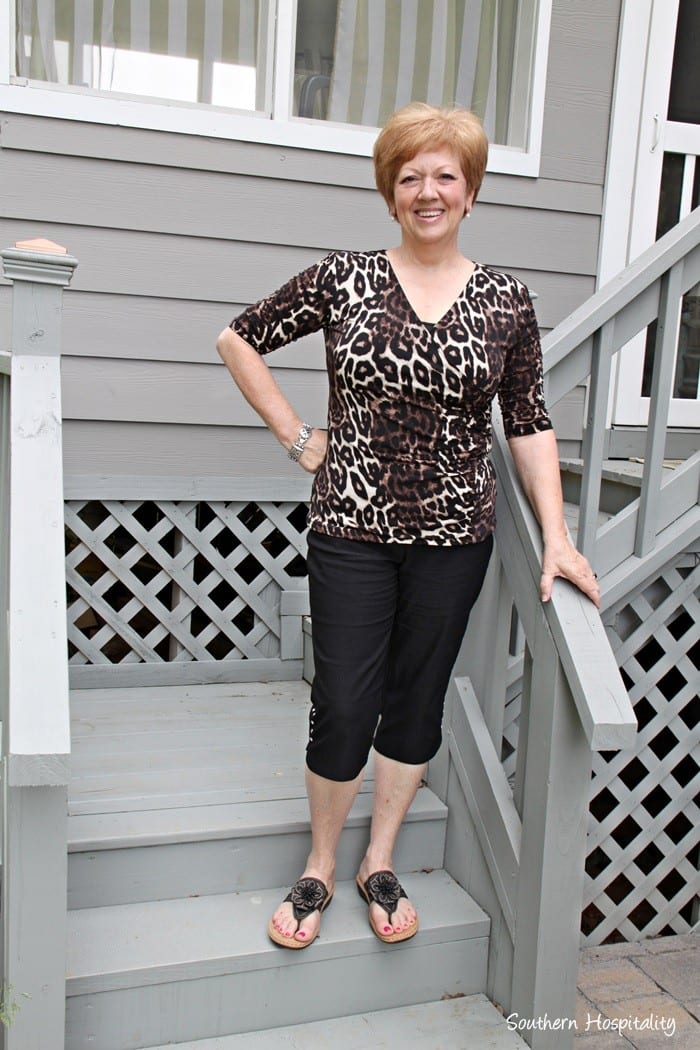 Via
↓ 17 – Ankle Length Pants and Top
Go for plain ankle length pants with a printed top for a trendy look.
Via
↓ 16 – Frock and Boots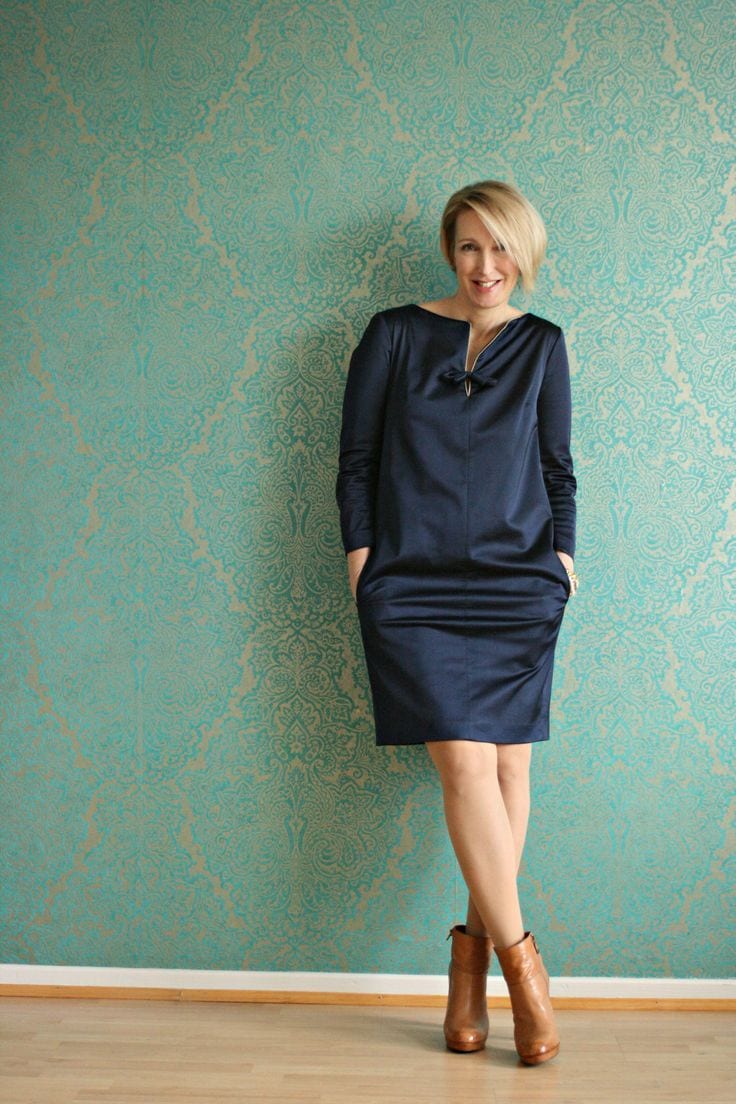 Via
↓ 15 – Pencil Skirt and Top
Stay graceful wearing a pencil skirt with a mediocrely fitted shirt. RECOMMENDED: 18 Outfits for Women Over 60- Fashion Tips For 60 Plus Women.
Via
↓ 14 – Half Sleeves Dress
Via
↓ 13 – Maxi Dress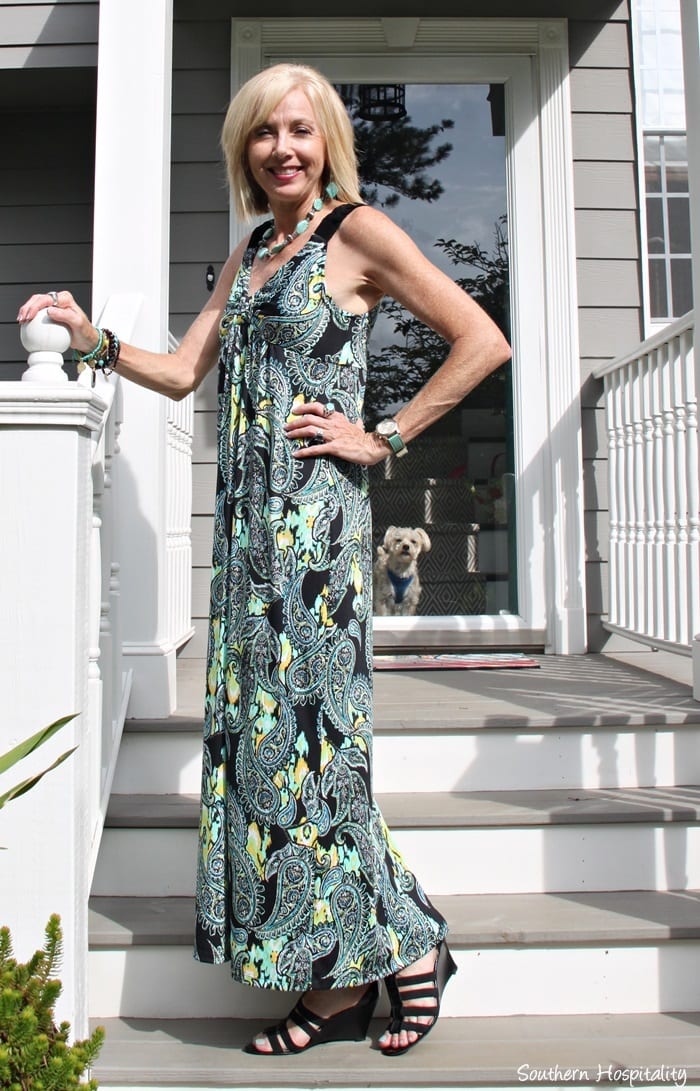 Via
↓ 12 – Palazzo Pants and Shirt
Palazzo pants are comfy and they look fabulous. There are several types of palazzo pants ranging from pleated ones to cropped ones. One thing common about all is that they look very fashionable. Breeze through the day donning palazzo pants and an airy top.
Via
↓ 11 – White Jumpsuit and Denim Jacket
Keep it cool with a white jumpsuit and a denim jacket. For more styling ideas and tips, here are 20 Ideas How to Wear Denim Jackets
Via
↓ 10 – Black Top and Blue Jeans
Via
↓ 9 – Wrap Skirt and Top
Wear a wrap skirt for a pretty look. If you opt to wear a printed skirt go for a plain tee and if you decide to wear a printed tee then go for a plain wrap skirt.
Via
↓ 8 – Floral Dress
Floral is very much in vogue these days. And it's the perfect print for summers. A flowery printed dress would look fancy on a super sunny day. You should also check out these 22 Cute Floral Print Outfits Combinations for Spring Season
Via
↓ 7 – White Button Down Shirt and Blue Jeans
Blue jeans with a white dress shirt is a classic look. When in doubt go for this outfit.
Via
↓ 6 – Stripped Top and leggings
Black and white can never lose their elegance. Rock a striped black and white top with leggings this summer.
Via
↓ 5 – Full Black Outfit
A full black outfit would make you look gorgeous. Try the look for an evening party. Every woman looks great in black no matter what her age or size, so here are 25 Celebrities All Black outfits Styles for Fall to Copy.
Via
↓ 4 – Full White Outfit
Dial the notch on sophistication up and go for an all-white outfit. You're bound to look beautiful.
Via
↓ 3 – Printed Pants and Plain Shirt
Flip the look for a change and go for printed pants with a plain shirt.
Via
↓ 2 – Oversized Shirt and Straight Pants
Wear straight pants with a baggy shirt for a fashionable look.
Via
↓ 1 – Summer Outfits for Above 50 with Style
Via
Related Posts via Taxonomies