Converse Shoes Outfits for Guys- The hundred years old shoes which are now sophistically known as the converse, as the name given by the introducer Chuck Taylor, are the sneakers which you love to wear around the year due to the stylish and relaxed feeling associated with them. Along the transition taking place in the styles and designs of converse shoes, sneakers have got the privilege to be the center of everyone man's wardrobe, let it be a common man or a celebrity.
From Brad Pitt to Tom Cruise, you'll see nearly all the renown celebs adoring their converse shoes on leisure days. It is now commonly known as an essential leisure item which can be utilized while traveling or for doing business, depending on how you style them and bring variation according to your need.
What Outfits to Wear with Converse Shoes for Guys
Here you will come across 28 super fashionable Converse Chuck Taylors for various occasions and events. Also, you will get different ideas to adopt in order to bring a diversity in the use of converse shoes to make them worthy of one of the staples in your wardrobe.
↓28- White High-Top Sneakers
White has been one of the most trending shades in the world of Converse Chuck Taylors the past year and this year as well. White is both slick and smart. It stands out regardless of what you're pairing it with so it is always a yes, yes. But what looks the best with high-top sneakers in white? Denim jeans are always the answer and cuffed ones are definitely cherry on top of it. Pair it with a simple button-down slim white shirt and a sassy blazer in some shade of gray or ivory. Here are 18 Ways to Wear Sneakers Fashionably.
Via
↓27- All-White Low-Top Converse Shoes
For guys who love to flaunt their ankles in public, low-top sneakers are apparently one of the coolest options. Straight cropped cotton pants with mandarin collar white shirt are simple and classy, all at the same time.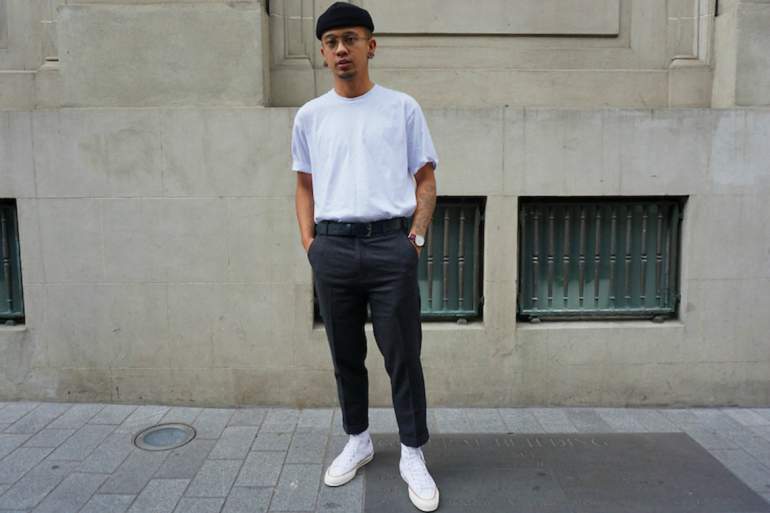 Via
↓26- Biker Look with Dark Converse
Biker look and leather jackets are directly proportional and adding some converse shoes in black to this combo will make it the ultimate option for male fashionistas. A cuffed beanie would serve as an extra definition to this biker look.
Via
↓25- Super Casual Summer Look with Sneakers
Summers ask for baggy, light clothing and you can definitely amp up your casual ensemble with chic low-top sneakers during the high temperatures. Wear a vest shirt with your favorite band logo on it with some neutral color sweatpants to keep it effortlessly casual.
Via
↓24- Low-Top Converse for Teenage Boys
Cargo shorts with a plain black tee is one cool option teenage guys can opt for as it is simple and straightforward. Wear it to college or high school during summer and spring and add a baseball cap and sunglasses to elaborate your attire. Check out this coolest guide on Teenage Boys Dressing.
Via
↓23- Sassy Converse for Beach Vacations
Converse shoes are often not considered to be the best option while vacationing along some beach shore, however, while shopping and touring the streets. A floral printed button-down shirt with some funky printed cotton shorts is one cool idea you can adapt.
Via
↓22- How to Wear Pink Sneakers?
Who says that guys cannot slay for pink shoes? Pink converse shoes look quite charming when worn by young men with some funky shorts and colored spectacles. Holidays are all about dressing over the top.
Via
↓21- Red Converse for Street Style
Any casual look will go well with some dark red high-top converse shoes as it is one catchy shade when you want all the attention towards your shoes. But I would suggest you go for tops and jackets in darker and neutral colors like navy, black, army green, charcoal and brown chocolate.
Via
↓20- Converse Weapon for Athletes
Athleisure garments have brought massive attention towards converse weapon shoes which can be worn by tennis and badminton addicts with some classy Zara athleisure tops and sporty shorts. Here are 20 Athletic Gym-wear Ideas for Men.
Via
↓19- Wear Converse in Celeb Style
Let it be the Model of the Year Jon Korta or the singing sensation Zayn Malik, 99.9% celebrities can be seen wearing sometimes bright and at times dark converse shoes with casual jeans bottoms and tees. However, adding a bomber jacket will obviously spice up your look.
↓18- Denim Shorts and All Star Shoes
Made of cloth, All-Star shoes can be worn with denim shorts and some plain casual tee. However, you can spice up the look with some sexy sunglasses and leave the rest for your shoes.

Via
↓17- Double Denim Look with Sneakers
Double denim is the highlight of the season and when worn with Converse shoes, it looks super casual and boyish. You can wear a button-down faded blue denim shirt with your favorite black jeans and some high-top sneakers.
Via
↓16- Wear Converse with Suit
Who said that Converse cannot be worn with suits or formal wear? Well, that is just nothing more than an illusion as the jobs are approving more of semi-formal attires at work nowadays and a dark black pair of converse shoe with a dark suit would not hurt much. Check out 30 Amazing Men's Suits Combinations to Get Sharp Look.
Via
↓15- Converse Sneakers for Groomsmen
Groomsmen can go for matching sneakers on the wedding day that goes well with their tux or suit, however, adding a little bit of shade will be charming as ever.
Via
↓14- Perfect Attire with Bright Sneakers
While enjoying your holidays in printed, informal, casual clothing; opt for a pair of bright red or orange sneakers.
Via
↓13- Fall Attire and Converse Boots
Converse Boots can be worn with a dark jacket or a patterned hoodie with a black or charcoal beanie in winter.
Via
↓12- Pastel Sneakers Ensemble
As pastel is the most preferred palette during spring, you can go for a pastel tee with matching pastel sneakers for a fashionable look during spring.
Via
↓11- Semi-Formal Look with Chuck Taylors
Formal jacket or blazer can be worn with a mandarin collar white shirt and matching straight pants with a pair of white sneakers. Here's the best collection of Semi Formal Wedding Attire For Men.-20 Best Semi Formal Outfits
Via
↓10- Neon Green Chuck Taylors
Neon green sneakers are the utmost option if you're vacationing and have a wardrobe which is all black, gray or white and you crave for some bright charming shade.
Via
↓9- Printed Black and White Converse Sneakers
Printed converse will make your ensemble stand out among all.
Via
↓8- Bohemian Look with Converse Chuck Taylors
A fedora hat can be worn with cuffed ripped pants in jet black and a white tee. Add some glasses to make the ensemble look super Boho.
Via
↓7- Clubbing Attire with Converse Shoes
Wear white denim pants with a shaded full-sleeve tee and low-top shoes without socks.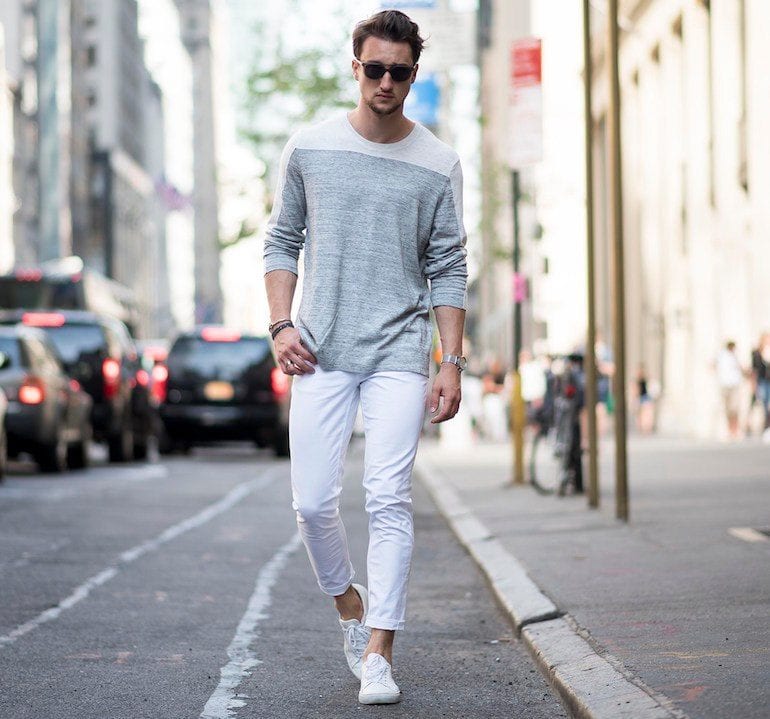 Via
↓6- Sweaters with Chuck Taylors
A charming patterned sweater over a collared shirt in a neutral shade and faded jeans can be worn with sky blue or gray sneakers. Check out 17 Ways to Wear Sweaters Fashionably.
Via
↓5- Funky Attire with Converse Chuck Taylors
A quirky tee can be worn with a patterned full sleeve shirt and cargo pants which looks exceptional with pure white sneakers.
Via
↓4- Collar Shirts and Converse Sneakers
A gingham print or check print collar shirt with half-sleeves can be worn by college going guys with dark skinny jeans and sneakers.
Via
↓3- Ripped Jeans and Converse Sneakers
Ripped jeans and converse go hand-in-hand as these are both super casual and trendy at all times.
Via
↓2- No Sock Look with Converse Shoes
Low-top sneakers are often worn in summers without socks as it will bring all the attention towards your super luxe shoes.
Via
↓1- Travelling Attire and Converse Shoes
Along with ripped jeans and converse shoes, wear a casual patterned or floral shirt and a knee-length coat for traveling. Also, add a muffler to enhance the look.
Via
Feel free to share your own fashionable attires which incorporate Converse Chuck Taylors in comments.
Related Posts via Taxonomies